Resourcing Feminist Movements
Around the world, feminist, women's rights, and allied movements are confronting power and reimagining a politics of liberation. The contributions that fuel this work come in many forms, from financial and political resources to daily acts of resistance and survival.
---
AWID's Resourcing Feminist Movements (RFM) Initiative shines a light on the current funding ecosystem, which range from self-generated models of resourcing to more formal funding streams.
Through our research and analysis, we examine how funding practices can better serve our movements. We critically explore the contradictions in "funding" social transformation, especially in the face of increasing political repression, anti-rights agendas, and rising corporate power. Above all, we build collective strategies that support thriving, robust, and resilient movements.
---
Our Actions
Recognizing the richness of our movements and responding to the current moment, we:
Create and amplify alternatives: We amplify funding practices that center activists' own priorities and engage a diverse range of funders and activists in crafting new, dynamic models  for resourcing feminist movements, particularly in the context of closing civil society space.

Build knowledge: We explore, exchange, and strengthen knowledge about how movements are attracting, organizing, and using the resources they need to accomplish meaningful change.

Advocate: We work in partnerships, such as the Count Me In! Consortium, to influence funding agendas and open space for feminist movements to be in direct dialogue to shift power and money.
Related Content
Cindy Clark
Position
Co-Executive Director
Shehla Masood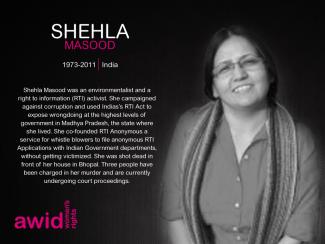 Nana Darkoa Sekyiamah
Biography
Nana Darkoa is an African feminist who lives and works in Ghana.  She is also a writer, and a blogger.
She co-founded the award-winning blog, Adventures from the Bedrooms of African Women, has written for The Guardian and Open Democracy, and been interviewed by Mehdi Hassan on Al Jazeera's UpFront. She was a member of the Black Feminism Forum Working Group which organised the historic first Black Feminist Forum in Bahia, Brazil.
Position
Director of Communications and Tactics
Galina Kozhevnikova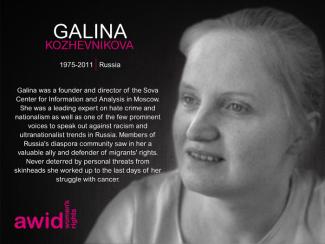 Adriana Alonso Alvarez
Biography
Adriana Alonso Alvarez is a Brazilian/Spanish feminist with extensive work on Human Rights issues targeting oppressed populations in different areas across the globe, including Southern USA, Andalusia (Spain), Alentejo (Portugal), Southern Ecuador, and Northeastern Brazil. She holds a Bachelor in Anthropology and a Masters in Social Work and currently lives in her hometown, Salvador, Brazil. Adriana loves to travel and to work with a wide variety of people from different cultural and ethnic backgrounds.
Position
AWID Forum Program Coordinator
Maria Luisa Posa Dominado
Nuwan Rezel
Biography
Nuwan has over 10 years of international experience in Human Resources Management and Organization Development in the non-profit sector. He holds a M.Sc. in International Management and a Bachelors Degree in International Business Management. Nuwan is a Society for Human Resources Management Certified Professional (SHRM-CP), and is a member of the Society for Human Resources Management (SHRM).
Position
Human Resources Manager
Nasreen Pervin Huq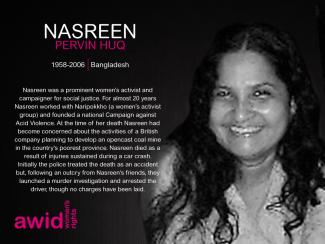 hvale vale
Biography
hvale vale (small letters as per bell hooks). Writer, feminist and activist, as such vale connects women's rights, sexuality, sexual rights and the internet poetically, politically and practically and advocate for the #feministinternet.
Since April 2017 vale is a member of the Women's Rights Program of the Association for Progressive Communication as Coordinator of EROTICS, the initiative on Sexuality and the internet.
vale loves slearning from people, co-create and maintain systems, facilitate storytelling workshops, play with methodologies and intersections of our digital persona and worlds and the feminist principles of the internet (FPIs). She is currently reading, thinking and writing around Whiteness, Pleasure and Activism.
Zaitun Kasim
Shreya Shah
Biography
Shreya (they/them) is a south asian, gender fluid, queer, femme facilitator, coach, and visual artist based in the U.S. (California). Shreya is the founding director of Saltwater Social Justice Training- rooted in the vision that the antidote for most things is saltwater: sweat, tears, or the sea.  They create transformative spaces for collective liberation through the alchemy of sweat/hard work and discipline; tears/embracing our full human complexity, from joy to grief; and the sea/replenishing our spirits.
They support the capacity building and development of activists and organizers, grassroots groups, collectives, healers, and organizations through Saltwater and Training for Change.
Emilia Quan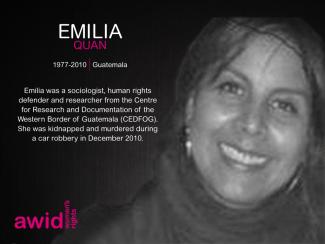 Hiker
Biography
First-ever openly come-out intersex person in Taiwan, Hiker Chiu is the world's first intersex activist to advocate and promote the human rights of Chinese-speaking and Asian intersex individuals. In 2008, he founded Organization Intersex International - Chinese (Oii-Chinese) to share topical issues regarding intersex rights. S/he initiated the "Global Free Hugs with Intersex Movement" in the 8th Taipei Pride Parade 2010, discussed the experience in public, and called to unite the international Chinese-speaking intersex community.
Hiker was invited to the first International Intersex Forum as the only Asian delegate. In 2013, s/he introduced the intersex issue to ILGA, the largest LGBT human rights organization worldwide, in its regional conference ILGA Asia. S/he then established the Intersex Asia Facebook group for connecting with the Asian intersex community. In 2015, Hiker was invited to participate and speak in the "Expert meeting on ending human rights violations against intersex people" by UNHRC representing Asia. In the same year, s/he led 6 other Asian intersex activists to attend and speak up in ILGA Asia's conference in Taipei. S/he was later elected to the board of ILGA representing Asia.
In 2017, Hiker and 6 other Asian intersex activists participated the 4th International Intersex Forum. It was the first time in history that there was more than one Asian delegate in the Forum. In 2018, Hiker partnered with Asian intersex activists and jointly held the first Asian Intersex Forum with the annoucement of First Asian Intersex Statement. Together they established Intersex Asia Network with Hiker as one of the co-chairs. Since 2015, Hiker has been the consultant in the Asian region for Astraea, world's first Intersex Human Rights Fund.
Hiker Chiu dedicates to innovate, connect, guard and develop the intersex movement in Asia, continuing the conversations and the connections with the international intersex movements. Hiker looks ahead to found the platform for Asian intersex people to voice opinions freely and create a friendly space to live in. 
Sandra Viviana Cuellar Gallego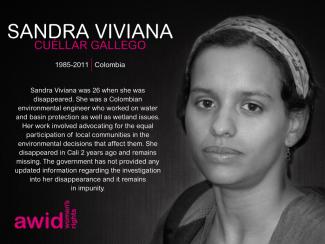 Ika Vantiani
Biography
Ika Vantiani means a woman's house in a mix of Javanese, Arab and Indonesian language. Being the eldest of three daughters, Ika found art and craft like her long lost home due to the long journey she has been taking before deciding to reside here for good. Being a self-taught artist with long communication industry background, Ika mostly works with what's available within and around her being. She tends to start a conversation on topics related with women, media, consumption and art in general through her works.
Today, apart of being an artist and crafter, she also curates and organizes events on art and culture. Ika graduated from London Institute of Communications Advance Diploma in Advertising in 1999, and at the moment she is in the middle of taking her project called Kata Untuk Perempuan (Word For Women) where she documented words that represent women in daily life through collage workshops to international level through public submissions after doing it locally from December 2015.
Gabriela Leite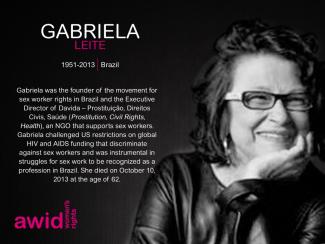 Fatou Warkha Sambe
Biography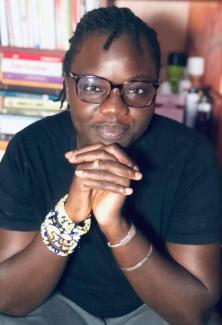 Fatou Warkha Sambe is a Senegalese feminist journalist who uses her profession as a lever to fight against inequalities and combat gender-based violence in Senegal.
She founded the digital platform Warkha Tv which produces among other things "Waxtaan", a program of debates on feminism with activists from the country and the diaspora.
Fatou is also a founding member of the Dafadoy collective which is a leading organization in the fight against Rape in Senegal.
Maha Abu-Dayyeh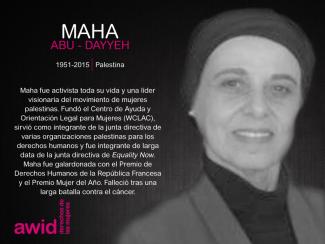 Ali Cat Leeds Snippet EN
Biography
Ali Cat Leeds
Ali is an artist and printmaker based in Portland, USA. Ali received her BFA at Pacific Northwest College of Art. Her prints mingle the literal and metaphorical to illuminate and comment upon the world around us. Relief, screen, and letterpress prints span from the carnage of clear-cuts to the beauty of peoples movements.
Grace Mann