We are proud to share our 'Movements Matter', a digital visual art series that illustrates how movements build collective and compelling political power for human rights, equality and justice.
---
This imagery drawn by artists within our communities and movements are gifts to our feminist leaders, organizations and collectives. Use them in the important movement-building work of changing hearts and minds.
Movements matter
Movements can generate sustained change at different levels - individual, institutional, cultural and systemic. Their power and strength can impact in ways, and on a scale, that single organizations are not able to accomplish on their own. Movements grow in size and vibrancy when they can bring people together, forge deep connections and move them to work with shared purpose and values.
Resistance by isolated individuals can be easily suppressed, but resistance by large numbers of people, acting together around a common agenda for change, leads to diverse and interconnected strategies. It is through collective action that we overcome oppression and make change happen!
Movements are powerful
Movements can inspire and generate dedication through massive actions, like the recent Women's March to DC in the United States. However, movements are often also misunderstood, and the importance of movement-building has at times been neglected and deprioritized. To ensure that movement-building is recognized as a crucial strategy, it is important to have access to information about movements, celebrate their achievements and bring more clarity to what they represent.
By visually highlighting some key questions about movements for rights and justice, our Movements Matter series aims to open up a dialogue, and explore profound questions around the future of these movements. We hope you will relate to these illustrations and feel inspired to keep creating collective actions for rights and justice.
Movements are dynamic
Over the course of 2016, we approached movements and movement-created organizations to share their story in relation to some key questions. For this illustration series we focused on four main questions:
What ignited your movement?
What are the key concepts and ideas you organize around?
What changes are you demanding?
How do you define solidarity?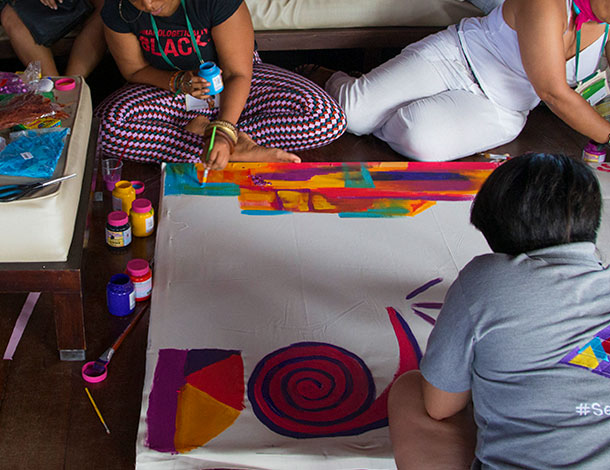 We received responses from a broad range of movements and movement-created organisations, including:
trans
sex workers
lesbian
labour rights
reproductive justice
economic justice
Indigenous
migrant rights
Black feminist
environmental and climate justice
We collaborated with 11 visual artists who are closely connected to these movements. Based on the answers to the four questions, each artist used their sensitivity, creativity and experiences to illustrate the vibrancy, importance and diversity of movements.
Explore the series 'Movement Matter'
Movements are our feminist futures
This series comes out of the process of movements engaging and learning from each other in Bahia, Brazil for the 13th AWID international Forum on "Feminist Futures: Building Collective Power for Rights and Justice", in 2016.
The AWID Forum was a historic global gathering of 2,000 feminist and social justice activists from diverse movements and sectors. Together, we created a collective space to break silos, assess the state of our movements and re-imagine our actions.
The 'Movements Matter' series allows us to explore the importance of writing our own stories, creating our own art, and speaking in our own voices to put forward an agenda for feminist futures.
---