Resourcing Feminist Movements
Around the world, feminist, women's rights, and allied movements are confronting power and reimagining a politics of liberation. The contributions that fuel this work come in many forms, from financial and political resources to daily acts of resistance and survival.
---
AWID's Resourcing Feminist Movements (RFM) Initiative shines a light on the current funding ecosystem, which range from self-generated models of resourcing to more formal funding streams.
Through our research and analysis, we examine how funding practices can better serve our movements. We critically explore the contradictions in "funding" social transformation, especially in the face of increasing political repression, anti-rights agendas, and rising corporate power. Above all, we build collective strategies that support thriving, robust, and resilient movements.
---
Our Actions
Recognizing the richness of our movements and responding to the current moment, we:
Create and amplify alternatives: We amplify funding practices that center activists' own priorities and engage a diverse range of funders and activists in crafting new, dynamic models  for resourcing feminist movements, particularly in the context of closing civil society space.

Build knowledge: We explore, exchange, and strengthen knowledge about how movements are attracting, organizing, and using the resources they need to accomplish meaningful change.

Advocate: We work in partnerships, such as the Count Me In! Consortium, to influence funding agendas and open space for feminist movements to be in direct dialogue to shift power and money.
Related Content
Elisabetta Micaro
Biography
Elisabetta (M.A. in International Studies and Credentialed Evaluator of the Canadian Evaluation Society) is a multilingual consultant and gender specialist with over ten years of professional M&E experience.
Her M&E work has focused on assessing the effectiveness of development interventions that have used capacity development and advocacy as the main strategies to promote the human rights of the most vulnerable social groups, including women who live with HIV, women and girls survivors of violence, women informal workers, persons with disabilities, and children. She has supported and led M&E assignments for a broad range of organizations, including UN agencies, multilateral development banks, INGOs, and governments.
Elisabetta has extensive work experience in South and Southeast Asia, South America, the Caribbean, and Africa. She is well versed in mixed methods research design, qualitative sampling, qualitative and quantitative data collection and analysis, and participatory techniques in evaluation. She has applied knowledge of results-based management and theory of change principles, and of human rights-based and gender equality approaches to evaluation.
Position
Monitoring and Evaluation Lead
Priscilla Hon
Biography
Priscilla has over 15 years of resource mobilization and project management experience and has fundraised for a wide range of medium-sized charities, and supported field-based technical teams to produce compelling proposals and reports for funders. Currently based in London, she has worked with women's rights, youth, development and conservation organizations that support marginalized communities in the UK and globally.
Priscilla has an MSc in International Politics from the School of Oriental and African Studies (SOAS) and in her spare time, sings with a community choir.
Position
Resource Mobilization Manager
Soraida Hussein
Biography
Soraida Hussein is a long time women's rights activist. She co-founded a women's rights organization and a music for children organization. She is a member of the general assembly and a board member of other organizations.
She is a national, regional and international trainer and facilitator on issues related to Human and Women's rights. Soraida is the General Director of the Women's Affairs Technical Committee, and was a co-founder and team member of the Women's Center for Legal Aid and Counselling. She is in charge of the editorial of Women's Voice, a monthly newspaper, and writes a column as well.
Juhi
Biography
Juhi holds a Bachelor's degree in Computer Engineering, and completed a post graduate in Wireless Telecommunications and Project Management from Humber College. She has experience working in multiple industries as an IT Technician from Finance to School Board.  Juhi loves listening to music, exploring new places and foods, and adventure sports. 
Position
IT Support Coordinator
Huei Mei Grace Chang
Biography
Co-founder of Taiwan Association for Disability Rights (TADR), Grace serves as Chairperson of Women Protection and Gender Equality Committee under TADR.She has held several large international symposiums, bringing together high profile activists, academics and policy makers to expedite the awareness of disability rights. She is also an expert member of Taipei City Committee of Women's Rights Promotion and Director of R.O.C. Autism Rights Promotion Association, among other positions. She joined U-Lead participatory action research of University of Leeds on employment of severe physical disabled women. She has devoted her energy to promoting the rights of persons with disabilities, especially women with disabilities.
Eaint Khaing Oo
Biography
Eaint Khaing Oo  has over 10 years experience in journalism and has made remarkable achievements so far. In 2008 Nargis Cyclone, she supported and reported on victims and was jailed for 1 year and half by the military. She is a founding member of two journalist association in Myanmar: Myanmar Journalists Network (MJN) (the first ever journalists association in Myanmar) in 2011, and Myanmar Women Journalists Society (MWJS) in 2015. After 5 years of hard work, when the MWJS (Myanmar women Journalist Society) was institutionalized, she stepped back to nurture emerging female journalists by providing spaces for them. She is currently working for BBC Burmese news and providing training on safety and security.
Profile image
Tanya Lallmon
Biography
Tanya is a social justice activist adopting a decolonial perspective on LGBTQIA+ rights as African Union Youth Charter Hustler for Mauritius. As Fellow at OutRight Action International, she advocates for LGBTQIA+ rights at the United Nations and harnesses the international law system to protect LGBTQIA+ people from religiously-motivated violence. Through the #Reform53 campaign, she lobbies against discriminatory laws on behalf of the Commonwealth Youth Gender and Equality Network under the Royal Commonwealth Society. She leverages the power of traditional and social media to amplify the voices of LGBTQIA+ people to ensure their inclusion in negotiation, planning and decision-making processes.
Position
Information, Communication and Media Coordinator
Snippet Kohl - Panel "un"Inclusive Feminism | AR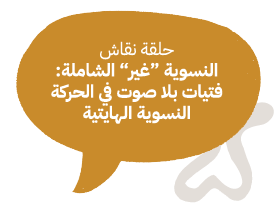 حلقة نقاش | النسوية "غير" الشاملة: فتيات بلا صوت في الحركة النسوية الهايتية
مع نايكي ليدان وفيدورا بيير-لوي
What is AWID?
The Association for Women's Rights in Development (AWID) is an international feminist membership organization.
We work to achieve gender justice and women's human rights by strengthening the collective voice, impact and influence of global women's rights advocates, organizations and movements.