Resourcing Feminist Movements
Around the world, feminist, women's rights, and allied movements are confronting power and reimagining a politics of liberation. The contributions that fuel this work come in many forms, from financial and political resources to daily acts of resistance and survival.
---
AWID's Resourcing Feminist Movements (RFM) Initiative shines a light on the current funding ecosystem, which range from self-generated models of resourcing to more formal funding streams.
Through our research and analysis, we examine how funding practices can better serve our movements. We critically explore the contradictions in "funding" social transformation, especially in the face of increasing political repression, anti-rights agendas, and rising corporate power. Above all, we build collective strategies that support thriving, robust, and resilient movements.
---
Our Actions
Recognizing the richness of our movements and responding to the current moment, we:
Create and amplify alternatives: We amplify funding practices that center activists' own priorities and engage a diverse range of funders and activists in crafting new, dynamic models  for resourcing feminist movements, particularly in the context of closing civil society space.

Build knowledge: We explore, exchange, and strengthen knowledge about how movements are attracting, organizing, and using the resources they need to accomplish meaningful change.

Advocate: We work in partnerships, such as the Count Me In! Consortium, to influence funding agendas and open space for feminist movements to be in direct dialogue to shift power and money.
Related Content
Leila Alaoui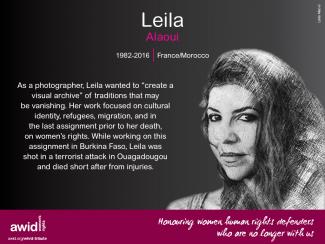 Agniva Lahiri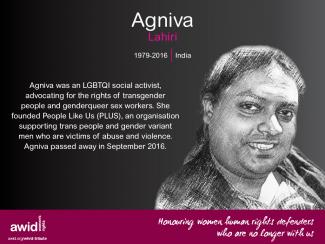 Macarena Valdés Muñoz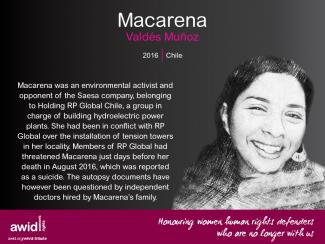 Hande Kader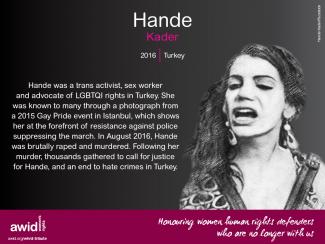 Zhou Jianrong
Cause of death / disappearance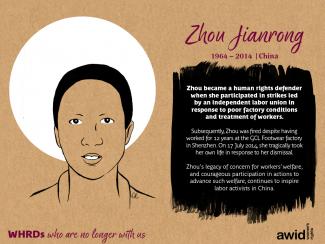 Illuminée Iragena
Cause of death / disappearance

Disappeared / Desaparecida / Disparue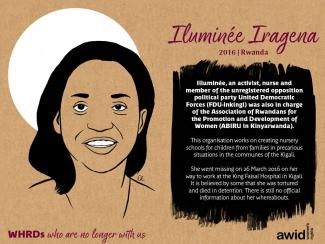 Hala Salaam
Cause of death / disappearance

Natural / Muerte natural / Mort naturelle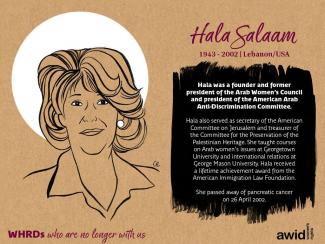 Kátia Martins
Cause of death / disappearance

Killed / Asesinada / Assassinée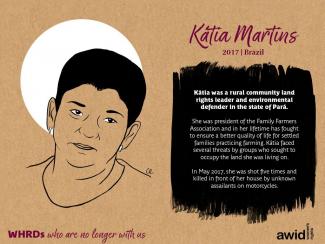 Guadalupe Campanur Tapia
Cause of death / disappearance
Guadalupe was an environmental activist involved in the fight against crime in Cherán, Mexico.
Guadalupe helped to overthrow the local government in April 2011 and participated in local security patrols including those in municipal forests.  She was among the Indigenous leaders of Cherán, who called on people to defend their forests against illegal and merciless logging. Her work for seniors, children, and workers made her an icon in her community.
She was killed in Chilchota, Mexico about 30 kilometers north of her hometown of Cherá.
---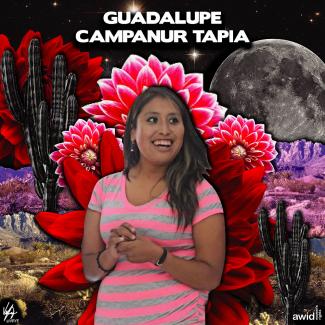 Anna Campbell (şehid Hêlîn Qerecox)
Cause of death / disappearance
Anna grew up in Lewes, Sussex (UK) and, after deciding not to pursue her English degree at Sheffield University, she moved to Bristol and became a plumber.
She spent much of her time defending the marginalised and under-privileged, attending anti-fascist rallies, and offering support to the women of Dale Farm when they were threatened with eviction. A vegan and animal lover, she attended hunt sabotages and her name is honoured on PETA's 'Tree of Life' Memorial. Anna went to Rojava in May 2017 with a strong commitment to women's empowerment, full representation of all ethnicities and protection of the environment.
Anna died on March 15, 2018 when she was hit by a Turkish airstrike in the town of Afrin, northern Syria. Anna was fighting with the Women's Protection Forces (YPJ), when she was killed.
---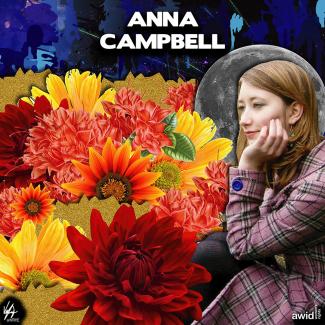 Shireen Lateef
Cause of death / disappearance
Shireen was an inspiration to many feminists in Fiji and a powerful ally to the women's movement. She advocated tirelessly for gender equality locally and regionally.
She began her career as a junior gender specialist at the Asian Development Bank and brought about drastic changes to the institution's gender policies.
Her research, "Rule by the Danda: Domestic violence amongst Indo Fijians" was one of the earliest pieces of research on domestic violence, marriage and women in Fiji. This seminal work has been a catalyst for feminist work in this area.
Shireen's legacy lives on as many remember her influence, commitment and support to the women's movement in Fiji and the Pacific.
---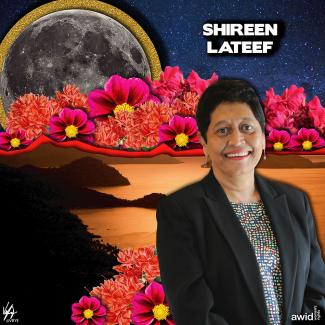 Reason to join 2
Find and create connections. There are over 6,000 AWID members, all working to address complementary, interconnected issues. This diversity supports the sustainability of feminist movements and actors.
Marceline Loridan-Ivens
Born in 1928, Marceline worked as an actress, a screenwriter, and a director.
She directed The Birch-Tree Meadow in 2003, starring Anouk Aimee, as well as several other documentaries. She was also a holocaust survivor. She was just fifteen when she and her father were both arrested and sent to Nazi concentration camps. The three kilometres between her father in Auschwitz and herself in Birkenau were an insurmountable distance, which she writes about in one of her seminal novels "But You Did Not Come Back."
In talking about her work, she once said: "All I can say is that everything I can write, everything I can unveil — it's my task to do it."
---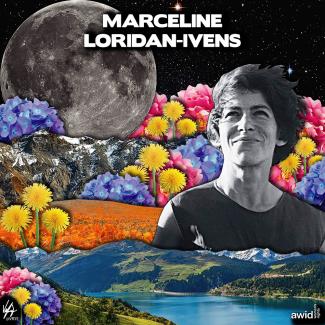 Forum Theme (Forum page)
Forum Theme
The theme of the 14th AWID International Forum is: "Feminist Realities: our power in action".
In this Forum, we will celebrate and amplify powerful propositions that are around us, in all stages of development.