Co-Creating Feminist Realities
While we dream of a feminist world, there are those who are already building and living it. These are our Feminist Realities!
What are Feminist Realities?
Feminist Realities are the living, breathing examples of the just world we are co-creating. They exist now, in the many ways we live, struggle and build our lives.
Feminist Realities go beyond resisting oppressive systems to show us what a world without domination, exploitation and supremacy look like.
These are the narratives we want to unearth, share and amplify throughout this Feminist Realities journey.
Transforming Visions into Lived Experiences
Through this initiative, we:
Create and amplify alternatives: We co-create art and creative expressions that center and celebrate the hope, optimism, healing and radical imagination that feminist realities inspire.

Build knowledge: We document, demonstrate & disseminate methodologies that will help identify the feminist realities in our diverse communities.

Advance feminist agendas: We expand and deepen our collective thinking and organizing to advance just solutions and systems that embody feminist values and visions.

Mobilize solidarity actions: We engage feminist, women's rights and gender justice movements and allies in sharing, exchanging and jointly creating feminist realities, narratives and proposals at the 14th AWID International Forum.
---
The AWID International Forum
As much as we emphasize the process leading up to, and beyond, the four-day Forum, the event itself is an important part of where the magic happens, thanks to the unique energy and opportunity that comes with bringing people together.
We expect the next Forum to:
Build the power of Feminist Realities, by naming, celebrating, amplifying and contributing to build momentum around experiences and propositions that shine light on what is possible and feed our collective imaginations

Replenish wells of hope and energy as much needed fuel for rights and justice activism and resilience

Strengthen connectivity, reciprocity and solidarity across the diversity of feminist movements and with other rights and justice-oriented movements
Learn more about the Forum process
We are sorry to announce that the 14th AWID International Forum is cancelled
Given the current world situation, our Board of Directors has taken the difficult decision to cancel Forum scheduled in 2021 in Taipei. 
Related Content
Ruby Montour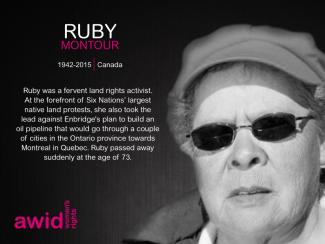 Safia Ahmed-Jan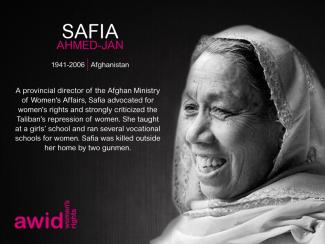 Flor Alba Nunez Vargas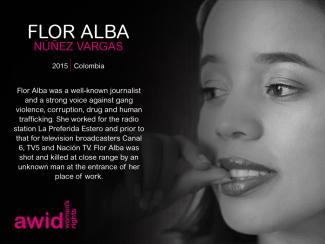 Dr. Nuzhat Amin
Zamira Esther Bautista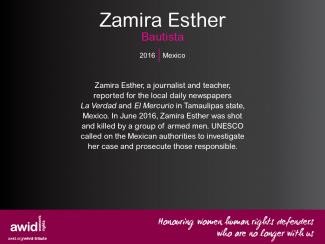 Membership why page page - to join as a member block
To join as a member - step by step
Read and endorse the AWID Values and Community Guidelines.
Fill out your membership sign-up form and indicate your contribution to at least one type of action proposed.
Check your mailbox for a confirmation of your membership.
Fulfill your contribution commitment to the type(s) of action you chose in the sign-up form.
Welcome to our global feminist community!
Individual:
Organization:
Fezekile Ntsukela Kuzwayo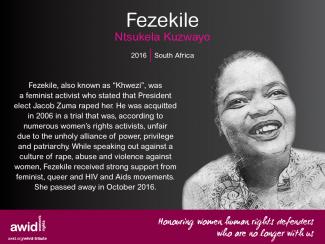 FRMag - Freeing the Church
Freeing the Church, Decolonizing the Bible for West Papuan Women
by Rode Wanimbo
I was born and grew up in Agamua, the Central Highlands of West Papua. My father belongs to the Lani tribe and my mother comes from Walak. (...)
---
< artwork: "Offerings for Black Life" by Sokari Ekine
Miriam Rodríguez Martínez
Cause of death / disappearance

Killed / Asesinada / Assassinée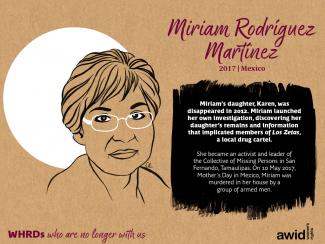 Film club - Tenderness is the sharpest resistance
Our first Feminist Film Club program is now available to view: "Tenderness is the Sharpest Resistance" is a film series on Asian/Pacific Feminist Realities curated by Jess X Snow 
Trupti Shah
Cause of death / disappearance

Natural/Muerte Natural/Mort naturelle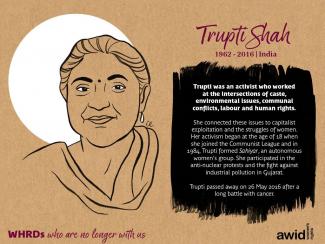 ours chapter 5
Chapter 5
Anti-Rights Tactics, Strategies, and Impacts
Anti-rights actors adopt a double strategy. As well as launching outright attacks on the multilateral system, anti-rights actors also undermine human rights from within. Anti-rights actors engage with the aim of co-opting processes, entrenching regressive norms, and undermining accountability.
Christine Loudes
Cause of death / disappearance

Natural / Muerte natural / Mort naturelle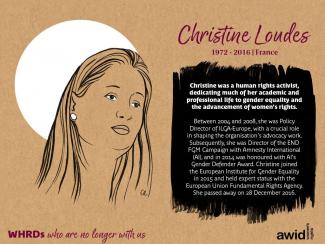 Snippet Kohl - Plenary | She is on her way: Alternatives, feminisms and another world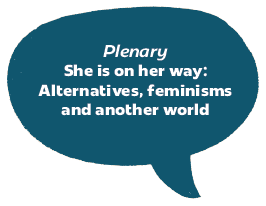 with Dr. Vandana Shiva, Dr. Dilar Dirik, and Nana Akosua Hanson.
Doris Viloria Palomares
Cause of death / disappearance

Killed / Asesinada / Assassinée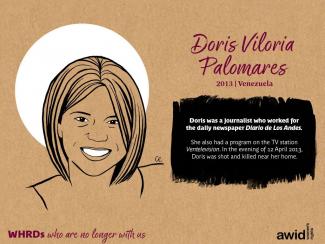 Kate Millett
Cause of death / disappearance

Natural / Muerte naturel / Mort naturelle
Lindiwe Rasekoala | Snippet AR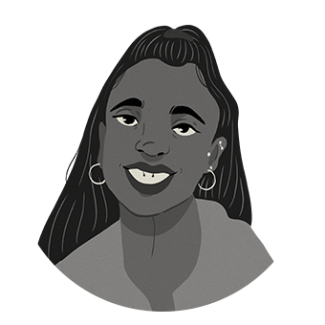 لينديوي راسيكوالا  مدربة حياتية، متخصصة في التدريب على العلاقات الحميمة. إنها متخصصة بالصحة الجنسية ولديها مساهمات في هذا الموضوع عبر الإنترنت. من خلال تجاربها الخاصة وأساليب البحث غير التقليدية التي تنتهجها، تعتقد لينديوي أنها تستطيع سد الفجوة التعليمية، فيما خص الصحة الجنسية وإشكالية الوصول إلى المعلومات حول الموضوع. لها العديد من المساهمات في البرامج الإذاعية والتلفزيونية، وقد أكملت تعليمها كمدرب مع تحالف المدربين المعتمدين CCA. تتمثل مهمة لينديوي في كسر الحواجز التي تحول دون قيام المحادثات حول الصحة الجنسية، وتمكين زملائها من تحقيق فهم أكبر لأنفسهم، حتى يتمكنوا من تجربة نمط حياة وعلاقات أكثر صحية وتكامليّة.
Deborah Holmes
Cause of death / disappearance
At the time of her death, following a short but aggressive battle with cancer, Deborah was the Chief Communication and Engagement Officer at the Women's Funding Network (WFN). 
Deborah also worked for the Global Fund for Women from 2008 to  2017. Deborah was extremely loved and respected by board, staff, and partners of Global Fund for Women.
Kavita Ramdas, former CEO of the Global Fund for Women aptly noted that Deborah was "a small package exploding with warmth, generosity, intelligence, style, and a passionate commitment to fusing beauty with justice. She understood the power of story. The power of women's voice. The power of lived experience. The power of rising from the ashes and telling others it was possible. And, still we rise."
Musimbi Kanyoro, the present CEO of the Global Fund for Women, added, "We have lost a sister and her life illuminates values that unite and inspire us all. As we all come together to mourn Deborah's passing, let us remember and celebrate her remarkable, bold, and passionate life."
---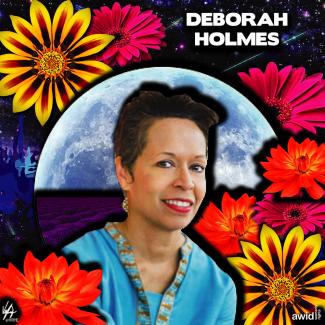 Disintegration | Content Snippet AR
وصلتني رسالة يوم الأربعاء
مصحوبة بعنوانٍ على ظهرها.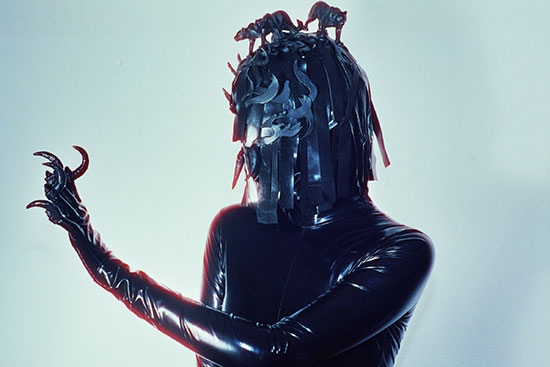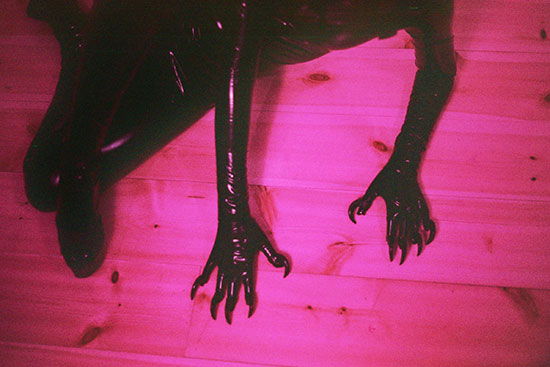 الخامسة مساءً، اليوم
خطّ كتابة الدعوة –
متحفّظ وجاف – 
رأيته خمس مرّات في خمس سنوات. 

جسدي مُستنفَر، 
محموم. 
أحتاج لمضاجعة نفسي أوّلًا. 
المدُّ عالٍ الليلة 
وأنا 
أنتشي. 
أريدُ إبطاءَ كلَّ شيء، 
واستطعام الوقت والفراغ، 
أن أحفرهما 
في الذاكرة. 
*
لم آتِ أبدًا إلى هذا الجزء من البلدة. 
الأماكن المجهولة تثيرني،
[كذلك] الطريقة التي تقاوم بها الأشلاء والعروق والعظام 
الاضمحلال،
مصيرهم غامض. 
عند الباب أعيدُ التفكير. 
الرواق قاتم السواد
يجعلني أتوقّف. 
على الناحية الأخرى، 
مثل اللعنة، يُفتَح باب 
من الروائح والألوان 
على عَصْرٍ مُشمس. 
النسيم 
يجعل شعري يرقص، 
يثير فضوله، 
يدفعه للحركة. 

أسمعُ أزيزَ الكرسي المتحرّك، 
يشكّل الظلال. 
عندها أراهم: 
وجه فهد
وجسدٌ مثل جسدي 
وأجِدني راغبة بكليهما
مرّة أخرى.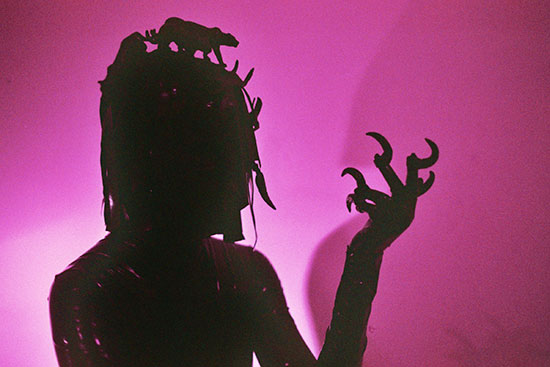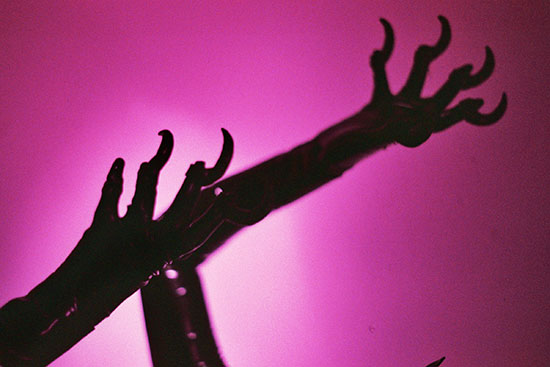 يقترب المخلوق منّي. 
إيماءاتهم تكتب جملة؛ 
كلّما اقتربت منهم، 
أتبيّن تفاصيلها: 
       ذبول، لحم، غِبطة
بأمر ٍمنهم، تزحف الكرمة 
التي تغطّي الرُواق 
مُعانقةً الصخور الدافئة
وتتسلّق الحائط كالأفعى.
لقد أصبح فعلًا، 
«أن تقفز»، 
أُعيدَ توجيهي عندما أشارت مخالبهم 
نحو سرير الكرم في المنتصف. 
أسمع العجلات خلفي، 
ثم أسمع ذلك الصوت. 
يُدوي 
بشكلٍ لا مثيل له. 
أجنحتهم الطويلة السوداء
ترتفع نحو السقف
ثم تندفع للأمام. 

عينا الهرّة تفحص كلّ تفصيلة، 
كلّ تغيّر، 
كلّ تَوق. 
هل يمكن أن تُذيب الرغبة عضلاتك؟ 
          هل يمكن أن تكون أحلى من أقوى المهدّئات؟
فهدٌ يخيط العالم، 
عبرَ اختلافاتنا، 
غازلًا الدانتيل حول ركبتيَّ. 
هل يمكن للرغبة أن تسحق تباعُد العالم، 
أن تكثّف الثواني؟ 
مازالوا يقتربون، 
تلتقي عين الفهد بعين الإنسان، 
تتنشّق الهواء، 
تُحوِّل الجسد إلى 
إلحاح. 
يخفقون بأجنحتهم للأسفل. 
هائجة، 
تلتفّ الكرمة حول خصري/ خسارتي.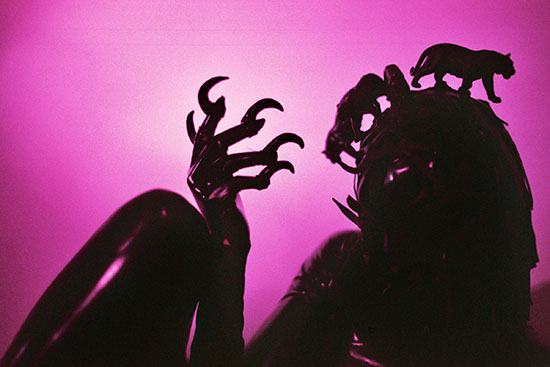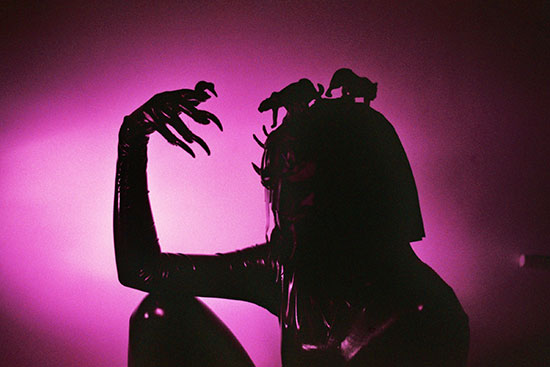 لسانهم يرقّق الوقت، 
تتبدّل الآراء، 
يُسكِّن، بسحرهم، 
ما يشتعل أسفل [السطح]. 
        أرى العالم فيك، والعالم مُنهَك. 
ثم يتوسّلون: 
        دعيني أقتات عليك.