Reclaiming democratic spaces
We can only dream of alternatives when there's room to challenge power.
In recent years, there has been a systematic global shrinkage of democratic spaces.
Worldwide, governments, aided by corporate, conservative and military forces are attacking dissenting voices and shutting down criticism in order to protect and consolidate elite power and interests. In the face of this global crackdown, feminist activists need to keep defending democratic spaces, because we can only dream of alternatives and expand our feminist imaginations when we have the space to challenge power.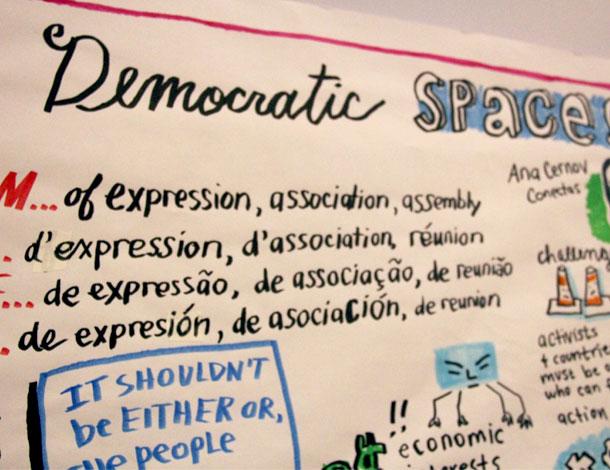 The recent AWID Forum that took place in Bahia, Brazil, invited participants to imagine "feminist futures." But to do so, we must reckon with the extent to which the state and other forces are working to limit our imaginations. This was the focus of the session, Reclaiming Democratic Spaces, in which participants explored the clampdown on resistance taking place across national and international levels.
Stories of state repression are not new, but the techniques are getting craftier.
Governments are using new forms of bureaucracy to slow down the work of activists, such as questioning and limiting the funding organisations can get from external sources. For example, Russia is using a broadly drafted law on foreign agents to silence NGO voices while India's law foreign contributions swoops down on those that are critical of its regressive policies and practices.
At the same time, states continue to use violence as a tactic. Spaces to organise and peacefully demonstrate are frequently encroached upon with a heavy military hand.  Governments prey on fear and deploy the language of terrorism to pass vague legislation that gives them expansive powers to erode fundamental freedoms and suppress democratic spaces. Kenya, for example, has used the refrain of anti-terror to delegitimize and deregister NGOs, as well as muzzle media coverage that is critical of government and military actions.
Power of the media
"The media can destroy or ferment democratic spaces," panelist Jessica Carvalho Morris of Conectas (Brazil), reminded participants.
We know the power of the media to galvanize movements; which is why governments frequently shut them down to remain unaccountable. Just ask Gabon.
(read: This African country is taking an unprecedented step in internet censorship on CNN or Gabon imposes nationwide 12-hour internet curfew and total social media blackout following election conflicts on the International Business Time)
But we also know that in some places, the media has been co-opted by the state, refusing to critically engage with the government's hand in the status quo. And in this shrinking of democratic spaces, even social media platforms that offer the illusion of free and open spaces have shown they are not neutral. Facebook, for example, has been accused of censorship when it closed down the accounts of activists demanding accountability over injustices in Kashmir.
Growing space for corporations
It is no coincidence that as the spaces for democratic expression shrink, the promotion of corporate interests grows. Policy-making spaces are edging out human rights groups, while making more room for corporate actors.
This growing relationship between governments and corporations is coming at a price. Those challenging extractive industries, for example, and the collusion of state and corporate power remain at grave risk. Their resistance to the corporate-centred exploitation of natural resources asks us to imagine an alternative and equitable world, but their dissenting voices are often labelled as "anti-development" and framed as "unpatriotic."
The six month anniversary of the murder of prominent indigenous and feminist women human rights defender- Berta Caceres from Honduras is a stark reminder of the violence meted against those asking for their autonomy and agency to be recognised.
Meanwhile, attacks on democratic spaces are not neutral and follow the fault lines of power; the voices of women, indigenous peoples and other marginalized groups are suppressed even more than usual. In the context of prevailing inequalities, these groups face heightened risks when democratic spaces are eroded.
Defending democratic spaces, imagining our own liberation
The Reclaiming Democratic Spaces session unpacked the threats on democratic spaces, but it also let out a more powerful call.
Aya Chebbi, a Tunisian youth activist declared that: "We need an earthquake of transnational solidarity!"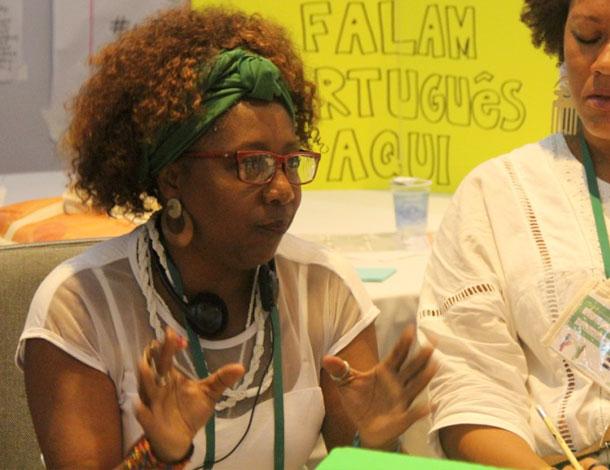 By defending democratic spaces, we are defending diverse ways to critique power. We are challenging the expansive reach of the state and the capitalist industry of corporate power. We are putting fundamental freedoms and human dignity at the centre of conversations.
It's not just that democratic spaces allow us to challenge power and thus grow our feminist imaginations. But it also that they allow for a multiplicity of voices that call truth to power and thus enable stronger, deeper and more multifaceted frameworks to imagine our own liberation.
Plural voices counter the dominant narrative and disrupt what is sometimes the only story we are told. Whether it is women challenging the interpretation of religious laws or a Pride rally in a conservative environment, these actions of resistance allow us to see our humanity on multiple levels. And all the different forms of challenging power must be protected because the ability to organise and express ourselves is what builds our collective understanding of justice.
At the session, Charlene Carruthers of the Black Youth Project 100 (BYP100) and the Movement for Black Lives (United States) captured the power and possibility of liberatory imagination when she shared how the movement for Black Lives advocates for the abolition of police and prisons. Caruthers dared us to imagine what life would look like without these institutions and reminded us that this root of policing was to control slaves.
When she asked: "Yes, tear down, but what will we build up?" I was moved to dream of a future without prisons or police, and understand how resistance gives us a framework to articulate freedom.
In that moment, and with that example, the crucial imperative to reclaim our democratic spaces in order to expand our feminist imaginations was more evident than ever.
---
About the author
Sanyu Awori is a feminist human rights advocate from Kenya who works at International Women's Rights Action Watch Asia Pacific.