Over a month later the AWID Forum continues to inspire.
It was an amazing experience for those of us who had the privilege to be there. The purpose of the Forum was timely and powerful: connecting feminist movements, building alliances across constituencies, and strengthening collective power to create a just future free of patriarchy and where human rights are respected. This is music to our ears, and food to our souls.
The Forum was a celebration of diversity in feminism, bringing together activists and leaders from black-, young-, LGBTQI-, indigenous-, migrant-, climate change-, disability-, and region specific feminisms. It was also a space for well-being, not only for talking and thinking but also for feeling and nurturing, through arts and sessions focused on healthy activist and work-environments. For many of us it was an opportunity to listen to and learn from the experiences of others, and it truly created a much needed safe space for women human rights defenders. We wish to thank AWID for enabling this opportunity, and to share that we are firmly committed to learning from and collaborating with you, in our joint mission to challenge the system and trample the patriarchy.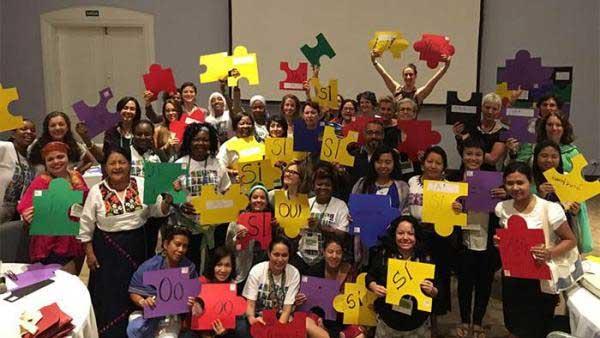 The above also broadly summarizes the conclusion of the caucus meeting on "Men, Masculinities, and Feminisms", organized daily during the Forum by MenEngage Alliance – a global network of over 700 civil society organizations and activists working to transform masculinities and engage men and boys, to contribute to advancing women's rights and gender justice for all. Over lunch or dinner, rights and gender justice activists working with men and boys to transform harmful masculinities, came together for an informal chat – literally at a [wink] "kitchen table" setting – to share experiences and reflections and strategize on the ways forward.
Our sense was that there is a lot of interest in engaging men and boys in feminism. At the MenEngage Alliance exhibition booth and speaking to participants at the Forum, many shared their experiences of doing this work at country-level – often for many years.
---
This work is not just about engaging men and boys – it is about transforming unequal power relations.
When applying a gender lens to any issue – from caregiving to climate change – it becomes clear that we need to empower women and girls, and support men and boys to reflect on and challenge their power and privileges. While this may mean that men will have to give up some benefits (over women and girls, over other men and boys) we believe that in the end, this will lead to healthier relationships and better lives for everyone, including for men and boys themselves.
Several events took place that highlighted this work – and we thank the Forum organizers for enabling these spaces:
WILPF's Feminist Playbook for Peace
I enjoyed this session most of all, because it gave us the time (3 hours!) to strategize. Bringing together speakers and participants from various movements, we explored how to create feminist solutions, strengthen alliances, and construct innovative strategies to bring peace. This was one of the few sessions that addressed the importance and the opportunity of the Sustainable Development Goals (SDGs) to unite our feminist agendas in a targeted manner – interacting with the very systems of politics and development that we aim to transform.
Madeleine Rees, speaking of the need to be strategic in our endeavors to transform the patriarchal systems that are at the core of violence and conflict, called for a gender-roles analysis that includes men and boys:
"We need to look at men's roles in every context. Are they helping, or are they problematic? And engage with each other from there."
Madeleine is walking the talk, as she joined the MenEngage Alliance global board in January 2016. WILPF has been building bridges since then, including at the Forum where they invited MenEngage Brazil member Marcos Nascimento to speak and share his perspectives. Marcos Nascimento said that
"If men are part of the problem of violence against women and girls, they need to be considered as part of the solution. Engaging men and boys in the construction of a world free of violence for women and girls includes efforts at the community level, public policies, economy, media and the whole society. Educating boys and young men from a gender and feminist perspective is crucial to change inequalities, to respect women and girls, and to celebrate diversity."
At the end of the session all participants put the puzzle pieces together to create one holistic, multi-layered playbook for peace.
Feminisms and men: Transforming practices, institutions and symbols
- organized by members of MenEngage Brazil. Benedito Medrado, of Universidade Federal de Pernambuco said
"The more years of masculinities work we do, the more doubt we have, and the more we need to learn. This work builds on work by women, and we can only continue to work with men if we do so from a feminist analysis and approach."
Vanessa Fonseca, Program Coordinator at Promundo Brazil, summarizing the conversation, concluded: "It is not just about engaging men. When we say transforming masculinities, we mean changing the mechanisms of the machine that produces people."
Mobilizing men as activists to contribute to ending violence against women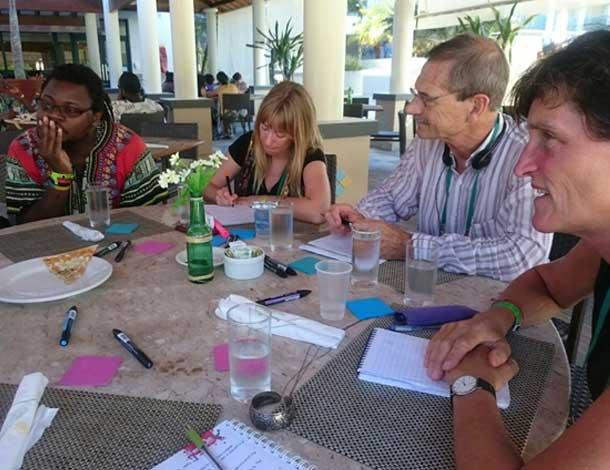 This panel, organized by Breakthrough and Promundo, brought together activists from Brazil, Mozambique, Lebanon and the USA, to share their experiences of mobilizing men and boys to be part of the movement to end violence against women and realize women's rights and gender justice more broadly. Anthony Keedi, Masculinities program director at ABAAD, called for the need to engage men to complement the women's empowerment movement and to work with men on masculinities to contribute to women's and girls' wellbeing, and the well-being of men and boys themselves. Men, when engaged in matters of gender justice, can become feminists too.
Julio Langa, co-founder and national coordinator of HOPEM (Men for Change Network) shared how the network emerged from Forum Mulher – a women's forum that works for the rights of Mozambican women – and their identified need to work with men in a more targeted/direct manner in order to tackle the core of their problems. The project "Men in the Kitchen" brings men together with men in a discussion about their power and privilege, from the household to public life.    
Breakthrough has long been a champion of engaging men and boys for gender justice. Phoebe Schreiner, USA Country Director, shared Breakthrough's strategy of meeting men wherever they are, by crafting messages to their target audience through outside-of-the-box social media mobilization, and combining this with work with men in communities – from the suburbs of Delhi to the college campuses of the USA.
Promundo's Executive Director, Gary Barker, shared how they target systems and sectors where femininities and masculinities are shaped – including health services, work spaces, and even the military and police – in an attempt to reconstruct such systems at every level, and from a holistic perspective. 
To see some pictures, quotes and social media interaction related to men, masculinities and feminism at the Forum:
Have a look at the digital story
Importance of accountability
In advance of the AWID Forum, MenEngage Alliance organized an online consultation, which brought together participants working on engaging men and boys, and those working on women's rights and empowerment from all corners of the globe to share experiences, concerns, lessons learned and recommendations about partnerships, accountable practices and transformative work in the field of engaging men and boys in women's rights and gender justice. Key recommendations from the discussion were:
to ensure that addressing power, privilege and patriarchy is central to all work with men and boys,
to incorporate an intersectional approach into programs and policies,
to politicize work with men and boys and move towards work on transforming masculinities and broader systems of oppression,
to strengthen partnerships across the gender equality field, and
to build strong and vibrant networks as part of the broader movement for gender justice.
For more insights from the discussion, you can read the summary report.
Accountability is key for MenEngage Alliance. We understand accountability as the commitment that activists and organizations working in the engaging boys and men field must have toward women's rights groups and other social justice movements. It involves the responsibility to listen to, consult and partner equally with such groups, making sure that the work of engaging men and boys makes a real contribution to social justice and gender equality.
We look forward to continue supporting AWID and members, to contribute to your work, and to collaborate!
---
About the author
Joni van de Sand, an AWID member, is from The Netherlands and part of MenEngage Alliance, a global coalition of NGOs focusing on engaging boys and men in advancing gender equality.
---
This article is part of the "AWID Members Reflect on the 13th AWID International Forum" series.