6 tips on working remotely in today's gig economy
For close to five years, I have worked mainly virtually, connecting with colleagues at AWID in 16 countries, and meeting over various digital platforms including Skype, Slack and Zoom. I can't imagine ever going back to working for an organisation where the workplace is a fixed designated bricks and mortar office (that will involve getting dressed to suit the politics of that office, and figuring out the logistics of transportation on a daily basis from my home to the office). In the first instance, I could have spent that travel time already working! And surely, working from home must be better for the environment too.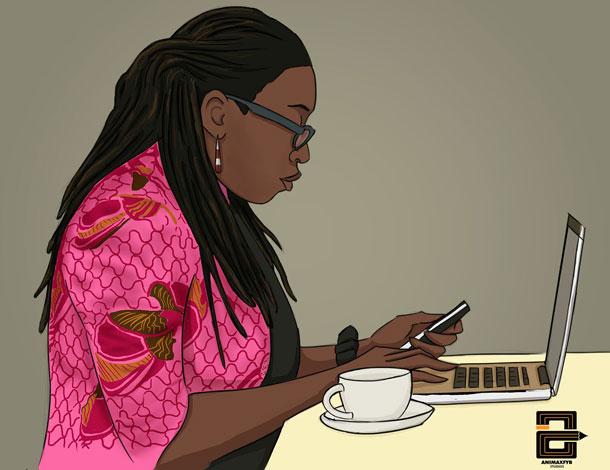 AWID is a decentralised organisation. Simply put, this means the vast majority of staff can work from wherever they are located. This allows the organisation to be truly global - and hire the best staff wherever in the world they may be located. With our current strategic plan, we've also set out to consciously recruit even more people from the Global South, and underrepresented groups. This means our day to day work is advanced virtually, with occasional travel to meet with key partners. As an entire staff body, we also are aiming to meet at least once a year in order to have much valued face to face time to think and plan our work together.
I realised really quickly when I joined AWID that I needed to create a routine in order to make this job work for me, and so after years of tweaking and constantly experimenting with new ways of working, I am sharing my top 6 tips for thriving in today's gig economy.
---
1- Have a routine 
I currently lead the Information, Communications and Media team at AWID. The people in that team work from Argentina, Canada, Costa Rica, Ghana (that's me!) and Sweden.  Working with a globally dispersed team requires a delicate balancing act. On one hand it's important to be flexible, and sometimes connect with colleagues at a time that is less than ideal for you. On the other hand, one has to resist the temptation to always stay connected, in order to have a regular work routine. Over the past few years I have experimented with various ways of working, and I think I am now at a place where I have found a routine that helps me to be both productive in the workplace, whilst centring my wellness and happiness. Some of what I have learnt over the years is that having a consistent morning routine where I get to move my body helps me have a good day at the office. This is especially important because my job is so sedentary.
On most days of the week, I start my day with a 10 minute walk to the gym where I can do a variety of classes. I personally like workouts that don't feel like one, and so I'm a big fan of taking dance classes, and love group workouts like spinning. I find that I am motivated to keep going when I'm working out with others, and as someone who spends most of her day home alone, this gives me some much needed social interaction. Clearly, you don't need to be a member of a gym to start your day with some movement. For some folks, working out at home may be even better. You can have a dance party whilst seated or do some gentle stretches from your chair. You can even start your day by taking time to stretch gently whilst still lying in bed. Workouts can also be useful - cleaning your house counts, and if you are lucky enough to have a couple of plants or even a garden, taking time to nurture your greenery in the morning can become part of your morning routine. 
2- Have a designated space to work from
I'm really lucky that I have been able to designate a room in my house as an office. And so once I'm back at home, I shower, grab a mug of hot water and lemon, and head into my home-office.
Your office at home can be a particular desk in your living room, a spot on your verandah if you have one, or even a particular section of your kitchen.
It's a real privilege to have this, and I recognise that not everyone can afford to have a dedicated space at home as an office - but if there is any way you can, I recommend creating such a space. Your office at home can be a particular desk in your living room, a spot on your verandah if you have one, or even a particular section of your kitchen. You may have to use an existing communal space as an office, and in those circumstances it may be helpful to have something symbolic that designates the space for work, and that gets taken away when that spaces reverts to being a full time home space. This could be a potted plant for eg, that gets placed on a table to turn that back into space for the home.
For me, having that distinction between the space where I work, and where I live has been essential to having work life balance. If your organisation allows people to work remotely then they really should be providing support for folks to do so. Let me brag a little bit about how my organisation supports people to work from home. Staff who work from home can be provided with support to equip their home office which can include things like buying a laptop, or a desk and chair. Sounds really basic, but for me its really key that this expense is covered by the organisation I work for. My internet bill is also reimbursed by my employer. Best of all, its my choice to work from home as AWID pays for staff who wish to rent a desk in a shared office space for example. 
3- Work your plan
Okay I confess to being a tad obsessed with planning, but I think this is really a key part of what helps me to feel effective in the workplace. I'm a big fan of writing daily to do lists (as well as using Asana to stay on top of work projects). I number my lists in terms of priorities and get a real sense of satisfaction in ticking tasks as done. Nowadays I have been trying really hard to get at least my number 1 priority done before checking work emails and messaging platforms. It's such a struggle for me not to have a Pavlovian attitude to the pings of my inbox but I'm working on getting better at focusing on my important tasks. 
I have been trying really hard to get at least my number 1 priority done before checking work emails and messaging platforms.
Another great planning tool is the good old calendar. I am low key obsessed with scheduling all my key meetings well in advance. One of the things I am trying to get better at is ensuring that I have no more than 3 meetings a day, and where possible, that I have at least half an hour in between meetings. Jumping on a call to speak to a colleague to move a piece of work forward can be way more effective than hours of email ping pong. Plus regular online meetings (with video if you are feeling presentable) can be an important part of ensuring that you have social interaction in your life, especially when you work remotely.
4- Stay connected to your colleagues
Even in a decentralised organisation, it is important to build relationships with colleagues. Scratch that! Especially, in a virtual organisation, it is important to build relationships with colleagues. Periodically I schedule calls with some of my colleagues at work just to have a random catch up.
 This is the kind of thing that I know would have happened naturally if we worked in the same physical location but virtually, you need to make the effort to make that happen. Plus the best thing about working with folks from all over the world is that when travel takes you to where they live and work, it's really easy to say, 'hey, I'm attending a meeting here for the next two days. Are you free to catch up over a drink?'.
5- Break up your day
We all know that we should be moving more throughout the day, but I was shocked to read recently that working out in my mornings was not enough, and that I needed to be moving way more throughout my day. To a certain extent I have already been trying to break up my day. I have this device on my table that I crank up to turn my regular desk into a standing desk, and so, for some meetings, I make myself stand for the duration of the call. Other times I turn on my speaker, and walk around the house whilst participating in meetings.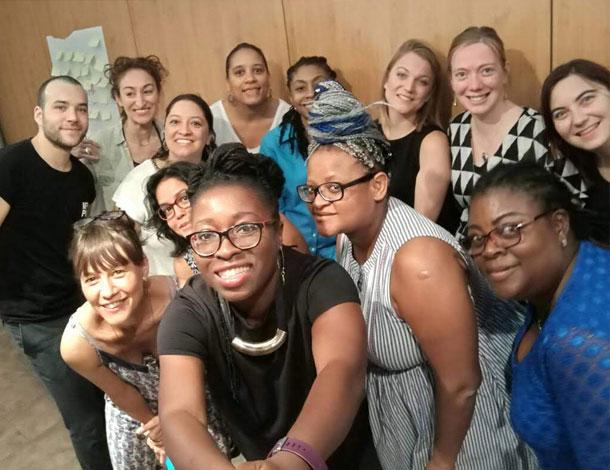 When I need a break I have a couple of go tos. Sometimes I light some incense and meditate. I am a big fan of Insight Timer, a free app available on smartphones. More recently I have also come across Affirmation Pod which I find helpful when I need an extra shot of motivation, or to crank down my negative self talk. 
6- Have a social life
Working from home is not for everyone. For some folks it can be a lonely experience and I think it's really important to ask yourself whether you're the kind of person who is more motivated to work when you are surrounded by other people who are also being productive in some way. This is where working from a cafe, shared office space etc may be helpful. 
Ask yourself whether you're the kind of person who is more motivated to work when you are surrounded by other people. 
Part of what I also find really helpful is scheduling in a couple of social events into my calendar. For me it's usually visiting my family on Sundays, or planning a writing date with one of my other writer friends. In my best weeks I do both. I also find that having post work plans is a good way to ensure that you leave your office on time. Hint: These plans can even be solo dates - you can schedule time to read a good book, watch that film you've been wanting to see, or just step outside your house to take a couple of deep breaths.
In my personal experience, the best thing about working from home is actually having more time to work within your allocated hours whilst still having your creature comforts close by. Hello cookies and tea in the kitchen!