You will not be surprised to hear that the fifteen days of negotiations during the COP26 did not lead to the binding climate commitments we need, overlooked gender-responsive climate policies and failed to equitably redistribute resources to ensure just transitions. Instead, the 2030 targets are putting us on track for a 2.4°C to 2.7°C warming by the end of the century1 - which is a death sentence for millions of people and local communities across the Global South - especially women, youth and frontline communities (indigenous people, land defenders, rural communities) - who bear the greatest brunt of the climate crisis. Here is what we need to know about this politically shameful summit that has been met with tens of thousands of protesters around the world demanding real solutions, not false solutions.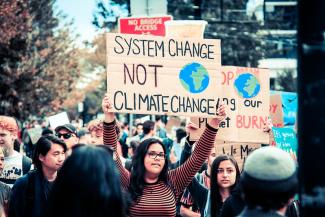 The most exclusionary COP ever
This summit ended up being the most exclusionary summit in the history of all COPs - with grassroots organizers from the Global South not being able to participate due to vaccine apartheid, increased border controls, continuous changing of quarantine rules, challenges of visa processing and exhorbitant UK prices, amongst other barriers. Indigenous people were mostly excluded from the summit, and their traditional knowledges on sustainable land and water management continue to be erased in what is described as "a continuation of colonialism". Meanwhile, the fossil fuel industry had a red carpet welcome, and made up the single largest delegation at COP26, with more than 500 fossil fuel lobbyists affiliated with some of the world's biggest oil and gas companies.
Business as usual
What ensued at the summit consisted of nothing more than business as usual and an endless parade of false solutions (and oxymorons), such as "green" finance, "green" mining, green "growth, amongst other nature-based solutions which seek to further commodify nature, "offset" rather than cut emissions, and shift burdens (through carbon emissions trading) to the Global South — burdens that will be disproportionately forced onto and violate the rights of women, youth, and other frontline communities.
Far from tackling the root causes of the climate crisis, these market-based initiatives follow the same logics of the system responsible for the current crisis, and will therefore continue to exacerbate it - for the sole purpose of generating more profit-making opportunities for a small elite. Indeed, the summit was marked by the unbridled influence of corporate interests, known as corporate capture, and converted yet another chance to foster global collaboration to address the climate crisis into an opportunity to advance corporate and state greenwashing (deceptively presenting actions and policies as environmentally sustainable).
The final text - while mentioning fossil fuels for the first time - is largely diluted in its language, therefore leaving a multitude of loopholes for the continuation of fossil fuel activities and investments. This comes as no surprise considering the 200 million that the industry has spent annually on lobbying governments to block, control or delay the adoption of legally binding climate policies. More worryingly, governments now seem to risk trillions in fossil fuel climate litigation if they legislate to limit warming to 2°C by 2050.
Finally, there were no clear commitments to deliver new climate finance in line with the pressing needs of Global South countries. The repeatedly broken (and insufficient) promises of $100 billion per year is a mere fraction of the amount historical polluters (both states and corporations - mostly fossil fuel industries) should be providing for reparations. The only proposal for setting up the Glasgow Loss and Damage Facility submitted by all the 138 countries of G77+ (representing 5 billion people) was removed from the final text by the US, the UK and the EU. Instead, the historically most polluting countries preferred to engage in a ridiculous blame game on "who pollutes more" rather than accepting responsibility for their destructive policies and (in-)actions.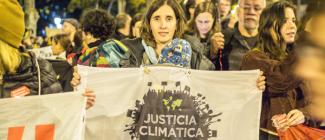 Real solutions, not false solutions
As feminists critical of neoliberalism, we understand the climate crisis as a symptom of the current economic system (rooted in patriarchy, racism, neo-colonialism and anthropocentrism). This is why we need to keep building just, green, anti-capitalist, decolonial and feminist economies. These alternatives based on care and the sustainability of all life (as opposed to the exploitation of people and nature) already exist in many parts of the world and in many sectors of our economies as the prefiguration of the other possible worlds we know exist. 
We must keep building and connecting these alternatives across the world at the same time as we engage against the current (geo-)political and economic systems/structures, as well as the states and companies that support them. For example, we can continue pushing for stronger (trans-)national regulations on climate, to fight back against corporate influence over climate policy and hold companies accountable (through a Binding Treaty or a Fossil Fuel Non Proliferation Treaty). However, stronger regulations also need to go hand in hand with a dismantling of the global neoliberal economy - which entails reforming the global labour market, the global tax and trade systems, and investing in social infrastructure as well as systems of care for people and the environment, as the foundations of thriving economies and societies.
It is clearer than ever that we cannot keep relying on and hoping for our governments to take timely and politically adequate actions to deal with the climate crisis and its consequences, which is why we have no choice but to continue simultaneously articulating our struggles at all levels and geographies of resistance, until we build the feminist worlds we need and deserve.
I'd like to thank Ana Ines Abelenda, Felogene Anumo, Sanyu Awori, Nana Darkoa Sekyiamah, Inna Michaeli, Daniel Voskoboynik and Jessica Whitbread for their feedback.
---
1As opposed to the necessary 1.5C target to ensure the sustainability of life on Earth