Human Rights Council (HRC)
The Human Rights Council (HRC) is the key intergovernmental body within the United Nations system responsible for the promotion and protection of all human rights around the globe. It holds three regular sessions a year: in March, June and September. The Office of the UN High Commissioner for Human Rights (OHCHR) is the secretariat for the HRC.
The HRC works by:
Debating and passing resolutions on global human rights issues and human rights situations in particular countries

Examining complaints from victims of human rights violations or activist organizations on behalf of victims of human rights violations

Appointing independent experts (known as "Special Procedures") to review human rights violations in specific countries and examine and further global human rights issues

Engaging in discussions with experts and governments on human rights issues

Assessing the human rights records of all UN Member States every four and a half years through the Universal Periodic Review
---
AWID works with feminist, progressive and human rights partners to share key knowledge, convene civil society dialogues and events, and influence negotiations and outcomes of the session.
With our partners, our work will:
◾️ Monitor, track and analyze
anti-rights actors, discourses and strategies
and their impact on resolutions
◾️
Raise awareness
of the findings of the 
2017 and 2021 OURs Trends Reports.
◾️Support the work of feminist UN experts in the face of backlash and pressure
◾️Advocate for state accountability  
◾️ Work with feminist movements and civil society organizations to advance rights related to gender and sexuality.
Related Content
Snippet Kohl - Intro Arabic
التجسيدات العابرة للحدود
قضايا تتعلق بالجسد والجندر ومختلف أنواع الجنسانية، واستكشف الروابط المتشابكة بين القضايا هذه وكونها تجاربَ مجسّدة بعمق ومكانًا يُعترض فيه على الحقوق تكون فيه الأخيرة مهدّدة في المجتمع.
تكمن قوّة الحركات النسوية في طريقة تنظيمنا وتنسيق نشاطنا، ليس ضمن مجتمعاتنا وحركاتنا فحسب إنما بالتعاون مع قضايا ومجموعات حليفة في مجال العدالة الاجتماعية. وفّرت المساحة هذه فرصًا للحركات لمشاركة طرق التنظيم واستراتيجيات تكتيكية مع بعضنا البعض وتعزيزها.
لقد أوضحت جائحة كوفيد-١٩ العالمية فشل الرأسمالية النيوليبرالي فبدا أكبر من قبل وكشفت عن التفكك الموجود في أنظمتنا أكثر من أي وقت سابق، فشددت على ضرورة بناء أنواع واقع جديد وفرص بنائها. يتطلّب التعافي النسوي الاقتصادي والاجتماعي منّا جميعًا أن ننجح كلّنا معًا. نصدر النسخة هذه من المجلة بالشراكة مع «كحل: مجلة لأبحاث الجسد والجندر»، وسنستكشف عبرها الحلول والاقتراحات وأنواع الواقع النسوية لتغيير عالمنا الحالي وكذلك أجسادنا وجنسانياتنا.
يمكنك تصفح المقالات عبر الإنترنت أو
  قم بتنزيل ملف PDF
La historia de Crear, Résister, Transform por Coumba Toure
Una experiencia mágica de narración feminista conducida por la feminista panafricana Coumba Toure, quien actuará en la antigua tradición de lxs griots de África Occidental.
Y nos reunimos nuevamente
Juntamos nuestras historias, nuestra fuerza
nuestras canciones
nuestras lágrimas
nuestra ira
nuestros sueños
nuestro éxito
nuestros fracasos
Y lo colocamos todo junto
en un gran cuenco para compartir
durante una luna de pensamientos
Y nos mantenemos en contacto
nos sacudimos las mentes unas a otras
nos acariciamos las almas 
mientras nuestras manos siguen atadas
y nuestros besos y abrazos están prohibidos
Sin embargo, nos hacemos más fuertes cada hora
entretejiendo juntas nuestras voces
cruzando las barreras del sonido
mientras hablamos en lenguas
 
Nuestras voces son cada vez más altas
Sabemos lo que nos diferencia de otras personas
y entre nosotras, de modo que
estamos bordando nuestras bellezas en un mosaico de pensamientos
desde nuestros aprendizajes más profundos, desde nuestros poderes
A veces nos rodea el terror
la confusión, la deshonestidad
pero nos lavamos en el océano de amor
Somos tejedoras de sueños
para vestir nuestro nuevo mundo
hilo por hilo
tan pequeñas como somos
como pequeñas hormigas construyendo nuestro movimiento
comopequeñas gotas construyendo nuestros ríos
Damos pasos hacia adelante y pasos hacia atrás
bailando nuestro camino de vuelta a la cordura
Sostenemos el ritmo de nuestros corazones: sigan
latiendo, por favor, no se detengan
Y aquí estamos, transmisoras de generosidad olvidada
gota tras gota creciendo como el océano
creciendo como el río que fluye de nuestras almas
mostrando nuestra fuerza para ser el agua
que limpiará este mundo
y nos estamos reuniendo nuevamente ¿pueden sentirnos?
Mentiría si dijera que para mí
está bien no verlas, extraño a mi gente
Extraño su contacto y
sus voces sin filtro y sin registro
Extraño nuestros susurros y nuestros alaridos
nuestros gritos de la revolución abortada
Solo queremos parir nuevos mundos
Entonces luchemos para borrar las fronteras entre nosotras
Por favor, no se detengan
Ruqia Hassan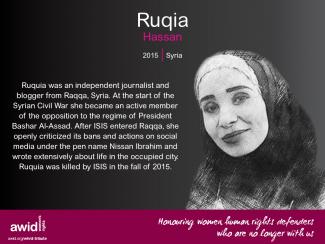 Erika Guevara Rosas
Biography
Erika Guevara-Rosas est avocate spécialisée dans les droits humains et activiste féministe. Elle dirige actuellement le programme Amériques d'Amnesty International et pilote l'action de l'organisation en faveur des droits humains dans toute la région. Elle est dotée de plus de vingt ans d'expérience dans la lutte pour la justice sociale et la paix et de plus de quinze années d'expérience professionnelle dans le domaine des droits humains, de la justice de genre et de la philanthropie. Avant de rejoindre Amnesty, Erika était la directrice régionale Amériques au Fonds mondial pour les femmes. Dans ce cadre, elle a levé des fonds s'élevant à plus de 15 millions de dollars américains pour que les femmes puissent s'organiser et faire valoir leurs droits dans la région. Erika a également travaillé comme juriste et spécialiste de la protection des individus au sein du Haut-Commissariat des Nations unies pour les réfugiés (HCR), où elle a assuré la gestion d'opérations complexes en Équateur, en Colombie, au Pérou, au Panama et au Venezuela, essentiellement au sein de communautés touchées par la guerre dans des zones frontalières. Elle a par ailleurs acquis une expérience professionnelle approfondie au sein d'organisations non-gouvernementales au Canada et au Mexique, notamment au sein de Sin Fronteras – une organisation de première importance dans le domaine de la sensibilisation aux questions de  migration. Erika a fait partie du conseil d'administration de l'International Museum of Women et du Central American Women's Fund. Elle est actuellement membre du conseil consultatif du Women's Human Rights Education Institute, au Canada. Elle a mené des recherches sur divers sujets portant sur les droits humains, parmi lesquels les migrations forcées, la violence sexuelle à l'égard des femmes en temps de guerre, la justice de genre, les droits sexuels et reproductifs et les défenseur-e-s des droits humains. Ses articles scientifiques et ses points de vue sur les droits humains et la politique au sein des Amériques sont fréquemment publiés dans les médias internationaux.
#10 - Sexting like a feminist Tweets Snippet EN
I love me some poetry…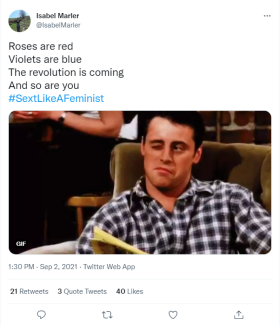 MANGO
| | |
| --- | --- |
| | Jurema Araújo is a teacher-poet from Rio de Janeiro. She contributed to the magazine Urbana, edited by the poets Brasil Barreto and Samaral (RIP) and to the book Amor e outras revoluções (Love and Other Revolutions) with several other writers. In collaboration with Angélica Ferrarez and Fabiana Pereira, she co-edited O livro negro dos sentidos (The Black Book of Senses), a creative anthology on black women's sexuality in Brazil. Jurema is 54-years-old; she has a daughter, three dogs, a cat, and many friends. |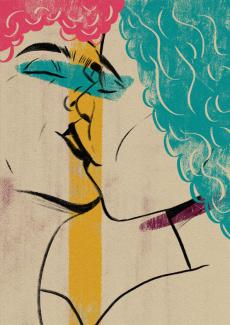 Suck it with me? 

Mango is my favorite fruit.
I open my mouth
and suck it all,
Its flesh caught between my teeth
that turn soft not to hurt it
and I press it between my tongue and the roof of my mouth,
then I take it out to suck on every part of it
with the juice running down my mouth
drenching myself in this tasty nectar
and putting it all in my mouth again
because mango is seed and honey;
it is fiber and flavor.
And when it is over, I am entranced,
honeydewed, sweetened,
my lips all wet.
Ohhh, what is mango for if not for smearing.

Chupa Comigo? 

A fruta que eu mais gosto é manga!
Porque eu abro a boca
E meto toda pra chupar!
Se os dentes a prendem
Fazem macio para não machucar
E eu pressiono entre minha língua e meu céu
Depois tiro pra sugar cada parte
Sentindo o caldo escorrer boca afora
Me molhando com esse néctar gostoso
E metendo toda na boca de novo
Pois manga é caroço e é mel,
É fiapo e sabor
E quando acaba, estou extasiada
Melada, docinha
Com os lábios molhados!
Aaahhh, manga é pra se lambuzar!
---
Introducing The Black Book of Senses
I'll admit it: when Angélica and Fabi invited me to curate a collection of erotic texts by black women, I didn't know what curatorship was. I understood the erotic well, but curatorship... I smiled, feeling shy and flattered. I think I thanked them – at least I hope I did – and thought to myself: what the fuck is it?! This fancy word I'll have to learn the meaning of while doing it, what is it?
Now at this point, I know what it is to be a curator: it is making love with someone else's texts, with someone else's art, with the intention of putting a book together. And that is exactly what I did. I undressed each text of every author of this book with a literary lasciviousness. And I got involved in the words and senses of others. I was penetrated by poems I didn't write; tales I didn't even dare to imagine turned me upside down, messing with my feelings, with my libido. And it was a wonderful and unusual orgasm: ethereal, corporeal, sublime, at once intellectual and sensitive.
These texts pulsated like a clit hardened by desire, drenched, dripping joy in every reading. Words that swallowed me with their naughty significance, making me dive deeper into this wet universe. 
These black women went to the bottom of their arousals and turned their deepest erotic fantasies into art. These works are impregnated with each writer's own way of experiencing sexuality: freely, blackly, for ourselves, in our own way, empowered.
I chose to spread the texts throughout different parts of the book, each one organized according to the most delicate, explosive, evident, or implicit content they presented.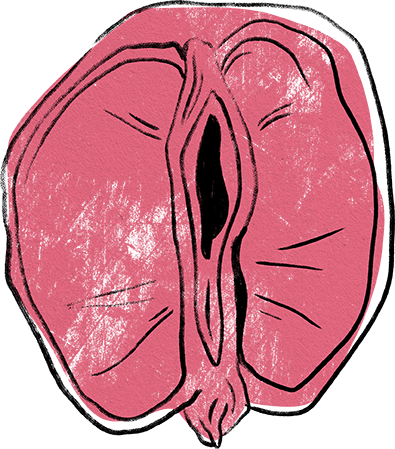 To open the door to this "invulved blackessence," we have our Preliminaries section, with texts that introduce readers to this world of delights. It is a more general, delicate caress to acknowledge the subjects addressed by the texts in the rest of the book.
Then comes the heat of Touch, addressing what the skin can feel. That energy which burns or freezes our bodies, makes our hormones explode and starts to awaken the other senses. And although there are many of us who are voyeurs, the contact of skin with a wet and warm mouth is exciting, like wandering through the softness of whomever is with you. We are seduced by the firm or gentle touch that gives us goosebumps and that lovely discomfort that runs from the neck down to the back and only stops the next day. And the warmth of the lips, the mouth, the wet tongue on the skin – oh, the tongue in the ear, hmmm – or skin on skin, clothes moving over the body, almost like an extension of the other's hand. If there is no urgency, that wildest arousal of the pressure of a tight grab, a bit of pain – or a lot, who knows?
The Sound – or melody? – section shows us that attraction also happens through hearing: the voice, the whispers, the music that enables the connection between the bodies and can become the theme of desire. For some of us, someone with a beautiful voice would only need their vocal cords, because that harsh or heavy or melodious sound would be auditory sex. Their loud swearing or sweet words whispered in the ear would be enough to give us hair-raising shivers from neck to coccyx.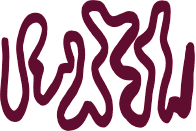 In Flavor, we know the tongue does a good job tasting the most hidden places and wandering through the body to delight itself. Sometimes this organ is used, boldly, to taste the other's nectar. The idea of someone sharing their strawberry or a delicious, juicy mango through bites and licks – or licks and bites – melts us. But nothing is more delicious than tasting the caves and hills of the person you are with. Stick your tongue deep inside to taste a piece of fruit... or spend hours tasting the head of a cock in your mouth, or suck on a delicious breast to taste the nipples. This is all about memorizing someone by their Flavor.
There are texts in which the nose is what triggers desire. The Smell, my dear readers, can awaken us to the delights of desire. Sometimes we meet a person who smells so good, we want to swallow them right through our nose. When you run through the other person's body with your nose, starting with the neck – wow, that delightfully uncomfortable shiver that runs down the spine and undresses the soul! The shameless nose then moves to the back of the neck and captures the scent of the other in such a way that in the absence of that person, smelling their same scent evokes, or conversely, invades in us olfactory memories that bring the arousing smell of that person back.
We then get to Look – for me, the betrayer of senses – in which we perceive desire from a point of "view." It is through sight that the texts present desire and arousal, through which the other senses are brought about. Sometimes a smile is all it takes to drive us crazy. The exchange of glances? That look that says "I want you now." That look of possession that comes to an end when you stop fucking, or not. That one is very particular; it draws the other who won't be able to look away for long. Or the sidelong glance – when one looks away when the other turns their head, like a cat-and-mouse game? Once we are caught red-handed, there's nothing else to do besides breaking into a wide smile.
Finally, the explosion. Wandering through All senses, the texts mix feelings that seem like an alert, so there is the greatest pleasure, that orgasm.
Of course, there is nothing explicitly separating these poems and tales. Some are subtle. Arousal engages all our senses and, most importantly, our heads. That's where it happens, and it connects our whole body. I organized the poems according to how they came to me in each reading. Feel free to disagree! But to me, there is a sense through which desire goes and then explodes. Realizing which one it is, is delightful. 
Being able to turn arousal into art means freeing ourselves from all the prejudice, prisons, and stigma this white-centric society has trapped us in.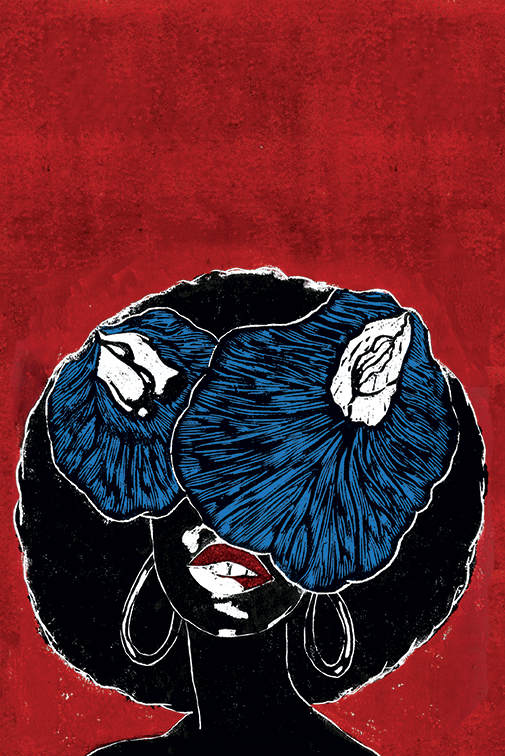 Every time a black writer transforms the erotic into art, she breaks these harmful racist chains that cripple her body, repress her sexuality, and turn us into the object of another's greed. Writing erotic poetry is taking back the power over her own body and roaming fearlessly through the delights of desire for herself, for others, for life.
The literary erotic is who we are when turned into art. Here we show the best of us, our views of love drenched by pleasure, seasoned by the erogenous, spread through our bodies, and translated by our artistic consciousness. We are multiple and we share this multiplicity of sensations in words dripping with arousal. Yes, even our words drip with our sexual desire, drenching our verses, turning our sexual urges into paragraphs. To come, for us, is a breakthrough.
It is necessary to make our minds, bodies, and sexuality black, to reestablish our pleasure, and take back our orgasms. Only then will we be free. This whole process is a breakthrough, and it happens painfully. But there is happiness in finding ourselves to be very different from where we had been placed. 
I feel like I am yours, I am ours. Taste, delight yourselves, feast on these beautiful words with us. 

This text is adapted from the introductions to "O Livro Negro Dos Sentidos" [The Black Book of Senses], an erotic collection of poems by 23 black female writers.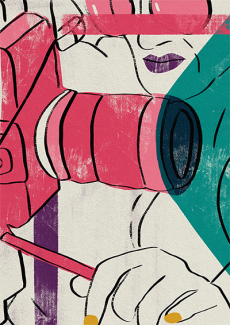 Explore Transnational Embodiments
This journal edition in partnership with Kohl: a Journal for Body and Gender Research, will explore feminist solutions, proposals and realities for transforming our current world, our bodies and our sexualities.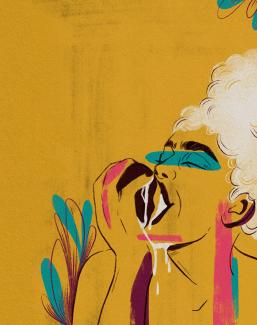 التجسيدات العابرة للحدود
نصدر النسخة هذه من المجلة بالشراكة مع «كحل: مجلة لأبحاث الجسد والجندر»، وسنستكشف عبرها الحلول والاقتراحات وأنواع الواقع النسوية لتغيير عالمنا الحالي وكذلك أجسادنا وجنسانياتنا.
Macarena Valdés Muñoz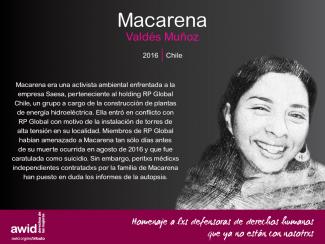 Ruth Ojiambo Ochieng
Biography
Ruth Ojiambo Ochieng is an independent consultant and researcher, coach, and facilitator based in Uganda.  Her strength lies in building alliances and collaborative agendas between the marginalized, the elite, and the policymakers so as to challenge injustices, prejudice, taboos and stigma related to women survivors of violence in situation of armed conflicts. Ruth holds a M.A. in Communications Policy Studies and a B.Sc. in Information and Communication.
She has also undertaken several short courses in Gender, Facilitation of Organizational Development, advocacy and peace building and Conflict Resolution. During her tenure at Isis-WICCE, Ruth enabled the establishment of effective programmes that have amplified women's voices and influenced post-conflict decision making and programming at all levels, in addition to supporting women's leadership in communities affected by conflict and coordinating healing camps.
These processes led to the development of manuals centred on women's human rights for use in training of activists and practitioners.  Ruth has authored many published papers and articles, and coordinated the development of an array of video documentaries on Women, Conflict and Human Security that have been instrumental in informing national, regional and international policies and frameworks. She serves on several boards including: the African Partnership for Women's Sexual and Reproductive Health and Rights of Women and Girls (AMANITARE), based in South Africa; the International Coordinating Committee of Women Human Rights Defenders (global); Centre for Domestic Violence (CEDOVIP), in Uganda.  She also serves on the Action Aid (Uganda) General Assembly.
#6 - Sexting like a feminist Tweets Snippet ES
A Collective Love Print
The Circle's Conspiracy of Writers | Wazina Zondon
Also known as the Teta Research Network, The Conspiracy of Writers was founded in 2021 in the context of Kohl's weekly writing circles. The Network is a transnational group of queer and feminist writers who engage in collective writing, thinking, and world-making. 
Wazina Zondon is an Afghan raised in New York City. Her storycollecting and storytelling work centers collective memories and rites of passage in the diaspora. Currently, she is working on Faith: in Love/faith in love which (re)traces her parent's love story and family's inherited love print.
Love is a contraband in Hell,
cause love is acid
that eats away bars. 
But you, me, and tomorrow
hold hands and make vows
that struggle will multiply.
The hacksaw has two blades.
The shotgun has two barrels.
We are pregnant with freedom.
We are a conspiracy.
It is our duty to fight for freedom.
It is our duty to win.
We must love each other and support each other.
We have nothing to lose but our chains.
- "Love" by Assata Shakur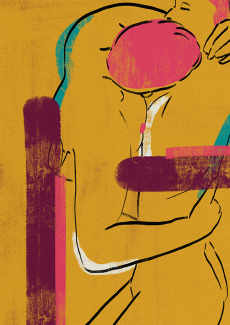 "If we can inherit trauma, can we inherit an imprint related to love?"
That is the question Wazina Zondon asks in her collective memoir Loveprint. Loveprint is a wandering, an overlap, a deviation that (re)creates, at the intersection of interviews and personal essays, our family's stories and insights on love, partnership and romance. Under Wazina's guidance, the circle's conspiracy of writers came together and attempted to reproduce this literal blueprint in the form of collective writing, where our different stories, our genders and sexual identities complement and contradict each other. With our voices overlapping, we complete each other's sentences to create a conversation, a memorial, pieces of ourselves that speak to a "we."
What are the origins of your love print?
I am a so-called "happy accident." There is much narration about this – an accidental life, one that is entirely wanted at the same time. I feel this shaped my way of loving, I don't just fall in love; I risk the slips that lead to the fall. Perhaps it made me an amor fati kind of person. 
I was told that I was an unwanted child. So I grew up to become an unwanted adult. The origins of my love print are based on being eternally unwelcomed. I am not a fruit of love or any happy feelings but rather one pain and burden. I don't have a love print – at least not in this sense.
I know for a fact that both my parents were in love at some point, but mental health is such a demon, and until one confronts their demons, there is no winning.
I will never associate "love" with my parents or normative family. Love growing up was full of violence and responsibilities I didn't sign up for or was even ready for. For the longest time, it felt like life and love were about carrying a big rock uphill. While my parents "loved each other," it was a toxic ethos of violence, jealousy, and insecurity to grow up in. I grew up wanting to crave stability, and this is what is me now. I am a risk taker, but never in my "love space."
I don't know why my mother chose to host a child (me) within her.
She does not love in this form.
My mother tells me that if I have to think about "finding" love, I should never look at her marriage as a template. My love print comes instead from my raising dogs for the last two decades (18 years to be precise). The other way around is true as well – they raised me. I understand more and more about love and its many layers in their company.
I haven't known love from a "print." In our household we don't talk about love. I had to teach myself how to love. It was hard work. Still, I fail and still, I keep on trying and I fail everyday. Perhaps failure is my love print.
My love print is the care, warmth, and understanding I give to others
surrounding me, whether a stranger, a friend, a relative, a lover. 
My love print is political – uncalculated and unthought of.
I was born under heavy shelling. 
My love print is the negative 
print of that.
Lessons learned about love
I know more about what love is not than I know about what love is. 
Love is neither anxiety nor panic.
Love is not asking permission to live or breathe. It is always about love and there is no love without freedom.
Everything you do is about using your heart except love. Love is about using your mind. 
Sometimes I fear that my love language is lost in translation.
--- There are many ways
to map the origins
of how to
how not to
love
not love
love just enough
love far too much
some love
some loss
to love
to love lost ---

I cannot stand the idea of the couple. I cannot stand the idea of living alone while aging either. I am tired of doing the chores alone, moving houses alone, paying rent and bills alone... I imagine getting a stroke alone, and it scares me. I have no plan of "partnering up." I want a world where I can get married to a friend, buy a house with a friend, not have sex.
Loving many does not corrupt a love shared between two, and whether love is romantic or not is really not that important.
When I reflect on the shoddy state of my relationships, I realize that I am in the relationship I was trained to be in. With all my "radicalness" I have not yet unlearned shitty gendered norms.
My need for stability feels "not radical" enough. I want to get out of this labeling. I want something I never had. I want to make it beautiful. I want to feel beautiful and safe – and only stability makes me feel that. Safe, sound, knowing home is neither about violence nor strife.
--- Love print – love to smell the books to see 
where they were printed
I try to think of the origin of my 
understanding and practice of love
Do we need origin, it is not the same as purity? 
No purity or origin of love. 
Why is it understanding and practice, 
and not "emotion" that comes to mind? ---

When I call my parents, I don't hang up the phone after we've said
goodbye, so I can hear the sounds of home.
What do we need to be/feel loved in death?
During my Sunni burial, I want all the women and men to come together for my burial. What's with not being able to go say goodbye to dead people from a different sex? It will be Sunni because my mother would want it to be. It will be eco-friendly; no need for the headstone. I love all burial rituals. Quran is good, but I also want music. I really like Asmahan, Um Kulthum, and The Stone Roses.
I have a Monday-Friday playlist and two different ones for the weekend: one for Saturday and one for Sunday playlist. I would like those who loved me to play the music that I used to listen to, respecting the days – with some margin of tolerance as long as they stick to the playlists.
I want to be surrounded by the one(s) who have loved me, even for a moment. And in music and embowered in fresh cut flowers. I don't want to be discovered dead; I want to pass away mid-laugh with loved ones.
I want to be remembered as someone who loved.
I don't need to feel loved in death. I need the people around me to feel I loved them, even after I die. Being loved in death is about those who are alive. So I think more about how we come together as a living and loving community in the death of those we love and live with. How we take their memories with us. How we become archives of their lives.
 --- Sometimes, you can only love people in their death. ---
I have to think back to the body being connected to a space. My family is very tiny and although we come from different places, it is as if every generation moved somewhere new. Perhaps this is the reason why death is not connected to a special place, a cemetery. It is common in our family to bury the dead without names or gravestones, or to distribute the ashes in the wind. I feel at peace with this kind of spaceless remembrance. The idea that my ashes fertilize new life gives me the sense of being loved, being remembered through recreation. My grandmother died earlier this year due to complications after the vaccination. Two hours after she died, my family sat laughing tears about her jokes, her hilarious way to tell stories. We laughed and loved, and it was as though she sat with us again. This is what would make me feel at peace – fertilizing soil, fertilizing conversations, and collective remembrance.
--- There were
Two streets that I used 
To walk
To run
To play
To stay
There were 
Five hours when the sun
Was hot
The sky was blue
The earth was green
There was 
A flower I could
Smell
Touch
Squeeze
Crush
There were
The friends I could
Caress
The food
I could 
inhale
The language
That would roll off my
lips
There might still be
Those many places
And things
And people
After me  ---
Perhaps a promise that I will be "spatially commemorated" as a plant and taken care of in turns until it becomes a tree is enough. No name, no plaques – just the plant/tree, and knowing that it will be cared for. As for my body, I want to be cremated without any rituals and my bone ashes set free in the Arabian sea.
I need my body to be treated as subversively as it's lived.
I do not want to be buried next to my family. In this tiny drawer next to all of the people who never knew me. Trapped in death as I was in life. I want to be cremated, and my ashes finally set free. 
I want to be allowed to pass, not hang in the in-between, so it is a presence, an active process, a trespassing.
I will ask of you: 
To release me and let me pass
To not let nostalgia muddy this moment because I will ask only for the normalcy of your expressions
I have snuck the gentle glimpses and hoarded away the already small and large ways you loved me in order to be sustained. I kept myself alive on these
To set a finite amount of time to grieve
To be be reminded there is no separation in the beauty of loving; it is infinite and it regenerates without the body
I want to be remembered for the love I put into the world.
I want my body to be given away, and my organs
to further fuel love in (an)other live(s).

--- The smell of jasmine ---
---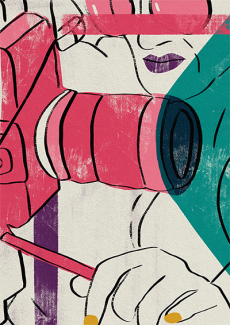 Explore Transnational Embodiments
This journal edition in partnership with Kohl: a Journal for Body and Gender Research, will explore feminist solutions, proposals and realities for transforming our current world, our bodies and our sexualities.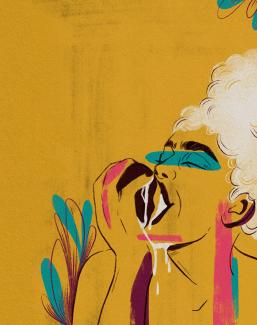 التجسيدات العابرة للحدود
نصدر النسخة هذه من المجلة بالشراكة مع «كحل: مجلة لأبحاث الجسد والجندر»، وسنستكشف عبرها الحلول والاقتراحات وأنواع الواقع النسوية لتغيير عالمنا الحالي وكذلك أجسادنا وجنسانياتنا.
Zhang Xiantu
Alejandra Sardá-Chandiramani
Biography
Alejandra Sardá-Chandiramani es una feminista y activista por los derechos sexuales latinoamericana. Ha estado activa a nivel nacional en su país de origen, Argentina, a nivel regional e internacional desde comienzos de los '90. Ha cursado estudios en psicología, género y derechos humanos.
Alejandra es también traductora profesional y considera que la traducción puede ser una herramienta política que contribuye a lograr mayor acceso e igualdad dentro de los movimientos sociales. Ha desarrollado ese trabajo para AWID durante 10 años así como para numerosas organizaciones y financiadoras de todo el mundo.
Dentro de los movimientos feminista y por los derechos sexuales, el trabajo de organización llevado adelante por Alejandra abarca desde la fundación de un grupo pionero de lesbianas feministas a coordinar coaliciones por los derechos sexuales que hacen incidencia en la ONU y en la OEA. Durante cinco años, Alejandra trabajó para Mama Cash desarrollando el programa Fondos de Mujeres, una iniciativa única, lo cual también le dio experiencia dentro de la filantropía feminista. Actualmente, es integrante de la junta de Akahatá-Equipo de Sexualidades y Géneros y asesora para Astraea Lesbian Foundation for Justice.
Position
Directora, Foro de AWID y Creación conjunta de realidades feministas
Communiquer le désir et autres pratiques politiques incarnées | Title Snippet FR
Communiquer le désir et autres pratiques politiques incarnées
avec Manal Tamimi, Lindiwe Rasekoala et Louise Malherbe
Crédit podcast : Zuhour Mahmoud
Chers mouvements féministes : Une lettre du conseil d'administration
Chers mouvements féministes,
Au nom du Conseil d'administration, je souhaite exprimer notre plus profonde gratitude, notre appréciation et tout notre respect pour Hakima Abbas et Cindy Clark, nos deux extraordinaires codirectrices exécutives ces cinq dernières années, qui quittent leurs fonctions pour laisser place à un nouveau leadership de l'AWID, alors que nous entrons dans une nouvelle phase de la vie de notre organisation avec un nouveau plan stratégique. Elles ont systématiquement mis en application les meilleurs principes de leadership organisationnel féministe et d'éthique du soin lorsqu'elles nous guidaient, lors des temps bien troubles et imprévisibles de la récente histoire du monde, cette syndémie de COVID-19 et la spirale politique mondiale descendante qui s'en est suivie. Elles ont tenu l'AWID, notre personnel et notre CA fermement, doucement et avec amour alors que nous éprouvions toutes et tous ces situations inconnues. Elles se sont également accrochées à la vision et à la mission de l'AWID lorsqu'elles ont dû, avec respect et stratégie, réagir aux différents changements, dont la difficile annulation du forum de l'AWID.
La nature, la portée et le poids des responsabilités de la direction de l'AWID nous incitent à choisir de conserver, à l'avenir, ce modèle de codirection. Notre première expérience de cette codirection a été une véritable réussite, comme tout le monde a pu le constater.
Reconnaissant tout à fait le potentiel immense qui existe au sein de l'équipe actuelle, le CA a décidé de privilégier un processus de recrutement en interne dans un premier temps. Nous pensons terminer cette transition d'ici la fin de l'année 2022. Hakima et Cindy décaleront leur départ, pour permettre une transition en douceur vers le nouveau leadership.
Il est difficile pour le Conseil d'administration et d'autres, qui ont travaillé étroitement avec elles et qui les aiment, de voir Cindy et Hakima quitter l'AWID. Rassurez-vous, le CA de l'AWID mène ce processus de transition de manière à ce que les belles marques indélébiles et inspirantes que laissent Hakima et Cindy soient inscrites dans les quatre décennies de notre histoire. Nous assurerons l'arrivée et le soutien de la nouvelle direction et veillerons à ce que ce processus nous inspire à faire mieux encore à cette étape de la vie de l'AWID.
Les grandes transformations dans les organisations ne sont jamais simples ni faciles. Elles sont parfois contraintes, hors du contrôle de quiconque, tendues, voire destructrices. J'ai vu, mais vous aussi, des exemples de telles transitions. Il arrive également que les besoins et les aspirations du personnel soient alignés avec ceux de l'organisation. Bien que nous n'ayons ni choisi ni souhaité le départ de Cindy et Hakima, leur décision et l'entrée de l'AWID dans un nouveau plan stratégique et une nouvelle décennie d'existence sont alignées. Et mieux que tout encore, nous sommes entre les mains merveilleuses, super compétentes, créatives et féministes du personnel et du CA de l'AWID.
Nous vous remercions, chers mouvements féministes, pour votre confiance dans l'AWID. Nous vous demandons également de soutenir notre transition de leadership au cours des mois à venir. Continuons à construire, approfondir et renforcer nos connexions, comme nous le faisons depuis 40 ans.
Nous reviendrons vers vous dans les prochaines semaines pour vous tenir au courant de nos mises à jour et des évolutions concrètes.
Avec solidarité et amour féministes,
Margo Okazawa-Rey,
Présidente, Conseil d'administration de l'AWID
Alesha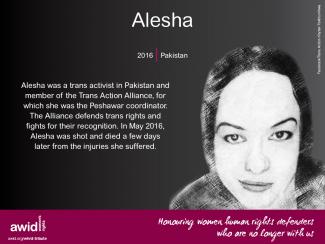 Anchalee Phonklieng