Joint Statement for the 50th Session of the Human Rights Council Item 3. 
This joint statement was delivered by AWID on behalf of the Observatory on the Universality of Rights on young women and girl's activism.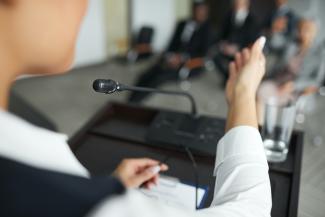 Mr. President,
We welcome the Working Group's on Discrimination against Women and Girl's report and recognition that most political spaces, including the  UN are inaccessible and unapproachable for young activists, especially those from the Global South. 
While governments and multilateral institutions are adding a focus on young women, a study conducted by FRIDA, the Young feminist fund and AWID reveals that 91% of young women activists identify the lack of financial resources as their main challenge. 
The safety and ability for young women and girls to organize and dissent are threatened by state violence and reprisals fueled by nationalism and diverse forms of  fundamentalisms. Young WHRD are subjected to greater oppression and stigma at home, within the family and from community members.
Paternalistic laws and policies are weaponized by states and guardians to control the bodily autonomy and sexuality of young women and girls. Poor, Black, indigenous, queer and disabled young women, and those who face racism and xenophobia are disproportionately impacted in this regard. States must stop instrumentalizing so-called protection of young women and girls, and stop misusing the concept of parental guidance to curtail their sexual and reproductive rights and scapegoat oppressed communities.
We call on states to recognize the right to bodily autonomy and agency of young women and girls, and eliminate paternalistic laws to this end. Ensure Young women and girls have access to free and safe, stigma-free, accessible and quality health-care services, including sexual and reproductive services. States must proactively put young women and girls at the forefront of decision making processes,  and to systematically ensure  YMG meaningfully participate in UN processes.