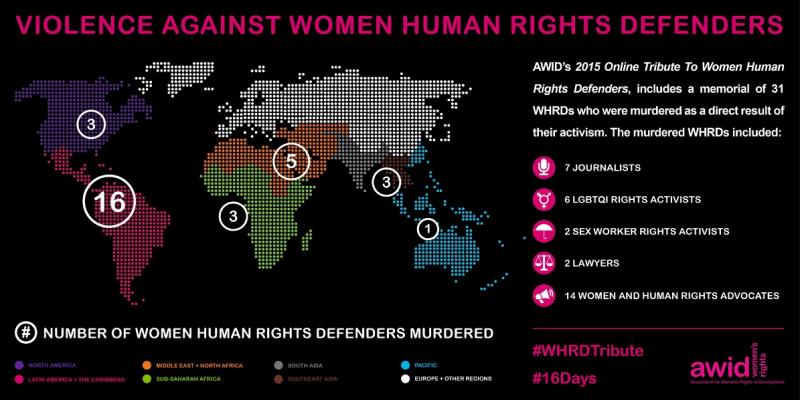 In September 2015, AWID invited our members, partners and allies to share details of women human rights defenders (WHRDs) who have died or disappeared for inclusion in our annual 'Online Tribute to Women Human Rights Defenders Who Are No Longer With Us'. As we compiled this year's Tribute, the disproportionate number of WHRDs who had been murdered struck us.
Out of the 58 WHRDs featured in the 2015 Tribute, 31 had been murdered.
They came from all walks of life and included LGBTQI activists, trans* people, indigenous women, land rights activists, sex worker activists, women's rights activists, journalists, lawyers, political activists, economists, artists, and writers. The murders of these defenders are another indication of the disproportionate violence that WHRDs face.
This infographic highlights the following women human rights defenders who were murdered and have been featured in AWID's 2015 Tribute:
Maria Elena Moyano Delgado
Sandra Cabrera
Fannyann ViolaEddy
Safia Ahmed-Jan
María Elizabeth Macías Castro
Ana María Marcela Yarce Viveros
Rocio González Trápaga
Carmela Elisarraraz Méndez
Bárbara Lezama
Yolanda Ordaz
Isabel Ayala Nava
Reyna Ayala Nava
Vuyisa Dayisi
Ana Lilia Gatica Rómulo
Samira Saleh Al-Naimi
Naseeb Miloud Karfana
Ummaya Gabbara
Norma Angélica Bruno Román
Francela Méndez
Nadia Vera
Flor Alba Nuñez Vargas
Diana Sacayán
Intissar Al-Hasairi
Shaimaa El-Shabbagh
Catherine Han Montoya
Grace Mann
Paula Kantor
Sabeen Mahmud
Angiza Shinwari
Joan Kagezi
Losana McGowan
---
AWID would like to thank its members, and all activists and organizations that responded to our call to share details of WHRDs who are no longer with us. We appreciate you sharing your personal stories and your contribution to this memorial. We celebrate the remarkable work of these defenders and remain committed to working collectively for justice in those cases that remain in impunity.