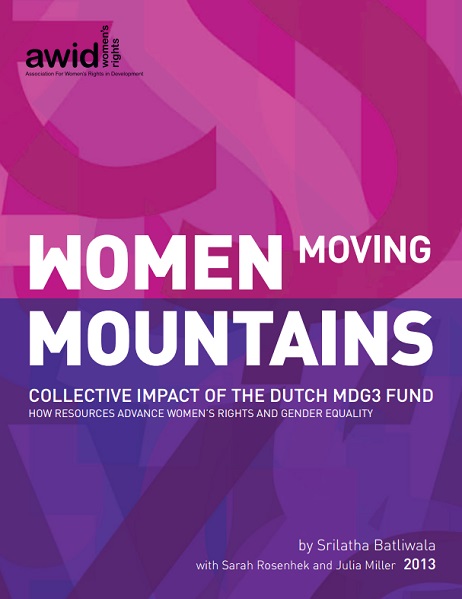 This second report in a research series on resources for women's rights organizing analyzes the aggregate impact of women's organizations around the world that received grants from the Dutch Ministry of Foreign Affairs' MDG3 Fund.
Including results from 78% of the grantees, this analysis demonstrates the huge reach and transformation that is possible when organizations working to build women's collective power for change receive serious resources for an extended period of time, with flexibility to refine their strategies to adapt to shifting contexts.
Highlights of the extensive reach of MDG3-funded interventions
Fund-supported initiatives reached 165 countries in seven continents/ sub-continents and 15 regions of the world;

In these diverse locations, 224,773,550 people gained a new awareness of women's rights, including new messages and analyses about the roots of gender inequality and gender-based violence, and an understanding that advancing gender equality is everyone's responsibility, as well as an essential component of creating more just and equitable societies;

The above figure includes 65,558,977 grassroots women across the world who gained a new awareness of their rights, and especially their right to freedom from violence, equality under law, equal right to private and public resources, and equal voice and participation in public and private decision-making;

230,266 women were empowered, trained and provided with concrete tools, knowledge, skills, and support;

105,304 women's organizations – most of them small and grassroots-based – were strengthened and provided with new and greater capacity and tools for their work;

3,662 women's organizations – again, most were small, community or grassroots-based and under-resourced – were provided with more financial resources to strengthen or expand their work;

Local governments in 38 cities/towns/provinces were influenced and newly capacitated to re-assess, strengthen, and improve their gender equality programs and outcomes;

National governments of 46 countries were influenced and enabled to strengthen their gender equality policies and programs;

14 different international norms, policies, and instruments were influenced to better advance women's rights, including some of the "last-mile" work for ensuring the signing of the ILO Convention on Domestic Work adopted in 2011.
Read online