Building Feminist Economies
Building Feminist Economies is about creating a world with clean air to breath and water to drink, with meaningful labour and care for ourselves and our communities, where we can all enjoy our economic, sexual and political autonomy.
---
In the world we live in today, the economy continues to rely on women's unpaid and undervalued care work for the profit of others. The pursuit of "growth" only expands extractivism - a model of development based on massive extraction and exploitation of natural resources that keeps destroying people and planet while concentrating wealth in the hands of global elites. Meanwhile, access to healthcare, education, a decent wage and social security is becoming a privilege to few. This economic model sits upon white supremacy, colonialism and patriarchy.
Adopting solely a "women's economic empowerment approach" is merely to integrate women deeper into this system. It may be a temporary means of survival. We need to plant the seeds to make another world possible while we tear down the walls of the existing one.
---
We believe in the ability of feminist movements to work for change with broad alliances across social movements. By amplifying feminist proposals and visions, we aim to build new paradigms of just economies.
Our approach must be interconnected and intersectional, because sexual and bodily autonomy will not be possible until each and every one of us enjoys economic rights and independence. We aim to work with those who resist and counter the global rise of the conservative right and religious fundamentalisms as no just economy is possible until we shake the foundations of the current system.
---
Our Actions
Our work challenges the system from within and exposes its fundamental injustices:
Advance feminist agendas: We counter corporate power and impunity for human rights abuses by working with allies to ensure that we put forward feminist, women's rights and gender justice perspectives in policy spaces. For example, learn more about our work on the future international legally binding instrument on "transnational corporations and other business enterprises with respect to human rights" at the United Nations Human Rights Council.

Mobilize solidarity actions: We work to strengthen the links between feminist and tax justice movements, including reclaiming the public resources lost through illicit financial flows (IFFs) to ensure social and gender justice.

Build knowledge: We provide women human rights defenders (WHRDs) with strategic information vital to challenge corporate power and extractivism. We will contribute to build the knowledge about local and global financing and investment mechanisms fuelling extractivism.

Create and amplify alternatives: We engage and mobilize our members and movements in visioning feminist economies and sharing feminist knowledges, practices and agendas for economic justice.
---
"The corporate revolution will collapse if we refuse to buy what they are selling – their ideas, their version of history, their wars, their weapons, their notion of inevitability. Another world is not only possible, she is on her way. On a quiet day, I can hear her breathing".

Arundhati Roy, War Talk
Related Content
Jelena Santic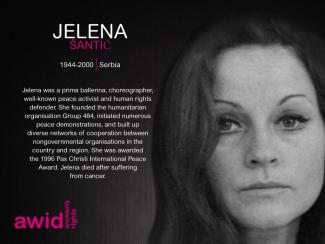 Our values - esponsibility, Accountability, and Integrity
Responsibility, Accountability, and Integrity
We strive for transparency, responsible use of our resources, fairness in our collaborations and accountability and integrity with our members, partners, funders and the movements with(in) which we work. We are committed to reflecting on our experiences, sharing our learnings openly, and striving to change our practices accordingly.
Elenoa Lavetiviti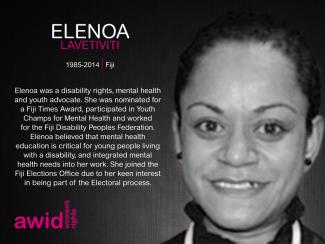 FRMag - United against violence
United against the violence
by Karina Ocampo
In a hidden corner of Chiapas, Mexico, women and sexual dissidents have come to organize our actions. (...)
< artwork by Sonia Carolina Madrigal Loyola
Maria Elena Moyano Delgado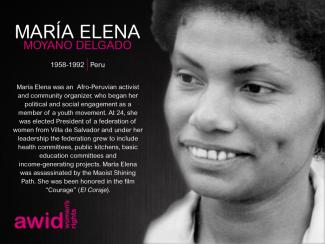 FRMag - Ghosts Of Girlhood
Ghosts Of Girlhood
by Akua Antiwiwaa
There is an old, hazy picture laying in front of me. In it I am dressed in all white, from the pearl beads fastened into my hair and tucked against my ears, to the ones that trail loosely around my tiny wrists. (...)
artwork: "Cultura Negra" [Black Culture] by Astrid Milena González Quintero
Teresita Navacilla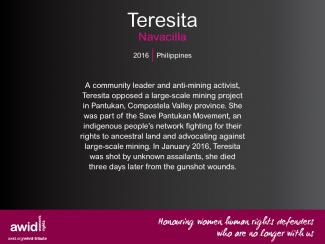 ours chapter 3
Chapter 3
Anti-Rights Discourses
Anti-rights discourses continue to evolve.  As well as using arguments related to religion, culture, and tradition, anti-rights actors co-opt the language of social justice and human rights to conceal their true agendas and gain legitimacy.
Nerlita Ledesma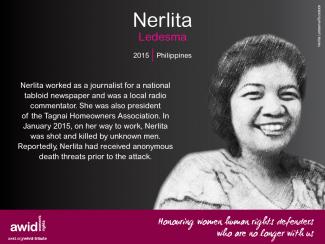 Snippet Kohl - Plenary: The revolution will be feminist – or it won't be a revolution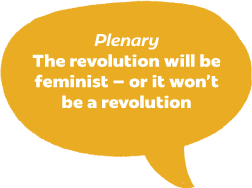 with Manal Tamimi, Bubulina Moreno, Karolina Więckiewicz, and Anwulika Ngozi Okonjo.
Sagal Salad Osman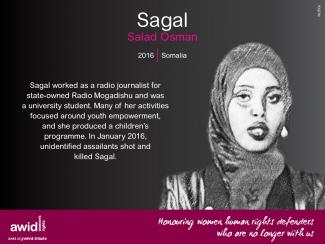 #8 - Sexting like a feminist Tweets Snippet EN
When you've just met and need a good opening line.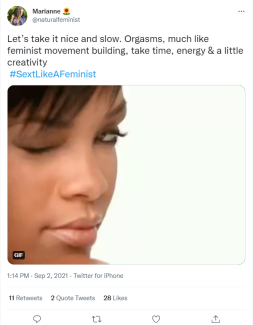 Idaly Castillo Narváez
Cause of death / disappearance

Killed/Asesinada/Assassinée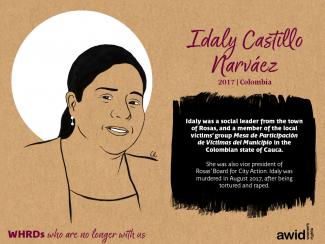 التعبير عن الرغبة وغيرها من الممارسات السياسيّة الأيديولوجيّة المجسَّدة | Title Snippet AR
التعبير عن الرغبة وغيرها من الممارسات السياسيّة الأيديولوجيّة المجسَّدة
مع منال التميمي وليديوي راسيكوالا ولويز ماليرب حقوق ملكيّة المدوّنة الصوتية: زهور محمود
Fatima Mernissi
Cause of death / disappearance

Natural / Muerte natural / Mort naturelle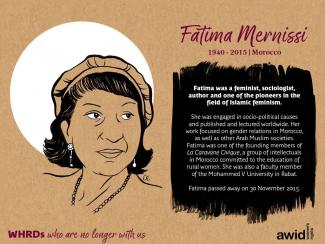 Disintegration | Title Snippet EN
Disintegration
Adapted from a tale by Ester Lopes
Photos by Mariam Mekiwi
Costume design and modeling by El Nemrah
Marren Akatsa-Bukachi
Cause of death / disappearance

Natural / Muerte natural / Mort naturelle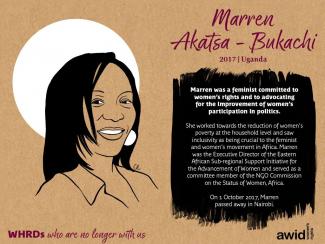 Moving Conversation | Small Snippet EN
Moving Conversation
"We were finally experiencing that other form of love – that pleasure of being together and listening to each other. For me, these kinds of chats are among the expressions of love that life had only recently allowed me to enjoy..."
María Fabiola Jiménez de Cifuentes
Cause of death / disappearance

Killed / Asesinada / Assassinée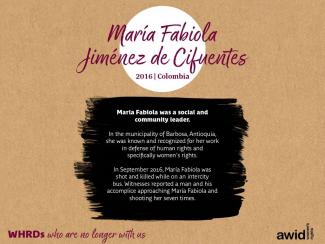 Obiageli "Oby" Nwankwo
With a legal career spanning more than 30 years, Oby was known across Africa and around the world as a champion for gender justice and human rights.
She founded and served as Executive Director of the Civil Resource Development and Documentation Centre (CIRDDOC), a Nigerian NGO which sponsors trainings and network-building activities for members of civil society, parliamentarians and other key stakeholders to promote human rights, good governance and access to justice and rule of law.
Oby is remembered fondly by activists in Nigeria as an "extraordinary activist who displayed energy and passion towards the fight for gender equality and gender justice in Nigeria and across Africa." 
---