Shrinking Civil Spaces: Backlash or Push Back?
The list of countries with shrinking spaces for social justice work and increasing criminalization of dissent is getting longer. These crackdowns are presenting not just as a prejudiced abuse of power by authorities, but as a rewrite of laws aimed at shackling some social justice organisations to prevent them from doing their work. In many instances, these actions are being justified by 'national security' concerns – and are related to a larger clash of ideologies and geo-political shifts the world is currently undergoing - with crippling implications for civil society organisations that receive their funding from foreign sources.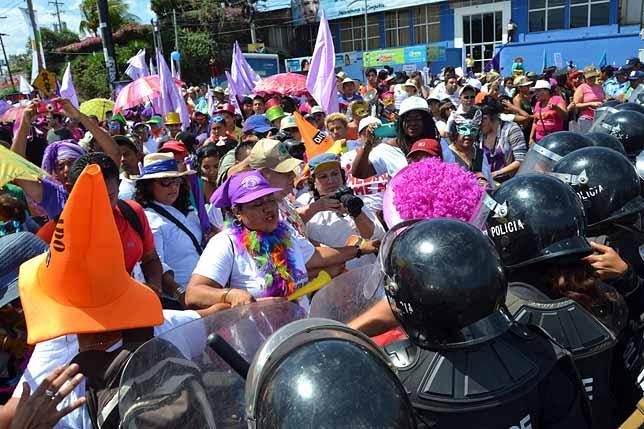 Maina Kai, Special Rapporteur on the rights to peaceful assembly and freedom of association stated in his report to the 23rd session of the Human Rights Council (June 2013): "The ability to seek, secure and use resources is essential to the existence and effective operations of any association, no matter how small. The right to freedom of association not only includes the ability of individuals or legal entities to form and join an association but also to seek, receive and use resources –human, material and financial – from domestic, foreign, and international sources." As the Special Rapporteur's report went on to say, the increasing trend of some governments to restrict foreign funding is contradictory – many of these governments seek funding from the same countries which they seek to deny their civil spaces – and contravenes a number of International Legal Frameworks including the International Covenant on Civil and Political Rights, Declaration on the Elimination of All Forms of Intolerance and of Discrimination Based on Religion or Belief and The Declaration on Human Rights Defenders.
Examples that we know of have come out of Algeria, Armenia, Azerbaijan, Belarus, Cambodia, China, Egypt, Ethiopia, Hungary, India, Jordan, Kenya, Kyrgyz Republic, Pakistan, Russia, Sudan and Turkmenistan with organizations working on human rights, advocacy and issues around sexual orientation and gender identity mostly targeted. AWID spoke to women's and LGBTQI (Lesbian, Gay, Bisexual, Transgender, Queer & Intersex) rights advocates for a closer look at the situation in Russia and India.
Russia's 'foreign agent' laws
In May 2015, Vladimir Putin signed a law giving Russian authorities the power to terminate the activities of any foreign or international organization whose activities have been identified as "undesirable" for Russia's "defense capabilities, security, public order or public health". This law allows for cash fines, jail time or restriction on movement for those who violate the law and builds on a law passed in 2012 classifying groups as 'foreign agents' for their supposed political activities or foreign funding. As at the beginning of July 2015, 78 organisations have been officially listed as 'foreign agents' including many environmental and human rights groups. In the latest wave of announcements, the highly respected Dynasty Foundation has been labelled under this law as its money and assets are in foreign banks.
Irina Kosterina, Gender Democracy Program Coordinator at the Heinrich Böll Foundation, shared that donors, including her Foundation, are finding it more and more difficult to work in Russia: "A lot of issues related to gender, sexual orientation, and some political questions can hardly be discussed in the public sphere now. Some partner NGOs, which have been accused of being 'foreign agents', have decided to stop working. We cannot support projects on lesbian, gay, bisexual or transgender (LGBT) rights as it is prohibited by the 'homosexual propaganda' law, and our LGBT NGOs focus mostly on support for communities, but not on advocacy and public discussion. The adoption of the new law on 'unwanted foreign organizations' will greatly reduce or completely stop the presence of foreign donors in Russia. This will lead to substantial cutbacks of civic activity in some areas, particularly in the area of women and LGBT rights." This set back comes at a time when more and more women's rights groups are getting notifications of their foreign agent certification within a context which was otherwise ripe for cross-movement dialogue, solidarity and learning. For instance, the disability rights movement in Russia is flourishing and celebrating numerous achievements, including the accessibility of buildings and increased visibility of persons with disability in public, which was not the case 20 years ago.
The influence of Russia and its restriction of civil society spaces is spreading across Eastern Europe and other post-Soviet countries. A case study in the Human Rights and Democracy Report 2014 published by the UK's Foreign and Commonwealth Office points to shrinking space for civil society organisations in Eastern Europe and Central Asia. Although the report states the reasons for this shrinking of space is uncertain, it goes on to say that it appears that countries in the region believe civil unrest in Ukraine is due to foreign influence. A fear of foreign funding influencing internal politics is not new. Over 10 years ago, the George Soros Foundations that flourished all over the region were slowly pushed out because of the fear that they would impact societies outside of the state's direction for development. Over the years, and increasingly in the past two years, legislations constraining the activities of NGOs have been passed in Azerbaijan, Belarus, Turkmenistan, and Uzbekistan, with Armenia and Kyrgyzstan currently proposing and discussing such laws.
India's Foreign Contribution Regulation Act (FCRA)
In India, human rights advocates and high profile environmental groups, have been targeted by the neoliberal Modi government through the 'Foreign Contribution Regulation Act' (FCRA). According to Kalyani Menon-Sen of Feminist Learning Partnerships in Gurgaon, India, "Greenpeace is being targeted because it opposes the corporate loot of natural resources; Ford Foundation has been supporting Teesta Setalvad who is the face of the campaign for justice for survivors of the 2002 Gujarat genocide; [and] the Bank Information Trust has investigated violations of national laws and subversion of due process by World Bank and IDB-funded projects in the coal and power sectors". Women's organisations, including small grassroots NGOs who have been funded by Ford, have become collateral damage in what Menon-Sen describes as the "FCRA witch hunt" and have been damned by association.
In India, foreign funding is important to grassroots organizations for several reasons. Apart from foreign funding, Indian NGOs only have four other options for funds: corporate social responsibility (CSR) funds which corporates are required to have by law; the government; local philanthropic institutions; and the general public. The most prolific funding comes from corporates and the government, who tend to be conservative or restrictive with their giving choices.
CSR funds tend to go towards non-controversial work, which excludes human rights and environmental groups because they are by nature challenging the government and industrialization. Seem Misra, a Delhi-based lawyer says rights-based work is seen as "confrontational." Rajesh Tandon, the founder of Participatory Research in Asia says that both middle-class donors and the corporate sector are conservative funders because they are "first-generation donors who do not want to antagonize the government." Additionally, these donors are also less likely to provide funding for capacity building, mobilization, and awareness programs. This would explain why many groups are reliant on foreign donors for more flexible funding that goes towards these activities. Backing Tandon's claim is an analysis by the Asian Centre for Human Rights that showed government funding was mainly directed to groups providing direct service delivery. This same analysis showed that no funds made its way to groups that keep the government accountable to implementing and safeguarding the law. To explain the gaps in government funding, Tandon provides the example, "…NGOs will get money from the government to build toilets but not to make people aware or motivate them to use it." This echoes the findings of AWID's 2013 Watering the Leaves, Starving the Roots report. Increasingly, donors of all sectors are directing funding to the "leaves," for instance individual women receiving microfinance loans, rather than the "roots," such as experienced women's rights organizations that over decades have laid the groundwork for institutional and systemic change. With the Indian government repeating this method of funding across the entire spectrum of development, Indian women's rights organizations are undoubtedly affected.
From the examples in India and Russia and elsewhere, the pattern appears clear. States are seeking to control organisations that challenge them the most: human rights organisations; institutions that deal with governance; and those that challenge patriarchal, hetero-normative standards – aka women's rights organisations and those working on sexual orientation and gender identity.
The situation is however, even more complex. This context is part of a bigger clash of ideologies and geo-political shifts the world is undergoing now. With the economic pendulum swinging away from the West to the South, there is less need for dependence on the neoliberal U.S. and Western Europe driven models for development. Unfortunately, civil society is becoming the collateral damage of this battle. It is understandable that growing economies like India and Russia would want to choose their own development alternatives to those of the World Bank or IMF, but access and demand for basic human rights, freedom of assembly and expression cannot simply be rejected as Western ideals. That notion undermines home-grown movements of resistance that have always been there, foreign funding or not; and simply bulldozing them with intimidation laws will not be of service to either Russia, India, or any other economically growing nation.  An attempt to build a healthier relationship between independent civil society and the state should be the focus of next steps for all the above nations, instead of the continuous diversion to who is on the right side of 'foreign agent' laws. This moment is also important for the international funding community to reflect on its work in those countries to date, consult its partners on ways forward, and develop alternative ways to engage and support to civil society.