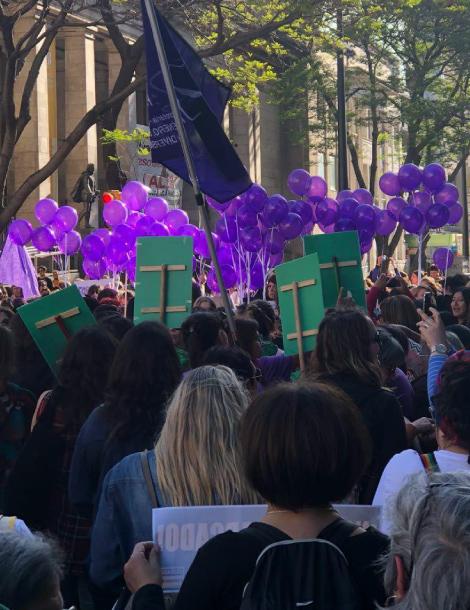 In November of 2017, the 14th Latin American and Caribbean Feminist Encuentro in Montevideo, Argentina brought together 2,200 feminists from all over Latin America as well as several European countries, with their different feminist experiences, diverse ideological and political positions, epistemic perspectives and collective projects.
"Diverse but not dispersed" was both a slogan and a goal. Participants sought common denominators around which to build dialogue and collective action, at a time when religious fundamentalisms, cultural conservatism, and political fascism are growing around the world, threatening the rights women have won, and using violence and multiple forms of heteropatriarchal power to control our bodies and lives.
The goal was also to recognize our differences, and look for ways to advance together in the defense of our bodies, territories, and autonomy.
---
During the 14th Encuentro, we worked toward this goal using distinct methodological approaches to work on different thematic areas, as well as through a wide array of cultural activities, marches, and independently organized workshops. "The names of feminism" was one of the thematic areas in which I had the opportunity to intervene and coordinate. At this assembly, there were compañeras who identify with various experiences and ideas:
Popular feminists, Indigenous, community women, Black women, peasants, lesbofeminists, differently abled feminists, socialist feminists, materialists, workers, unionists, and other groupings. We felt the need to make our diverse proposals and cultural, ideological, and political identities visible, because the pretension of universality put forth by hegemonic feminisms cannot contain us.
In our discussions, we asked ourselves why we felt the need to give our feminisms a surname (or first name) at certain times. This was a way of acknowledging that these are not strictly "identity markers" but life trajectories which challenge "recognized" feminisms within a Eurocentric or more broadly "Western," white, heteronormative, academic, institutional perspective, which has a hard time rooting itself in the hearts and skin of women from the global South (including people from the South who migrate to the North).
The demands of diverse collectives at the meeting, to be named according to how they self-identify, led to an interrogation of the historic experience of feminisms. At the same time, we searched for common ground from which to confront the patriarchal war on our lives and the devastation wrought by capitalist extractivist policies in the territories where we live. The defense and care of our bodies and territories is one of the places where our rebellions intersect.
We remembered Berta Caceres, and so many other compañeras who care for the web of life, and we proposed to intensify our bodily accompaniment of those who are being criminalized by the powerful in patriarchal narco-states, those who are targeted, political prisoners, and those who are driven off their lands.
We spoke of the need to dismantle the patriarchal power relations that can also be found throughout our feminisms. Our lesbian compañeras proposed openly discussing violence in lesbian relationships and between feminists.
We spoke of denormalizing violence as a way of shifting away from these forms of oppression, which are in this case exercised "amongst ourselves."
We discussed the sexist and racist relations between women and men within our social and political movements, and recognized the need to denounce inconsistencies in our practices when everyday relationships perpetuate violence or silence it.
We critiqued the ways we engage in politics, examining our history and trajectory without idealizing it or dismissing the rocks along the way - some of which were not cast against the system of oppression, but against our own compañeras. And we thought through how to change that patriarchal style of political action.
We rejected the role of victimhood and vulnerability, instead generating and building feminist and popular power in our communities and in the streets.
We strove to strengthen our practices, without sacrificing affection, and rejecting the tendency to judge our compañeras by measuring ourselves up against a "feministometer," which devalues the struggles that each of us is engaged in within our own possibilities and concrete sensibilities.
During this assembly, we also highlighted the community and popular dimensions of our diverse experiences. We proposed deepening our recuperation of ancestral knowledges; strengthening capacities for communal self-organization in solidarity with the feminist economy; building upon all of the practices which our movement has been developing in our territories toward food sovereignty, community and popular health, and collective care for life. In the same vein, we considered the importance of initiating training processes and popular feminist education, such as through knowledge exchanges as a means of building and strengthening knowledge.
Like practical witches, we declared that "we are what we do". And when the question arose as to what we plan to do for the next March 8th (International Women's Day), participants responded:
"International Women's Strike!"

We said this not as a mere slogan, but a plan of action. An international women's strike from our reproductive and productive labour, from the circulation of goods, and from our mode of existing for others and never for ourselves, preceded by a week-long mobilization, starting on March 2nd - the anniversary of Berta Caceres' murder.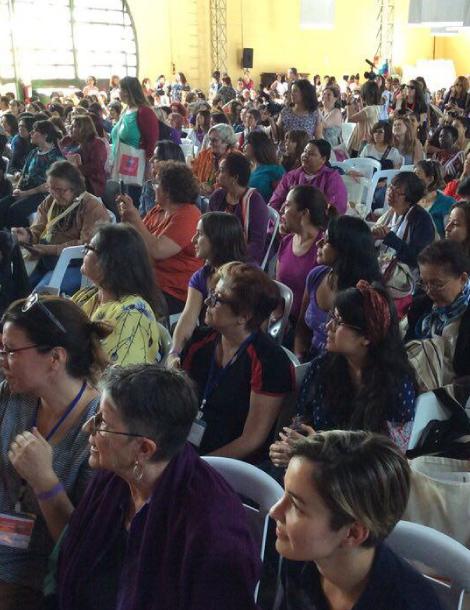 A strike in which we demand "Justice for Berta" as well as for all of the political and territorial femicides, like the ones against Macarena Valdes in Chile, Bety Cariño in Mexico, our compañeras in Colombia, and all of the women murdered for defending their lands. A strike in which we demand an end to the criminalization of women who are caring for our territories - Mapuche women of the southern part of the continent, Zapatista women, peasant, Black, and Indigenous women of the continent, who by caring for nature, of which we are part, are caring for our present and our future.
The planned mobilization will culminate on March 8th, on the one-year anniversary of the murder of Guatemalan girls, that brutal femicide of underprivileged Indigenous girls and women, who dared to speak out against the sexual violence to which they were subjected. From that day forward, we will consider March 8th to be a day on which we denounce all forms of sexual exploitation of girls, youth, and women, on which we embrace their families, mothers, children, along with our friends and compañeras who are survivors, to tell them they are not forgotten, and from every corner of the earth, we strike and mobilize to demand "justice for the girls".
- Acknowledging that there are also other proposals, possibilities, and perspectives coming from the 14th Latin American and Caribbean Feminist Encuentro - the workshop on the International Women's Strike proclaimed that on the next March 8th, we women, lesbians, and trans people will declare that we can stop the world, because we are the ones who keep it moving every day. We will strike for each one of our rights, and also for our desires, for the recognition of all our bodies and all of our lives. We will stop the world so we are seen, together, walking in the footsteps of the ancestral women before us.
All of us workers without borders, reinventing March 8th so we can exercise our right to revolutionize the world, revolutionize our revolutions, fertilize our lands with our desire and the exercise of our freedom.
---
Claudia Korol
Member of the Feministas Populares del Abya Yala