The latest report from UN expert Karima Bennoune is an important building block in the human rights response to fundamentalisms and extremisms, and has special importance for feminists.
---
In her latest report as the Special Rapporteur in the field of cultural rights Karima Bennoune turns her attention to the impact of fundamentalisms and extremisms on the rights of women. The UN report, presented to the General Assembly on October 25th 2017, focuses on how fundamentalisms and extremisms seek to roll back the advances achieved towards gender equality and block further advances, and try to penalize and stigmatize women human rights defenders (WHRDs).
It sounds the alarm on rising waves of fundamentalism and extremism, and calls for an immediate and global rights-based response, giving over 30 recommendations to states to take action.
This report, along with her previous report, is an important building block in the creation of a human rights framework to respond to fundamentalisms and extremisms. What is more, the report's recommendations for states and the international community provide important action items for those doing gender justice advocacy.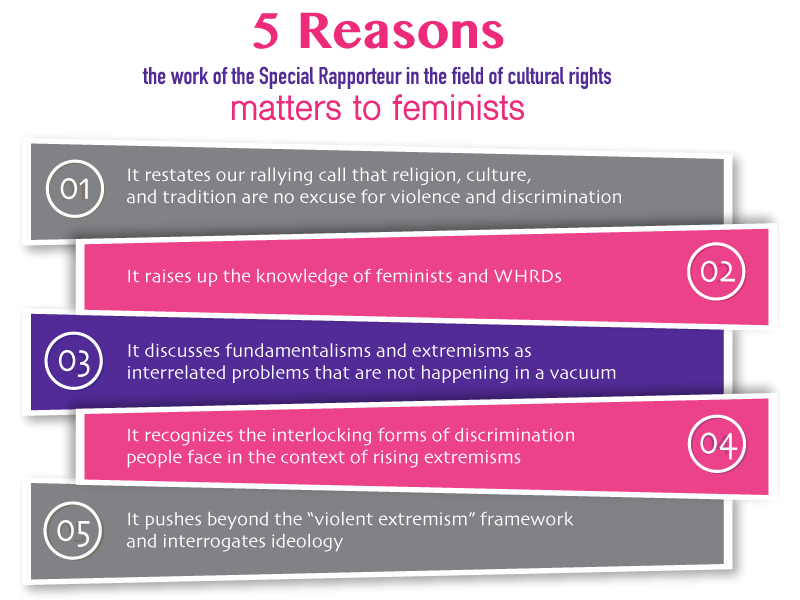 Here are five big reasons it is especially important for feminists and WHRDs:
1. It restates our rallying call that religion, culture, and tradition are no excuse for violence and discrimination
Building upon the work of her predecessor Farida Shaheed, the Special Rapporteur underlines women's rights to have access to, participate in, and contribute to all aspects of cultural life and practices, without discrimination.
The report cautions that, although they often make claim to represent 'true religion' and 'cultural authenticity', fundamentalists actually seek to erase women's cultures, stamp out cultural diversity, and violate women's rights to freedom of religion and to take part in cultural life.
It condemns cultural relativist excuses and supports feminists and WHRDs in their long-standing resistance against the use of "culture" or "cultural rights" as a justification for violence and inequality.
It recalls the many human rights standards that affirm this position.
"Universality is one of the most important tools in the struggle against the harmful effects of fundamentalism and extremism and must be defended."
2. It raises up the knowledge of feminists and WHRDs
It puts women's rights and WHRDs at the heart of the solution, stating "Women's rights are not an add-on to the fight against fundamentalism and extremism - they are are an essential part of that fight, without which it cannot succeed", and calling for WHRDs to get the resources and visibility that they need.
The report raises up the analysis and expertise of women human rights defenders, who have led the way on confronting these problems for decades, often raising the alarm about the warning signs of fundamentalisms before anyone else.
It draws on the Rights at Risk report from the Observatory on the Universality of Rights which shows that diverse fundamentalist actors are working together at the international level with the aim to undermine the foundation of our human rights standards - threatening to destroy the tools we have to hold states accountable.
It also references the finding of FRIDA and AWID's research Brave, Creative and Resilient that 54 per cent of survey respondents from young feminist organizations said they were threatened in their work by extremist or fundamentalist groups.
It reminds readers that rejection of equality and of the universality of rights are at the heart of fundamentalist and extremist ideologies, and highlights their common characteristics such as policing "honour" and "modesty", and demonizing struggles for women's human rights as "gender ideology".
"Policies that combat discrimination against women in relation to their right to take part in cultural life or that promote their freedom of artistic expression, scientific expression and right to education[...]are core aspects of combating fundamentalism and extremism"
3. It discusses fundamentalisms and extremisms as interrelated problems that are not happening in a vacuum
The Special Rapporteur tackles both religious fundamentalisms and populist ultra-nationalism, including ideologies based on racial or ethnic superiority, addressing them as distinct issues, but with many common themes regarding women's status, gender, the family, and notions of "culture".
She also notes that "different manifestations of fundamentalism and extremisms often reinforce each other through 'reciprocal radicalization' " - for example, white supremacist movements and Islamist extremisms feed off one another's actions and rhetoric to justify their own.
The report also reiterates that fundamentalisms and extremisms interact with other factors - "broader notions of patriarchy and negative aspects of dominant economic models" - to erode women's rights.
It makes the connection between the cultural sphere and economic justice, noting the negative impact of austerity measures which "often lead to a situation where the fields of education and culture[...]will be left to others, in particular those with fundamentalist agendas, with dire consequences for women".
4. It recognizes the interlocking forms of discrimination people face in the context of rising fundamentalisms and extremisms
The report highlights that extremists and fundamentalists often target lesbian, bisexual and transgender women, and try to quash expression and positive representation of "non-normative" sexualities.

Throughout the report, the Special Rapporteur points out that fundamentalisms and extremisms vilify and attack those to perceived to be the "other", and that reminds that "such attacks have a particular impact on women, who are often seen to symbolize minority groups."
She also highlights that laws that treat minorities differently with regard to their cultural practices, as well as discriminatory rhetoric from political leaders, contribute to an environment that facilitates attacks.
The report also calls out limitations on freedom of movement based on discriminatory approaches, and reminds that these often actually penalize victims of fundamentalism themselves.
5. It pushes beyond the "violent extremism" framework and interrogates ideology
The report critiques approaches that focus only on "violent extremism" without addressing the dangerous nature of the underlying ideologies that drive extremisms and fundamentalisms.
It reiterates the risks, as identified by the International Civil Society Action Network, that come with "failing to recognize that non-violent religious extremism is spreading into the mainstream": these ideologies are, in and of themselves, dangerous to women and other oppressed groups.
In the same vein it advises caution toward fundamentalist and extremist forces that pass themselves off as "moderate", and criticized the actions of states who have positioned these actors as allies.