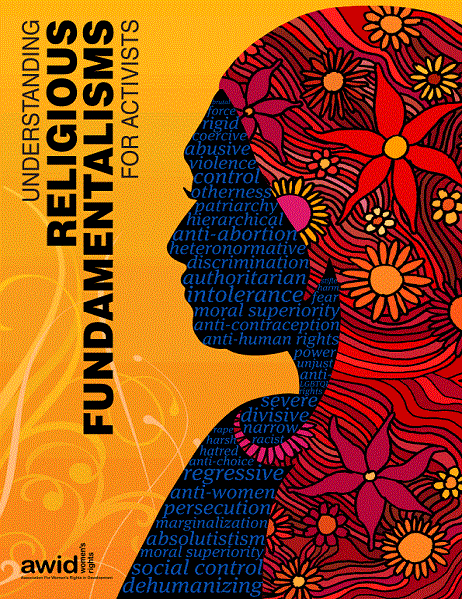 This user-friendly resource manual is intended for rights activists facing religious fundamentalist opposition to their work. It brings together the innovative research and analysis produced by AWID's Challenging Religious Fundamentalisms program over the past six years, pulling together the experiences of hundreds of women's rights activists in diverse regions of the world.
The manual covers key areas of AWID's research including understandings of religious fundamentalisms; factors that lead to their growth; the impacts on women's rights and human rights; and strategies used to counter religious fundamentalisms. It also includes concrete examples, visuals, a series of discussion questions and participatory activities to encourage reflection on how religious fundamentalisms affect the day-to-day work of activists, and how to strengthen activist responses.
Our hope is that this manual will offer an accessible, resource to inform and inspire dialogue, strategies, and advocacy on the issue of religious fundamentalisms.
This resource has been produced for rights-based activists and organizations only and is not meant for public dissemination. As such, we ask that you not re-post the link to this manual in any public forum such as Facebook or on any e-mail list, and that the manual itself not be posted on-line. If you feel that any individuals, organizations or networks would benefit from this manual or if you have any questions about the distribution policy, please contact cf@awid.org.
Note: If you are interested in adapting and translating this resource according to your specific context or have any suggestions and feedback, please write to us at cf@awid.org.