Date: 1 - 30 September 2021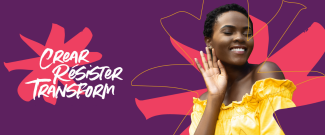 Do you want to be inspired by the creative resistance strategies of feminists from all over the world? Do you want to discover feminist initiatives that show us how we can all live in a more just world? Do you want to learn about models of feminist care and healing to bring to your own community? 
Is that a resounding yes that we hear? YES! Then sign up today to participate in Crear | Résister | Transform: a festival for feminist movements.
The festival takes place online throughout the month of September across all of AWID's platforms.
---
Join conversations such as:
"She is on her way": Alternatives, feminisms and another world 
Join feminist activists as they share their experiences of "daring to invent the future". Learn about alternatives to the state and a feminist take on governance and transformative justice, feminist economies that center people and climate justice, and on gender-diverse cultures and lived realities.
"The revolution will be feminist—or it won't be a revolution,"
Feminists and gender diverse activists from across the world will tell you the story of how they have won reproductive rights, resisted corporate power, and toppled authoritarian regimes. This session centers feminist decolonial and racial justice struggles, feminist cross-border solidarity and internationalism.
Organising to win!
How do we imagine, build and practice the types of relationships, structures, and culture that enable us to build the worlds of justice, care and joy we envision? Join this conversation to reflect and learn on our ways of organising and building organisations and movements that embody our feminisms.  
And many more!
---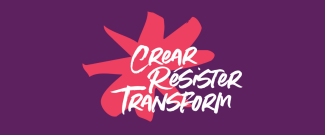 Take a stroll through our Pleasure Garden and join wellness and sex positive sessions including:
#SextLikeAFeminist
Reimaging BDSM
Healing circles
Soak in some feminist art and culture
Check out inspiring films from our Feminist Film Club curated by Alejandra Laprea
Take a stroll through our virtual art exhibition
Get your dancery on at our IG live concerts 
---
Feminist Art Walk 
As part of our commitment to engage more deeply with artists and the practice of co-creating Feminist Realities, AWID collaborated with an Artist Working Group to advance and strengthen feminist agendas and realities in their communities and movements through their creative expression. Our intention here is to bring feminist creatives together in a powerful and brave space where they grow and live freely, and where they shatter toxic narratives to replace them with transformative alternatives.
---
Festival Playlist 
---
Crear | Résister | Transform is for you and all the amazing feminist and social justice activists that you know. Let's come together to share our resistance strategies, co-create some feminist magic, and transform this world together.
---
AWID is committed to creating a space that invites and challenges us all to operate from a place of courage, curiosity, generosity and shared responsibility. Please download and review the Principles of Engagement for this Festival
---
Yo, Imposible / Being Impossible Watch Party Participation Guide
The film tells the story of how Ariel discovers she was born intersex and subjected to several surgeries to normalize her genitals. This discovery leads the character to rediscover her body and reconstruct her identity. The audience is led to question a society dominated by heteronormativity which renders others invisible and condemns them to a life of unhappiness.