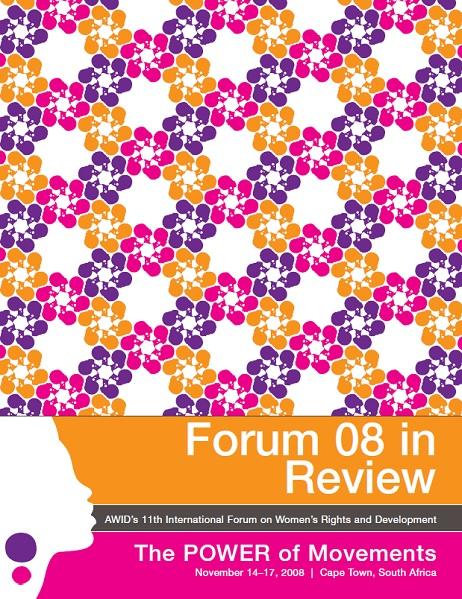 The selection of "The Power of Movements" as the theme for AWID's 11th International Forum on Women's Rights and Development in November 2008 responded to our belief that building collective power is key to advancing feminist agendas, as well as our experience that this process does not happen on its own - we need to make it happen. 
With this Forum, we purposefully aimed to turn the lens inward: on ourselves, our organizations, our strategies and our ways to go about building collective power. We wanted to look at how we might organize and mobilize more effectively.
We also wanted to firmly resist the increasing pressure on women's organizations to move away from movement building to project-oriented approaches that focus on delivering so-called 'concrete' or easily quantifiable outputs and services.
We wanted to create a space for women to re-focus on strategies that build collective power to challenge the roots of gender discrimination and other forms of social exclusion and oppression.
The Forum was designed with the hope of advancing the following six outcomes:
Greater understanding of what movement building is, why it's important, and what we can do to strengthen movement building processes
Significant steps to overcome the fragmentation within women's movements, focusing in particular on issues of diversity and inclusion.
Advancing conversations and thinking among diverse women's rights advocates on elements of a shared political agenda (that is, an agenda to transform power relations, broader than a particular issue or identity).
Expanded strategic alliances with other social movements, connecting in particular with women's rights advocates within these movements.
Significant visibility and engagement of young women in key debates and strategies of women's movements, contributing to more effective multi-generational movement-building.
The revitalization (meaning having participants leave with a renewed sense of commitment and energy, inspiration, as well as new allies, strategies, and ways of thinking and acting) of women's organizations and movements generally but also very particularly in Africa, the region where the Forum was held. 
This Report shares AWID's perspective on the Forum: what we believe was accomplished and what we learned.