Women with disabilities and economic rights
FRIDAY FILE: It is estimated that 19% of women around the world live with some kind of disability. The lack of proper accessibility, education and bias by the broader society hinder the full exercise and enjoyment of their human rights.
AWID spoke to Maria Veronica Reina, Executive Director of Global Partnership for Disability and Development to examine how women with disability are faring in terms of economic rights.
---
AWID: How is disability generally perceived and understood?
Maria Veronica Reina (MVR): In the media sometimes we find persons with disabilities portrayed as "exemplary", "extraordinary" or "heroic", as persons who have "overcome" their limitations and triumphed "in spite of their disability", thanks to their efforts and perseverance. But, underlying these representations is the idea that disability is an "abnormal" feature of the individual that constitutes a serious challenge for them. It is also assumed to be a "tragedy" or "misfortune" to have a child with a disability or to acquire a disability. These representations are shared by most of society and form part of the stigma around disability. The community of persons with disability and their allies around the world, however, believe this is a very narrow and mistaken view.
Alternative visions have emerged, contextualizing disability within a diversity model that highlights social issues. The World Bank and World Health Organization (WHO) Global Report on Disability says that disability is part of the human condition and that the generic term "disability" refers to the negative aspects of the interaction between an individual (having a health condition like quadriplegia) and her/his contextual factors (environmental such as the lack of accessible transportation, and personal, such as not having had higher education at the time of acquiring a disability). Under this framework, disability is an interface between the environment and the individual and not a personal feature.
AWID: What obstacles do women with disability face in exercising their economic rights?
MVR: Women with disability face several obstacles that often hamper the exercise of their economic rights. It is estimated that a number[1]of women with disability, in low and middle income countries[2], remain confined to their homes because they lack the necessary education or support to lead an independent life, such as mobility and orientation training for blind persons or those with a motor disability.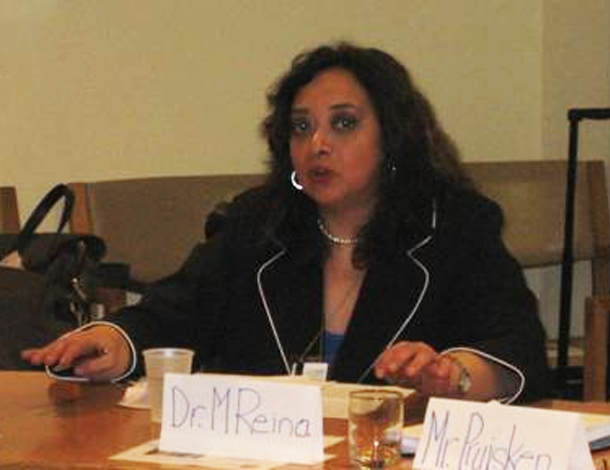 There is also a serious lack of orthopaedic elements and other assistive devices and their maintenance. But even with the devices and the training, there are many physical and infrastructural barriers: accessibility is very poor or almost non-existent in transportation, roads, buildings and public spaces. In particular, women who are deaf or blind lack access to information and communication in adequate formats.
Society's negative attitudes and incorrect perceptions regarding women with disability, for example, that a deaf woman is not intelligent because she does not communicate in the typical way, also constitute significant impediments. Restrictions regarding settings or roles are also observed, like assuming women with disabilities are unable to manage their assets or be the head of a household.
AWID: Why do some women with disability have difficulties accessing the labour market or the business sector?
MVR: Women with disability are clearly disadvantaged in terms of employment, both in comparison with men with disability and women without disability, in rich and poor countries alike. An analysis of the World Health Survey conducted by the WHO in fifty countries around the world shows employment percentages of 52.8% for men with disability and 19.6% for women with disability, compared with 64.9% for men and 29.9% for women without disability.[3]
Lack of education is an important aspect to consider among the causes of this employment gap. The same study reveals that women with disability are also the most disadvantaged in education. Other causes include difficulties in accessing workplaces (accessible transportation), intersectional bias and discrimination (for being women and for being a person with disability) and lack of reasonable adaptations made in workplaces (i.e. the necessary and adequate modifications and adaptations that will not place a disproportionate or unjust burden, and will guarantee all persons with disability the enjoyment or exercise of all human rights and fundamental freedoms in equal conditions).
In low-income countries, property inheritance, access to credit and the bias about women with disability being weak and unable to work as they cannot act on their own, are additional challenges to the difficulties mentioned above.
AWID: Are there sectors/professions/social services that are more open, or closed, to women with disability? What are the reasons for this?
MVR: There are no regional or international studies about this, but according to the reports by NGOs and a few statistical analyses at the national level, women with disability tend to be more integrated into informal labour, in manual work and as vendors. Most work in the service sector (preparing food, cleaning buildings); some do it in the public sector, but mainly in administrative jobs. Few women with disability are in the professional sectors like teaching or legal professions, and very few can be found at management level positions, compared with men with disability and women without disabilities.
I don't think it is possible to formulate a global analysis of the causes; we need to examine it at the country level to be certain of what has a greater weight in occupational segregation - gender or disability - and to assess if there is an overall problem in terms of employment or not.
AWID: Which countries have made progress in improving the economic situation of women with disability? Can you give us some examples of best practices?
MVR: We are at a very early stage in collecting data and doing research on the situation of women with disability around the world so it is very difficult to report progress. In 2009 the European Union produced a report on the situation of women with disability in 33 countries of that region. The countries with the best employment rates for women with disability were Finland, Norway and Sweden. The Scandinavian region is well known for its efforts to promote gender equality and equal rights for persons with disability. Even though several countries in Europe have specific employment quotas for persons with disability, they don't seem to be working.
Passing and enforcing reasonable accommodation or adjustment laws, an accessible environment, and improvements in access to tailored education and training, alongside protections related to gender-based discrimination seem to be the best practices.
AWID: How are the economic rights of women with disability taken into account in the Convention on the Rights of Persons with Disabilities (CRPD)? How is the Convention being implemented?
MVR: The Convention has a dedicated article (Art.6) and several references to the situation of women and girls with disability. It is too early to assess their implementation, but it is clear that the CRPD has increased awareness about the issue as several national disability plans[4]drafted in the last stage of negotiations or once the CRPD entered into force (2008) now include programs or elements related to women with disability, and/or efforts to integrate gender criteria into those plans.
AWID: The Organization of American States (OAS) proclaimed the Decade of the Americas for the Rights and Dignity of Persons with Disabilities(2006-2016). Mid-way into the period, how is the situation of women with disability in the region?
MVR: In the region, the situation is still quite precarious. The next meetingof State parties to the Convention will be in September 2012, and women with disabilities, is on the agenda. I believe we will have more information after that meeting, even though in our region[5]States report on activities or programs and not on results, so it is hard to know how much has really been done.
AWID: What is needed to ensure equality in economic rights for women with disability?
MVR: There is need for an adequate legal framework[6], programs for implementing the laws, budgets to conduct the activities, control and overseeing mechanisms, systematic awareness-raising and training (particularly for those who can facilitate the inclusion of women with disability) and empowering women with disability through their associative movements, among other measures. It is worth highlighting that, like society as a whole, women NGOs in general are not very aware of disability issues, and more should be done to include women with disabilities in women's organizations' demands, needs, perspectives and in gender related activities.
---
[1] These are not total numbers; the estimate is based on the discussion on the subject convened by the World Bank and the Global Partnership for Disability and Development. A summary can be found at
http://www.gpddonline.org/media/news/Women_with_disabilities_development.pdf
[2] According to the World Bank classification: http://data.worldbank.org/about/country-classifications
[3] The analysis was carried out by the WHO and the World Bank to elaborate on the "Global Disability Report": http://www.who.int/disabilities/world_report/2011/es/index.html
[4] Afghanistan, Albania, Australia, Austria, Bolivia, Cambodia, Cuba, Czech Republic, Dominican Republic, Fiji, Guatemala, Hungary, Japan, Kosovo, Macedonia, Malawi, Mali, Mexico, Mozambique, Nepal, New Zealand, Pakistan, Panama, Peru, Samoa, Slovenia, Spain, Syria and Thailand.
[5] The meeting took place in September 12-14.
[6] The legal framework system for persons with disability can be consulted here http://www.un.org/esa/socdev/enable/disovlf.htm. One can also check the Syracuse University website "International and Comparative Disability Law Web Resources" http://www.law.syr.edu/library/electronic-resources/legal-research-guides/humanrights.aspx