Since its explosion onto the social media landscape at the end of 2017, the #metoo movement has continued to gain global traction. Initially centred on powerful Hollywood women breaking decades of silence about sexual abuse and harassment in the industry, the conversation soon spread across global regions and sectors, from #YoTambien in the Spanish-speaking world to #balancetonporc in French. From China to أنا_كمان# in Arabic.
From national governments to universities to international development, the stories are grim, and their pervasiveness has been jarring.
But for the majority of women and LGBTQI people, these stories are nothing new.
Because global feminists and human rights advocates have been fighting for a more just world for decades, and have long noted that those individual instances of abuse and harassment are locked firmly in place by prevailing working conditions and an absence of labour rights protection.
Across the planet, women's disproportionately high rates of informal employment and complex production chains prevent them from organizing to protect their rights.
When they do, they are threatened with violence and union-busting attacks – often by the powerful, mostly North-based, transnational corporations who employ them. Data on the global workplace harassment and abuse of trans and non-binary people is less readily available, but many countries around the world continue not to even recognize trans and nonbinary identities and rights, and International Labour Organization (ILO) research reveals that LGBT people face discrimination in "access to employment and throughout the employment cycle, and can result in LGBT workers being bullied, mobbed, and sexually or physically assaulted".
People who do not conform to traditional gender norms face even more discrimination than those who can "pass".
While talk in corporate and international development circles about the importance of women's economic empowerment is on the rise, it often stops at individual income generation or improvement of self-esteem. Meanwhile, governments often refuse to take measures to protect precarious and informal workers – the majority of whom are women – out of fear of losing their competitive advantage to labour markets in other countries.
The situation of Cambodian women who work in the beer industry is case in point. In Cambodia, young women are hired by beer companies to sell as much of the brand as possible. They work long hours in bars, restaurants, and beer gardens late into the evenings, and are paid by commission or by a set salary per month. Some have contracts protected under the Cambodian Labour Code, and some are unprotected informal workers.
Cambodian beer promoters have been organizing since 2006 for a living wage, and to introduce protections against sexual harassment and violence, long working hours and toxic working conditions in bars and restaurants. During that time, more workers have gained formal status, allowing them to benefit from the country's labour code, and minimum wage standards.
But last year, Cambrew Ltd. – the largest brewery in Cambodia, 50% of whose shares are held by the Carlsberg Group – announced a change in working hours that would force women to leave work two hours later in the evening – despite travel safety and childcare concerns – without consultation with workers.
The company also began offering short-term contracts as a way to discourage beer promoters from joining the union, as well as giving union leaders morning shifts where they cannot make additional wages through overtime or larger sales. Ongoing fear of police brutality and dismissal continue to keep trade union activism and mobilization in check.
In other parts of the world, millions of women work under – and fight – similar conditions, upheld by the same logic. 85% of sweatshop workers are women between 15-25 years old, where stories abound of managers calling women workers into the back of workrooms, trying to touch or grope them and threatening to fire them if they refuse.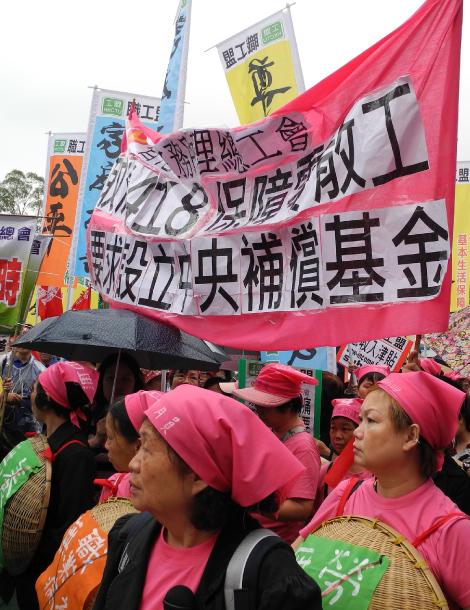 Around the world, 1 in every 13 female wage earners is a domestic worker, and only 10% of them are employed in countries that extend them equal protection under national labour laws. About 30% of them work in countries that exclude them from labour laws completely. Basically, the threat and exercise of sexual abuse and harassment of women is the cultural grease that keeps profits flowing efficiently across the globe.
Time for binding agreements
But feminists and human rights advocates have been, and continue to mobilize for gender and economic justice. In October 2017, 14 organizations came together to request the integration of a gender approach into a long-awaited international legally binding treaty to hold corporations accountable for human rights abuses.
It would include assessments of the impact of business activities on women's lives, ensuring that women can get justice in courts and creating conditions that are safe, respectful, and enabling for women human rights defenders. It would challenge corporate impunity and legally oblige businesses to uphold international human rights standards all over the world.
At the same time, the International Trade Union Confederation and others have been mobilizing with a campaign for the International Labour Union (ILO) to adopt a comprehensive convention on violence and harassment against men and women in the world of work. This convention is a step in the right direction – towards transforming workplaces to become safer and dignified spaces for people of all gender identities.
On March 8, International Women's Day, the intergovernmental working group on the binding treaty will present its report at the Human Rights Council in Geneva – more than 100 years since women garment workers came out to the streets to demand fair working conditions.
Today, working spaces are often still exclusionary, exploitative and unsafe, particularly for women, trans and non-binary people and global south communities, as well as for queer and racialised people, for differently able-bodied people, and for migrant communities. It is time we responded to that long-standing demand for the human rights of all workers to be respected.
No one international treaty will hold all the solution, but it is a reminder that in order to stop violence against women in the workplace, a structural change is needed in our economic and human rights systems, and the struggle is long underway.