Currently, we are looking for individuals to serve 3-year terms on AWID's Board, starting in early 2022. This is an opportunity to contribute to our organisation's governance and to be part of an amazing group of feminists from around the world.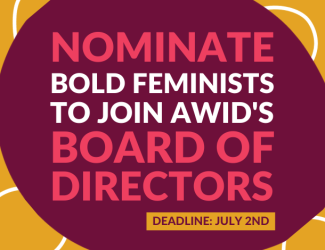 Please help us to identify thoughtful and bold feminists to nominate for election by July 2, 2021.
Please also share this invitation to nominate with your networks!
Who are we looking for?
First and foremost, we are looking for candidates who are committed to AWID's mission, who can make connections between local and global struggles, and who can help us to be thoughtful about how to best leverage AWID's positioning and strengths in a constantly evolving context. Candidates must be willing to uphold the legal duties and responsibilities of the AWID Board in the best interests of the organization. 
This is a voluntary role that requires commitment and engagement throughout the year. Board members are expected to commit a minimum of 10-15 days per year to attend in-person and virtual meetings (though all of our meetings are of course virtual for the time being), and contribute to other communications.  
We aspire for our Board to reflect diversity in all its forms, particularly in terms of gender identity, sexual orientation, age, geography and background. Additionally, we seek Board members with experience relevant to AWID's priority areas of work. 
While we will consider all candidates, in light of the current composition of the board, priority consideration will be given to:
    Candidates with strong experience in the following areas:
Migration 
Feminist responses to crisis
Climate justice
    Candidates from the following regions:
---
What Board members bring to AWID
The Board of Directors is key to inform AWID's strategic direction and support our organisation to fulfill its mission in coherence with the world we live in and the needs of our movements. 
Board members contribute to the organization in many ways: bringing governance experience from other spaces, perspectives from diverse sectors of feminist movements, and substantive expertise in areas relevant to AWID's strategy. 
The candidates who are ultimately elected will be joining the AWID Board in 2022, accompanying us through the end of our current strategic plan and overseeing the development and launch of our next strategic plan - a critical process for board engagement and direction.
Do you know someone with this profile?
Submit a nomination
(You can nominate yourself or someone you know - with their consent)
Please also share this invitation to nominate with your networks!
While anyone can nominate a person for the AWID Board, only AWID members can vote in our Board Elections
Thank you, in advance, for helping us find our next wonderful Board members to support AWID in its journey ahead!