1936-2018 | South Africa
---
I. A mother never dies.
She lives, and lives through her children. Not only of her womb, but of her spirit. Her fruits are infinite, bearing no limits. A spirit breaking borders, boundaries, cultures and genders. Born of a forgotten woman, birthing a nation.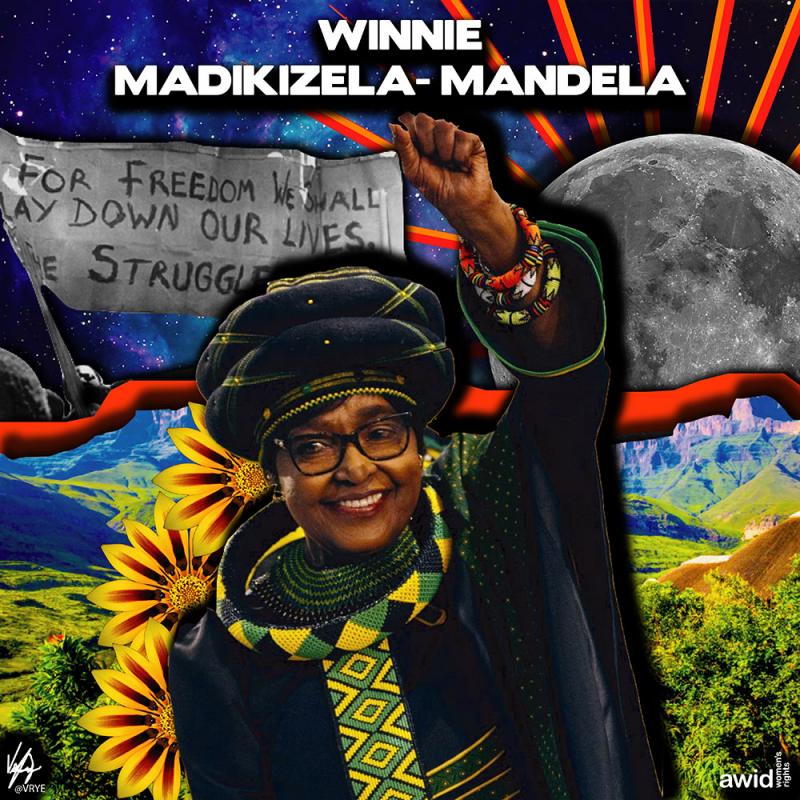 Winnie, that is how the world knew her. Nomzamo, the one who tries and of many attempts, her family named her. Fighter. Freedom fighter. Zanyiwe, tested and enduring all trials. Liberator. She lived her names. We live through her name. 
Did the world know, that from a village in Bizana in rural Eastern Cape, a warrior would arise? The resilience of the Xhosa people ran through her blood. With a father who saw wars, witnessed his people destroyed, Nomzamo persisted. Carrying her people with her, she took them to the world, to Johannesburg, big city lights. A city where dreams are sometimes stolen. 
She held on to her dreams. Pursuing education, she cared for her people one at a time. A noble profession she practiced, social work, showed her the realities: Blacks in their land, struggling, whites in the land of the Blacks demanding more, brutalising, killing, dividing and thriving. These Blacks, her people, lived scared in numbers, oppressed by a minority. 
When the whites saw her power, they retaliated and gave her new names. Silencing her feminine strength, she only existed through the eyes of a man. Imprisoned, the man disappeared from our sight. Only through her eyes, the world saw his image. The white machine worked to vanish her. But her Black resilience shone through. Nomzamo remained.
Birthing two daughters, nursing freedom,
Winnie mothered a nation. Learning from Columbus her father, she took care of her family, her people. Without a mother, she became one to her siblings. Columbus understood - his daughter was destined for greatness. And Nomzamo took on the role of her father and loved her people, as her children. 
II. Mother is political. 
Soldier, constantly alert, she is ready at all times. When the children are in danger, mother knows. She devises strategies to keep them safe. 
But the children doubt her. 'How could she, alone, know how to save them'? They cry. Mother calms them. When they forget, mother reminds them. Mother remembers, the children have been left alone for too long. 
She promises to never leave. 
In the pain, she stays. She endures it all. 
'She should leave. She should be punished, tortured, banished, exiled' scream her foes. Her crime is reminding the children of their land. The land they are born into, the land that belongs to them, that defines them. She knows the power of the land, the source of their pride. She reminds the children, but they choose to forget. 'How dare she, a woman', the husbands demand?    
The children give up, give in – they sell, they settle, they sell out. She watches. Mother sometimes is witness, and that is enough. She looks and the children remember. For a moment, they cover their eyes, wanting to forget. 
Her eyes never close.
The children's children grow up. They ask about the mother. All eyes gaze at the father. He looks to the world. Mother remains, in the background. She keeps watch. The children's children see her. They look, and look deeper. In her eyes, they see their pain. The children's children rumble. 
They ask the father. Truth he demands. Reconciliation he begs 
from the mother. She refuses. In defiance she finds comfort. 
The children run with the father and their children. 
Free, they are post in apartheid. Blacks they remain, in a land that is white. 
Soon their children will remember, the look in the mother's eyes. They return to her again, and again. Always there she never tires. To give up is not an option. The children will save themselves, she believes. Their bellies are hungry, their heads on fire. They ask and she reminds them. 
The children's children return to the land. It is their mother's quest. The land is her freedom. The land is her nation, her first love. Pushing forward, they pursue her desires. They too, fall in love with the land. The mother breathes and she smiles encouragingly. 
III. Nomzamo lives.
In the life of Nomzamo, we have come to see ourselves, to understand the lives of women in our nation. She lived through it all and experienced the brutalities of the apartheid system. And yet, she was ostracised by her own comrades. Branded an enemy, divisive, a murderer, and whore, we swallowed these words. As a people we ignored her. Drunk in freedom and the euphoria of a post moment, we forgot ourselves. 
On her 80th birthday, we returned to Winnie. She had never left. Always there amongst her people, Nomzamo shone the brightest light. On that day she reminded her people, never to lose sight of each other.  Concerned about the widows and children of Marikana, whose husbands and fathers were massacred in front of our eyes, she begged for their reparations. She still looked out for her nation.
Our memories of Winnie are conflicted. The space between hailing her as hero and branding her villain is full of contradictions. There is no either or with her. She is complicated, complex and full. Her life is the real state of the nation. It shapes a future while battling the past in the present. And so we take on this character, filled with expectation, demanding more of her, always.
And so Winnie passes, at 82. In her eternal rest, we keep her alive. We cry and mourn ourselves, together. Winnie is no more. The future is dark, the present is real. The country pauses. One woman stops breathing, a nation exhales. In that moment the movement rises, #IAmWinnie.
For weeks, we emulate her. She is reincarnated in every Black woman - her dress, her style, her poise. In speech, act and form. She is everywhere. We discover her truths and undo the lies. We rewrite her story and hold on to her. We vindicate her actions. We make her brave. She is brave. It is easy to do this. She is not there to ask why and why now? 
We embody Winnie. In keeping her alive, a part of us starts to breathe. Each day the energy moves from body to body. Old struggles are challenged, with new vigour. Women and gender non-conformists demand a #NationalTotalShutdown. They are tired, tired of being tired. Their bodies can no longer be warzones for men's power. They draw strength from the Winnie in them. 
Nomzamo lives. We learn this as we say her name. She keeps us trying, to be the best in ourselves. As we draw from our own powers we realise, Winnie birthed freedom. She was the mother. We are no longer children. As a nation, we declare: our mother didn't die. She multipled! 
Rest in Power Mangotyana, Qhawe lamaQhawe!