Individual Stories, Collective Struggles: AWID's 2015 Online Tribute to Women Human Rights Defenders Who Are No Longer With Us
58 Women Human Rights Defenders (WHRDs). 30 Countries. 9 Regions.
---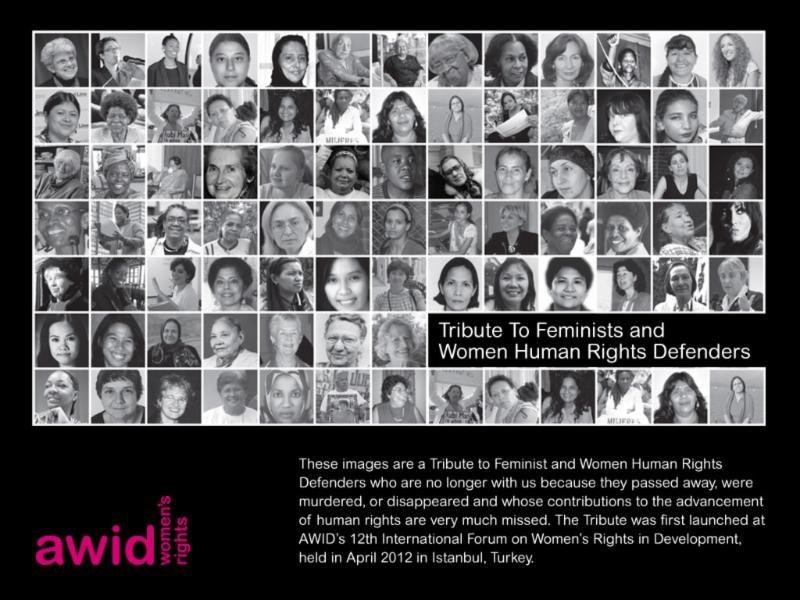 Women Human Rights Defenders through their dedication, commitment, and passion have fought for rights, gender and social justice leading to change in many of the communities in which this work has been rooted. The 2015 AWID Online Tribute to WHRDs Who Are No Longer With Us celebrates women who came from diverse backgrounds including activists, politicians, pacifists, authors, artists, lawyers, academics, and journalists. These defenders advocated and struggled for the rights of women, workers, indigenous peoples, Lesbian Gay Bisexual Transgender (LGBT) people, the protection of land and environment rights, sex workers; have pursued legal and social justice and campaigned for the right to education. Their activism bears witness to the collective struggles of all our social movements. This Tribute remembers, celebrates and honours the work of Women Human Rights Defenders who are no longer with us. 
"I feel compassion towards all of these strong women – lives lived with purpose and determination to uphold human rights. It makes me feel closer and part of a bigger feminist and women's rights movement where all our contributions and lives are valuable and valued." – Rona Donefer, AWID
The Tribute was first launched at AWID's 12th International Forum on Women's Rights in Development in Istanbul, Turkey, and has since been updated every year as part of AWID's contribution to the 16 Days of Activism Against Gender-Based Violence (November 25 – December 10). During this campaign period, the Tribute also aims to raise awareness about the dangers WHRDs continuously face; and highlight the need to politicize and support self-care, increased protection and safety for WHRDs.
While many of the defenders featured have passed away due to accidents, illness or old age, over 50% of those honored in this year's tribute were either killed or 'disappeared' as a direct result of their activism, 14 of them alone in 2015. This is testament to the levels of violence and discrimination WHRDs face all over the world. WHRDs protect rights that every person is equally entitled to, but promoting and protecting the rights of especially marginalized persons and groups is proving to be increasingly dangerous all over the world. Even though the Latin America and the Caribbean (LAC) region has been at the global forefront in advancing LGBT rights, with countries such as Argentina taking legal steps to further these rights, WHRDs such as Diana Sacayán (Argentina), Bárbara Lezama (Mexico) and Francela Mendez (El Salvador) were all killed for who they were and the work they were doing. Similarly in Sub-Saharan Africa, Fannyann Viola Eddy from Sierra Leone, a leader in the African gay rights movement and Vuyisa Dayisi, a young transgender woman from South Africa, were killed as a result of homophobic violence that thrives in many countries across the region. Despite South Africa's constitution outlawing discrimination based on sexual orientation, the rights of LGBT persons are often violated. And often, depending on the legal and social contexts, the violence LGBT activists face across the world is a mixture of draconian anti-homosexuality laws and/or extremely discriminative attitudes in those societies.
Also targeted have been WHRDs who have pursued justice in law and society, including lawyers Joan Kagezi (Uganda) and Samira Saleh Al-Naimi (Iraq), as well as the social activist Isabel Ayala Nava (Mexico) and her sister Reyna, all of whom were killed. Seeking justice and truth was a significant part of the work numerous WHRDs have done by investigating, exposing and denouncing government corruption and activities of criminal groups and drug cartels. Specifically in LAC, six journalists featured in this Tribute were killed, along with Naseeb Miloud Karfana, a reporter from Libya.
In the Middle East and North Africa, women politicians working to advance women's rights and the right to education, as well as human rights defenders such as Shaimaa El-Shabbagh (Egypt) have all lost their lives as a result of their activism. As have so many more WHRDs commemorated in this Tribute. 
Some of the women featured here have supported and worked with AWID's over the years. These include Vivian Stromberg (USA) and Josefa 'Gigi' Francisco (Philippines). Others, like Sabeen Mahmud (Pakistan), Losana McGowan (Fiji) and Jelena Šantić (Serbia), we may feel we have met as they - along with all the other honored WHRDs - have carried our shared values of respect, community and peace. Through this Tribute we also hope to remind ourselves that the legacy and visions left with us by these inspiring women form a substantial part of our collective voices speaking out and saying:
"There is no thing as a single-issue struggle because we do not live single-issue lives." - Audre Lorde 

 
AWID would like to thank the families, friends and organizations who shared their personal stories and contributed to this memorial. We join them in continuing the remarkable work of these women and forging efforts to ensure justice is achieved in cases that remain in impunity.