Human Rights Council: 36 sessions, as many conflicts and "the question of the Death Penalty"
The 36th session of the United Nations Human Rights Council ended in the final days of September with a few successes, a few question marks and a few "I can't believe I just heard that" moments.
HRC36 allowed another round of governments playing state games, wielding power to their advantage and using ideas about culture, sovereignty and neoliberal economic policy as tactics to assert regional or national dominance.
For better and for worse, women's human rights concerns remained a theme throughout.
The Human Rights Council (HRC), which generally meets three times a year in Geneva, is the UN's main human rights "political body" where governments both advance human rights standards but also fight out political conflicts. In this session, the "big ticket" regional discussions focused on Syria and Palestine. Government delegations argued, of course in the most diplomatic of terms, about the Assad regime and the Israeli government occupation of Palestine and what strategies need to be adopted or stopped to end the human rights and humanitarian crises there.
But each Council session also convenes discussions in which governments adopt country and thematic resolutions. Gender and sexuality issues are often in the hidden fibers of these debates.
The Question of the Death Penalty
One of the most controversial resolutions focused on the "question of the death penalty" – but not actually whether the use of it infringes on human rights, which, of course it does. The death penalty violates, for instance, not only the right to life but also the right to be free from cruel, inhuman and degrading treatment. As governments haven't been able to come to agreement about banning its use, they continue to give one another permission to legally kill, based on claims to sovereignty of national legal systems. 
In this case, the Council resolution focused on the right to equality and discriminatory application in the use of the death penalty, with some emphasis on "deploring" and "condemning" execution of those exercising their rights to freedom of expression and assembly, those under 18 at the time of the crime, people with mental or intellectual disabilities, and in an interesting nod to gender and sexual rights, concerns about killing of pregnant women, people who engage in same-sex sexual relations and those who engage in adultery.
As for that last item, the final resolution noted the disproportionate use of the death penalty to punish women who have sex outside of heterosexual marriage (of course it didn't use that exact language, but heteronormativity is implied).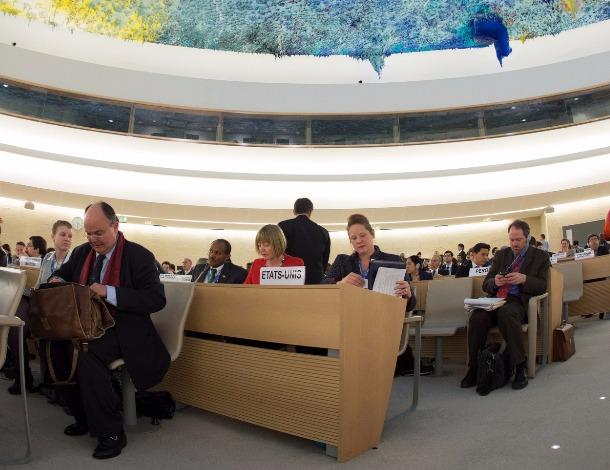 The language of adultery and the focus on women is a good development in promoting a gendered analysis of state killing. So is the referencing of people who are killed because of their real or perceived sexual orientation. Some delegations opposed these references to gender and sexuality with thinly veiled extremist arguments - they argued that the language of the resolution challenged their national and cultural systems.
In other words, they argued that because their cultures or legal systems allow for killing people who engage in certain sexual behaviours, they couldn't vote to support the non-discrimination language - or sometimes any language - in the text. There were close to ten amendments proposed to the resolution – all put forward by Russia, Egypt and Saudi Arabia - to limit its reach. Two were focused on the issue of sovereignty itself. All amendments were defeated, yet human rights and sexual rights advocates have reason to be concerned as some votes were a bit too close for comfort.
These states voted against the resolution: Bangladesh, Botswana, Burundi, China, Egypt, Ethiopia, India, Iraq, Japan, Qatar, Saudi Arabia, United Arab Emirates and the United States.
One note about the final vote and post Council media: since the Council ended, a few media outlets have used a "gay spin" in their coverage about the death penalty resolution that's a bit misleading. They have implied that the US voted against the resolution because it referenced consensual same-sex behavior. In fact, sometimes their spin made this seem like that reference was at the core of the resolution. But, in reality, the US generally votes against any death penalty resolution because execution is still legal – and used (as recently as in early October in the states of Alabama, Florida and Texas) - as a form of punishment.
So, the content of any resolution may not matter much: The US will still oppose it.
Investment in execution and undermining the human rights framework
Here's what's really happening: In efforts to weaken the universality of the human rights framework, states keep putting forward sovereignty language to force battles, and these often come with arguments about "preserving culture" and protecting national legal systems.
Some of their arguments are absolutely baseless. It's hard to believe government delegations make some of the assertions they do, still, in 2017: in a preliminary negotiation about the language in the draft, a Russian government delegate actually expressed concern about defending the rights of people who engage in pedophilia. That argument is woefully outdated and always egregious.
There is absolutely no connection between consensual same sex relations and sexual abuse of young people, so this was a manipulative and offensive effort deployed to raise questions by hinting at a link. 
The bottom line here is that many governments still want to punish and take life - sometimes to turn a profit, and sometimes to prove a point.
Remember that there are industries and structures that support capital punishment, whether that's through a prison complex that seeks to incarcerate for earnings or to maintain racial hierarchy, or through cultural systems that seek to regulate sexual behavior and gender norms to promote an idea about national or religious identity.
Human Rights, Women's Rights and Sexual Rights at HRC 36
Here are some other things that happened in the 36th session of the Council that are relevant to human rights, women's rights and sexual rights:
Annual discussion on integrating a gender perspective in the Council
This panel discussion takes place in each September HRC session. This year, the theme focused on gender in the Universal Periodic Review, which is the system through which states monitor one another's human rights records, and in the implementation of the Sustainable Development Goals (SDGs).
Gender mainstreaming and a new linguistic bloc of governments
A new grouping of Portuguese speaking states presented their first resolution to the Council. Curiously, they chose gender mainstreaming in the SDGs as their core topic, but without the support of activist movements or civil society. The resolution simply calls for a two-day meeting to discuss the topic in further depth. But its danger rests in that it creates what some feminist activists see as a not very useful outcome, particularly since there are other venues for discussions about gender and the SDGs.
Some also see the potential for this meeting process to be an unessential vehicle for further attacks on gender and women's rights within the UN system. Any new discussion about gender within the UN system ought to be movement driven and planned carefully; in this political climate, risks often outweigh benefits.
Discussions about this issue, and its related resolution consistently reveal deep divisions in the Council. This issue is molded like geopolitical clay by governments who both support and oppose the right to development. This is where the very real legacies of imperialism and colonialism bump up against capitalism and neoliberal policy as well as manipulated ideas about cultural identity for what often amounts to nothing less than a geopolitical mess.
This is an overly simplified analysis: The EU and the US and other wealthier states protect their economic interests by undervaluing the right to development. Less wealthy states such as Venezuela and Cuba demand recognition of the right and the responsibility of others for global imbalance of wealth and power. Then, wealthy states but those who are not inclined to support the human rights system, such as China, weigh in, as well, usually using an anti-rights perspective.
Many states on both sides of this debate manipulate arguments to their political advantage in what amounts to a fabricated and unfortunate "human rights vs. development" battle.
Other human rights resolutions
Many other resolutions were adopted either by consensus or by a vote. Of particular interest were those on reprisals against activists, unaccompanied migrant children and adolescents, private military and security companies, action on race/racism/xenophobia/related intolerance, Indigenous Peoples, and conscientious objection to military service.
Religion as a political force.
As is always the case, we saw the heightened role of various religious forces, including the Vatican, with the Holy See as the only religious body to function as a state; the positions of the Russian government reflecting the influence of the Russian Orthodox Church; and staunch Christian evangelical right wing anti-gay and anti-women's rights NGOs attacking women's rights to safe and legal abortion, among other issues.
Women's human rights and sexual and reproductive rights advocacy
Despite the opposition, and alongside the panel and resolution noted above, NGOs and states organized and participated in savvy and strategic events. For instance, to mark the September 28th Global Day of Action for Safe Abortion, the Sexual Rights Initiative hosted an event that focused on using human rights to access safe and legal abortion. Another focused on sexual and reproductive health in conflict and post conflict situations.
---
By its end, the 36th session of the Human Rights Council revealed deep divisions and ideological conflicts across state lines, but also the steady positive influence of social movement demands. Some of the programming at the Council remained innovative and decidedly feminist, particularly as rights related to gender, sexual and reproductive health and safe and legal abortion were integrated throughout.
Yet, human rights defenders must remain vigilant in this UN space because without our focus, nuance that protects the right of all people to enjoy all human rights will remain subterranean. We need to be there, and we need to tell the stories of what transpires – both for what is said, and for what is willfully unspoken.
---
Cynthia Rothschild is an independent activist and consultant who focuses on human rights, gender and sexuality.