Dear friends,
This 2020 has been a challenging year that's demanded from many of us to be like the lotus flower, who grows amid murky pond waters, drawing strength from the adversity. Much like many feminist activists and organizations, who each day continue to transform their world, creating feminist realities, alternative ways of living and working in synergy with people and planet. 
We bring you the Feminist Realities Magazine, an inspiring curated collection of powerful stories and images of transformation and resistance created by feminist activists, writers and artists from all over the world.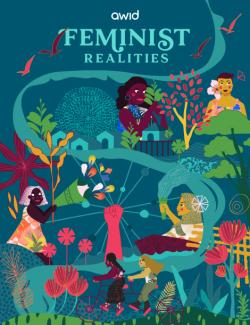 Let yourself be transported, as Alejandra from Venezuela shares with you how arepas are resistance from the kitchen connecting us as a people with the pre-Colombian cultures of corn. Then journey to India, with Pragati, who will tell you all about the future of love, relationships, and families. On your way back, join Amal's queer Ramadan where they felt held in a deep communal embrace. And more!
These images and stories are not fictional, and that is what makes them even stronger.
They are the everyday lives and experiences that our fellow feminists have generously shared to remind us that we all tear down oppression in different ways, sometimes pushing the boundaries, other times just by being, because our existence can also be our resistance.
We hope this can be a gift of hope and inspiration for movements everywhere. May the new year shower you with energy and joy. 
In solidarity, 
Cindy and Hakima 
AWID's co-Executive Directors
---
Explore your Feminist Realities Magazine