COP 21: Women Mobilizing for Climate Justice that Respects their Rights
As part of the Global Women's Climate Justice Day of Action this 29 September 2015, AWID spoke to Hindou Oumarou Ibrahim, Coordinator of the Association des Femmes Peules Autochtones du Tchad, AFPAT (Fulani Indigenous Women's Association of Chad) and Coordinating Committee Member of The Women's Global Call for Climate Justice, to learn more about the global campaign and mobilizing for women's rights, including Indigenous women's rights to climate justice, with a view to the upcoming 21st Conference of Parties of the United Nations Framework on Climate Change (COP21).
---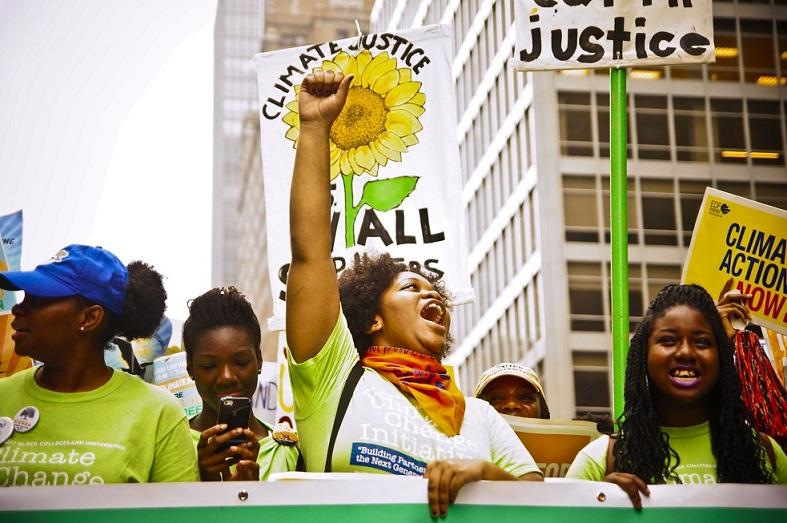 From 30 November to 11 December, France will host and chair the 21st Conference of Parties of the United Nations Framework on Climate Change (COP21). "COP21 will be a crucial conference, as it needs to achieve a new international agreement on the climate, applicable to all countries, with the aim of keeping global warming below 2°C," reads the French government website on COP 21. An official negotiation text upon which substantive negotiations are based was drafted in February 2015 in the framework of the United Nations Framework Convention on Climate Change (UNFCCC). Other sessions have been organized in Bonn, Germany, in view of the signing of an agreement in Paris this December.
Within this context civil society organizations are mobilising for climate justice. The Women's Global Call for Climate Justice, an international campaign launched in June by an informal coordination committee, seeks to encourage actions by women's groups, feminist initiatives and allied organizations across the globe, while coordinating a number of actions in the lead up to COP 21. A call to support the campaign was launched on 14 July 2015.
AWID: Who initiated the Women's Global Call for Climate Justice and why?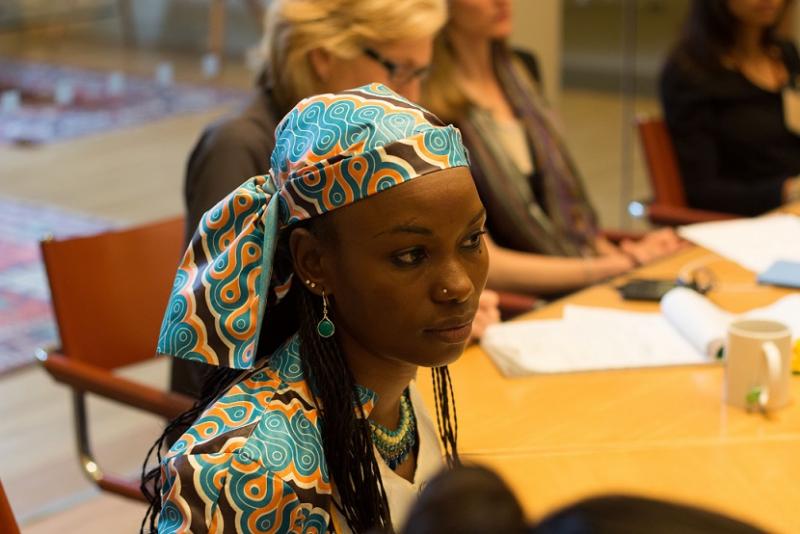 Hindou Oumarou Ibrahim (HOI): At the same time as a meeting of UNFCCC members was taking place last June in Bonn, Germany, women's organizations convened to discuss issues related to women and climate justice. We found that these issues were neglected and relegated to the background within the process leading up to COP 21. The organizations coordinating the campaign are women's associations and movements and other active organizations and members across the globe, as well as activists who know how to advance women's rights within this framework.       
AWID: Why are climate issues particularly important for Indigenous women's communities? How are their issues taken into consideration?
HOI: Indigenous communities are those most impacted by climate change because their way of life is directly connected to nature and the environment. Indigenous women are the ones who gather food for the community, practice traditional medicine and other care work. Thus, when climate change is accelerated and the land becomes less fertile, women have a hard time finding food where previously found, and they are required to double their efforts in that sense, either by increasing their distance covered or adapting to other ways of caring for their family. Moreover, in Indigenous communities, men are freer, and the idea of having to travel further distances is not as troubling to them as to women, who need to stay closer to the children and the elderly to take care of them. Nevertheless, Indigenous women are sidelined from decision-making on the issue of the environment at the international level.          
Our coalition seeks to give more of a voice to all these women who have been marginalized and left out of negotiations. We do not limit ourselves to actions at the international level. National, local and regional actions are also undertaken to take into consideration the rights of all women. More particularly, we are tackling energy transition because adaptation and climate justice are essential for these Indigenous women. How do we guarantee that international solidarity creates adaptation or equity for all of these women? At the international level, we want to guarantee that countries do not surpass 1.5°C of global warming, including the reduction of greenhouse gas emissions, and that countries transition to renewable energy sources so that these women are not impacted and that the rights of all of these women are respected.        
AWID: What are the key components of the Women's Global Call for Climate Justice and its objectives?  
HOI: The main objective is to secure the attention of the entire international community on the issue of women and climate justice across a number of areas,[1] including system change, gender equality, human rights, fossil fuel exploitation, renewable energies and mainstreaming climate change into all development projects through international solidarity. The call also includes monthly themes to mobilize around i.e. energy, economy, solutions, and survival. We chose the theme of power for the month of November to reflect how women around the world will face the political powers that ignore them in their negotiations on climate.    
AWID: What types of mobilizing are planned for this campaign and how do they complement other citizen mobilizing organized up until December 2015 across the world, and including in Paris?
HOI: There will be global mobilizing that all people can do together but also regional mobilizing and group mobilizing by themes. For Indigenous populations, we will for example hold a regional consultation in the Arctic, Asia, Africa, North and South America, Eastern Europe, and the Pacific, to address the place of Indigenous women and youth within all of these issues. There is also a global mobilization of artists around different parts of the campaign, including posters, poems and songs. Each thematic group coordinates each type of mobilizing.    
In addition to mobilizations in the framework of our campaign, we are participating in more general civil society mobilizations for climate justice because most of our organizations are also part of larger mobilizing. For example, many of us take part in the Coalition Climat 21 (Climate Coalition 21) and participate in preparation meetings to coordinate mobilizations. At the international level, civil society advocacy for gender mainstreaming in climate negotiations is coordinated by one of the nine UNFCCC stakeholder groups, the Women and Gender constituency, which clearly complements citizen mobilizing around climate change.               
AWID: The international media give the impression that mobilizing around climate issues is only in Northern countries. What do you think of this?  
HOI: I think that it is the media who are unaware of what is happening over here and who do not know the level of pressure we are putting, above all, on the governments of our countries. There are many women's organizations in Africa that are mobilizing. For example, the Association des Femmes Peules Autochtones du Tchad (Fulani Indigenous Women's Association of Chad) will organize working meetings in N'Djamena, the capital of Chad, with other organizations to consolidate the position of Indigenous women and Indigenous populations in Chad on COP 21. In this respect, we will arrange a meeting with all Chadian members of government to present our position to them and request for the content of their interventions for the COP 21 in Paris. We will then hold a press conference to present the government's plans as well as our expectations to all Chadians. This will also allow us to monitor our gains with the government. Such actions are actually undertaken by a number of other African women with the aim of first and foremost questioning African governments on their recognition of women's needs within the type of development required. Continental and regional alliances, in central Africa for example, among civil society organizations are also being established in order to relay a common position on COP 21.       
AWID: You recently published an analysis brief on human rights and climate in collaboration with the Réseau Climat & Développement (Climate & Development Network). What are the key points? How would the human rights-based approach guarantee women's rights within negotiations on climate?
HOI: The Réseau Climat & Développement identified different priority themes for COP 21, funding, access to energy for all, gender, adaptation, agriculture and food security and human rights. The brief on human rights demonstrates that the issue of climate change goes beyond the environment, it affects all that is social and impacts the rights of populations. Because negotiators have difficulty making the connections between climate and rights, this brief underscores the direct impact climate change has on human rights violations, beginning with tangible examples of projects that impact Indigenous populations in particular and that violate their rights by using their land and limiting their access to resources. I've included cases of Indigenous women's rights violations but also the rights of children because the latter cannot enjoy their right to education in a context where they must first and foremost feed their communities. Moreover, the rights to health, food, housing, water, energy and the rights of climate refugees – who have no legal status – are violated. For example, floods and droughts render lands less fertile and threaten food security; land grabbing is at the heart of violations of the right to food and the land rights of populations. Taking into consideration all of these rights within the Paris agreement would guarantee simultaneously and transversely the human rights of women and prevent the emergence of interstate conflicts. The brief thus concludes with recommendations addressed to various stakeholders.
AWID: From a women's rights perspective, what are your concerns regarding COP 21? What are your expectations?
HOI: My concerns are stalled negotiations around language used in the agreement – for example, in the formulation of "rights for all" challenged by certain countries because of its inclusive nature. Such stalling would prevent from addressing fundamental issues within the negotiation process for the new agreement, namely, the implementation of planned policies. I'm afraid that everything looks good on paper but nothing happens concretely. To avoid this, meaningful negotiations that are transparent from here on are needed.
I would like that the decision-makers understand that climate change affects humanity and that a large part of humanity is made up of women. We must thus include them at the heart of everything that is decided. It is not about simply adding a paragraph on women but about integrating them in a transversal way throughout the Paris agreement, just as it is important to integrate the rights of Indigenous populations and human rights more generally into the agreement. For this reason, the agreement should clearly mention the mechanisms to be implemented to facilitate the inclusion of these actors as well as the necessary financing related thereto.
---
[1]
It is notably included
in the call:
"Representing women in every region of the world, we call for: - System change not climate change - Avoiding a 1.5 degree global temperature rise - Keeping oil and fossil fuels in the ground - Transitioning to 100% safe and renewable energy - Implementing energy efficiency and conservation measures everywhere, by everyone - Dramatic and urgent reduction in production and consumption patterns by everyone, including and especially by those who have contributed the most to this problem from the developed world - Commitment by developed countries to take the lead in the fight to address the climate crisis and to provide developing countries with the means to mitigate and adapt to climate change, in a spirit of solidarity and justice."