During #Canada150, Naomi reflects on her 2015 open letter to Justice Minister Wilson-Raybould, calling for the centering of sex workers' voices and experiences.
---
This year is a special year for some Canadians.
I say some because not everyone is celebrating Canada's 150 birthday with such zeal.
Throughout the year, I have seen many of my fellow Indigenous people challenge the narratives arounds Canada 150. Such resistance includes continuing a dialogue on Canada's ongoing colonialism, like the actions and events at Algoma University, a local university that used to be a residential school.  However, I am always concerned with how Indigenous voices and experiences are either co-opted by institutions and governments.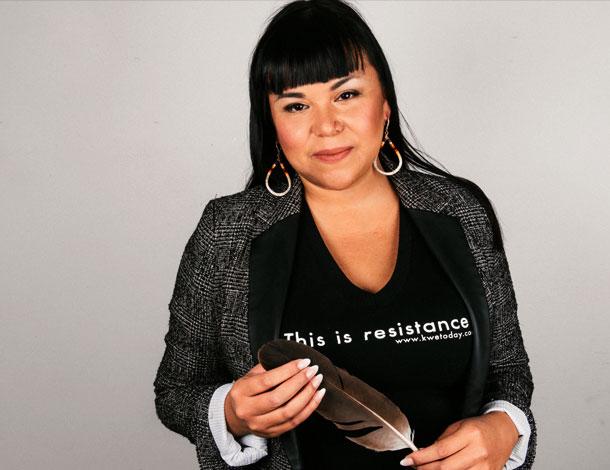 For instance, when Stephen Harper introduced the bill (now law) that criminalizes prostitution in 2015, I was the only First Nations woman with lived experience to oppose the bill. The things I stated at the parliamentary committee, opposing the bill, is nothing new and I continue to repeat these same words. In other words, what I say about Indigenous women and girls is nothing new. And, I don't expect it to change in Canada 151.
Reflecting On My Call To Justice Minister Wilson-Raybould: Listen to Sex Workers
In November 2015, I left my laws of evidence class during my second year of law school. I looked at my phone, as I usually do, and I noticed the news, "B.C. MP Jody Wilson-Raybould named justice minister." Walking back home, I was excited for the next session of the Canadian Parliament, with a Liberal-majority government. A few days later, I authored an open letter to the Honourable Wilson-Raybould. I would call on Canada's current Justice Minister to listen to the concerns of sex workers,
That government had issued a law entitled the "Protection of Communities and Exploited Persons Act" (PCEPA) in response to the case of Canada (Attorney General) v Bedford which had found three existing prostitution provisions invalid for violating sex workers' rights under Canada's Charter of Rights and Freedoms.
Then-Justice Minister and Conservative MP Peter MacKay declared  that "Our Government is making prostitution illegal for the first time," ignoring the Bedford decision, which contained  over 25,000 pages of evidence of the harms of the three laws (see para 15) creating ideal conditions for serial killers like Robert Pickton, who targeted sex workers (many of them Indigenous and working in precarious conditions).
Side-stepping Indigenous sex workers' rights by focusing on trafficking
A few weeks after my open letter, Wilson-Raybould stated in a media interview that her focus would be to "reduce the incidence of violence against women" and, "listen to those people who are impacted", implying that any changes to the law (if and when they happen) would comply with the Charter and other values held by Canadians, like equality, diversity and inclusiveness. The Charter protects Canadians from certain state abuses or rights violations; however, the state can infringe or violate our rights. Bedford tells us that the three challenged provisions violate Canadian sex workers' rights and the government's reasoning to infringe these rights (i.e. it was the sex workers' choice to enter into sex work and not the law itself that caused the harm) did not save these provisions. Three years later, these laws remain on the books.
At the same time, while I credit the Liberal government for launching a National Inquiry into Missing and Murdered Indigenous women and girls, I fear that this Inquiry will continue to ignore Indigenous sex workers because of the continued erasure of sex workers' right to work freely from increasing policing and criminalization.
Canadian Prime Minister Justin Trudeau's 9 June 2017  statement emphasizing the Government of Canada's "commitment to fight sex crimes and trafficking." furthers this erasure. Despite human trafficking being a real and valid concern, the continued focus on this social issue ignores sex workers, especially Indigenous sex workers, and shifts the focus toward increasing public safety and policing (as if sex workers are the real threat to society). For instance, and following the 9 June  2017 statement, the Government of Canada committed itself to creating a Gender-Based Violence Knowledge Centre ("GBVKC"). This statement only mentioned sexual exploitation and trafficking.
In almost all instances, it is presumed that vulnerable populations, like Indigenous women and girls, are at-risk of becoming trafficked (as mentioned in Prime Minister Justin Trudeau's June 2017 statement, as a "Quick Fact"). These "Quick Facts" that policy makers and governments repeat time and time again become the foundation for allowing the continued criminalization of prostitution.
At the same time, Canada continues to disregard other facts that contribute to violence in Indigenous women's lives, especially those who sell and trade sex.
Such other facts include:
Indigenous women and girls fear police (just look at Val D'or, where police officers "abused and intimidated" Indigenous women, and Thunder Bay, where police officers blatantly lie about their investigations involving the deaths of young Indigenous women and girls).
Indigenous sex workers will disproportionately be impacted by the continued criminalization of prostitution.
As recognized by the Supreme Court of Canada, sex workers (and specifically, Indigenous sex workers) experience many kinds of violence, including violence from civilians (or individuals who are not sex workers) in the form of harassment, loss of privacy, and subsequently, loss of safety.
In his report on the Missing Women Commission of Inquiry, Commissioner Wally T. Oppal argued that "the political log-jam that has stalled the movement away from the historical morality-based approaches to prostitution and drug use to a harm-reduction approach must be broken", and that "a harm-reduction approach must prevail."
Though he claimed  not to advocate for the decriminalization of prostitution or drug use, he argued that all social policy and law enforcement strategy should work to eliminate and prevent the conditions of marginalization that render women vulnerable to violence, particularly serial predation. In fact, the only appropriate legislative response to address the marginalization of women, especially Indigenous women, is the  decriminalization of prostitution (and also drug-use).
In light of the above facts, I will say what Oppal could not say: Canada needs to recognize violence beyond violence from "pimps" and "johns", since violence also comes from police and civilians (i.e. non-sex workers). These many forms of violence are far-reaching, like limiting future employment or education opportunities. And, until Canada recognizes the harms in criminalizing prostitution, the only valid legislative response that would be appropriate to addressing Indigenous sex workers' realities is a harm reduction approach. And, the only true harm reduction approach would be the complete decriminalization of prostitution.
When it introduced PCEPA, the Canadian government claimed that the law would not target the sellers as a result of its "made-in-Canada" approach. But if made-in-Canada means that the next 150 years will continue to exclude sex workers from society through stigmatization and criminalization, then Canada is on the perfect pathway to continue to harm sex workers, especially Indigenous sex workers.
I hope that, one day, I can stop writing, speaking, shouting for the government, regardless of the party, to take action and provide substantive supports to Indigenous sex workers. Such support includes diverting more funds into sex worker-led organizations instead of policing agencies or anti-immigration initiatives.
Or, supporting sex workers by working toward the complete decriminalization of prostitution.
Until then, the lack of support and inaction by the government tells me that Indigenous sex workers only matter when dead. Because it is these dead sex workers that allow governments and agencies who support the continued criminalization of Indigenous sex workers to act like they care when another Indigenous women and girl goes missing or murdered. But, until everyone is worried about the living, including Indigenous sex workers, I believe these concerns for Indigenous women, especially Indigenous sex workers, is superficial.
My Canada, for the next 150 years, includes the people that the rest of Canadian society chooses to ignore, silence and erase: Indigenous sex workers.
---
About the author
Naomi Sayers is a fierce Indigenous feminist, influencer, writer, and educator. A future lawyer, she is passionate about working with Indigenous communities or organizations with an Indigenous focus. With her life experiences, Naomi enjoys inspiring others to make the change possible in their world. Naomi is the Kwe behind Kwe Today. Kwe Today is a blog that is regularly cited around the world. Her work is also used by national and international organizations to influence policy and law reform.