Nayani Thiyagarajah is a filmmaker and storyteller who was invited to participate in a United Nations (UN) Women-organised festival to produce films around the theme of "The Personal is Political" during the  61st Commission on the Status of Women (CSW).
Nayani previously spoke with AWID about her expectations, fears, excitement, and the importance of showing up. This is a second interview with Nayani after she participated in CSW. She talks about her experience at CSW, lack of youth representation, and the film she created during CSW, Better Speak.
---
AWID: Sooooo… how was CSW?
Nayani Thiyagarajah: It was really interesting! (laughs)
AWID: How so?
NT: Well, it is the UN, which goes without saying, and there's a different way that the UN does things. I presented a workshop at the Youth Forum, and it was very interesting that the only time that the youth were involved was as representatives on panels, so it was a lot of adults talking to youth. I'd never experienced anything like that before. A lot of people from different member organizations took issue with having a "youth forum" that wasn't representative of youth.
Also, because we were working on our films, not many of us (artists) had a chance to really take part in the CSW as much as we would have liked to because we were doing interviews, filming, and running around, so I think the moments that we found ourselves at the General Assembly or side events were when we were focusing on our work. I think the two weeks went by very quickly. It was an interesting experience and I met a lot of amazing people, which is always the case.
AWID: Could you tell us more about the workshop you presented?
NT: It was cool. Two of us came through AWID, including myself and Sandisiwe Dlamini. Other folks came through the YWCA and another group was sponsored by other organizations. We all talked about our work and how we use film as a tool for advocacy and social justice. Mine focused on the work that I've done on Shadeism and also some of the work I've done within the Tamil community as well as among Black and Indigenous and other women of colour, that being my primary focus, not only in my filmmaking, but within my team, other people with whom I work on projects, and core audiences. The way we do social advocacy is just by telling our stories. We see that as social advocacy, just the fact of taking up space on-screen is very political for us.
Also, other women co-facilitated the workshop, including Maria Ribeiro, a woman from Brazil. She talked about her work doing photography in Sao Paulo with women of different body types, shapes, sizes, and colours, without Photoshop. She had worked in the media industry for a long time, became sick of it, and decided to do this photo project.
There was also, Amaranta Fiquitiva Contreras, a woman from Bogota, Colombia, who had talked about the idea of using exactly what you have to create the films and documentation that you want to create. She affirmed that you don't need a big fancy camera to do what you want to do. You can use the tools to which you have access to tell a story. So it was the three of us, from three different perspectives, talking about how we engage with film as a tool of advocacy and for social justice.
AWID: Speaking of which, we're curious about your CSW film project. You've been somewhat secretive about it until now. How did that go?
NT: Ah yes! I think my ideas went in so many different ways. One of the questions that I had for myself, going into CSW was: "What does it mean for my body to take up space and be present, coming from where I come from and holding my multiple identities?" That question kept running through my head in the form of fragmented thoughts. I had tried to find different angles for the film. By chance, I had met various folks, Black and Indigenous, and other women of colour who were all from Scarborough, the east side of Toronto, just like me. It was interesting for all of us to find ourselves at CSW, and while we didn't know each other, to have come from the same borough in Toronto and to have had similar experiences around our parents experiencing forced displacement due to war. I was initially going to interview two folks, including myself around what it means to be present at CSW as the children of refugees, especially given the current times, but as is the nature with film, especially documentary, things don't always go as planned. The thought kept pushing through from the back of my mind, "What does it mean to be present at CSW?"
So I put the question out on Twitter because I thought that folks would reach out and would be interested in contributing. I got a lot more people than anticipated, and I ended up doing a lot of different interviews within the space of a day and a half, non-stop. It was with different women from different places around the world. I managed to speak with people from very different continents, and learned a lot about countries about which I didn't really have a strong historical understanding.
They were all women who identify as feminist, and I got to ask them what it means for them to hold space at the UN. At first, I really wanted to focus on women of colour, but then there was a challenge to my notions about white women from different experiences. I interviewed a young woman from Croatia and learned a lot about her personal history, what her family had been through in Bosnia and Croatia. It seemed very different from what white folks in North America and Western Europe experience. She was  adamant about the differences between being from Eastern and Western Europe.
So I learned a lot of different perspectives, which really pushed my own boundaries even as a racialized body within Canada. I spoke to a young white woman from the Youth Coalition, who was very understanding of intersectionality, and so I was much in awe from talking to young feminists, seeing people's commitments to intersectionality, and seeing them establish what their privileges were, as well as what their experiences were, and allowing space to hold multiple truths. It ended up being a short film featuring different voices of young feminists from around the world about what it means to be at CSW and the UN.
I noticed that we remained very careful and aware of that fine line, because in making the film we were not allowed to critique the UN or any specific government, so I had to be very careful in the editing stage, without taking away from what they were saying. It was a challenge, but I'm really glad that I was able to involve so many different voices. It spoke to a larger narrative of how aware we are of what's going on in other parts of the world and how much solidarity exists. That came through beautifully with the women I was interviewing because they had actually known each other previously and had formed a bond from encounters in different places. I think that informed what they shared in the film. Everyone was political and had similar leanings. It was beautiful.
AWID: You mentioned restrictions on the type of film you could create for this festival. How did that affect your work?
NT: This is something I struggled with. In terms of the interviews, I didn't censor people because people said their critiques. It was really difficult but I just wasn't able to include them in the final film. It makes me upset because I think that they were necessary critiques that we are all engaging in, in some way.
At the same time, I understand that this comes back to the conversation around the nature of funding. Who funds your project, or your work, or your opportunities and how much control do they have around these opportunities? And it is not just this one experience, I think this is the nature of funding in general. For me, as an artist, I wonder about how do you balance between: "this is a great opportunity and I got to meet so many amazing people but I do feel censored because I wasn't able to tell a story that I think would have been a more effective story and in the end would have been more beneficial for everybody." 
I was feeling stifled and disheartened with the process because it was the first time I ever felt like, someone was telling me I could or couldn't do something and feeling like, I can't cross that boundary because it is being funded. I think it is important to reflect on and question myself on which opportunities I will take in the future if I feel like I am being censored.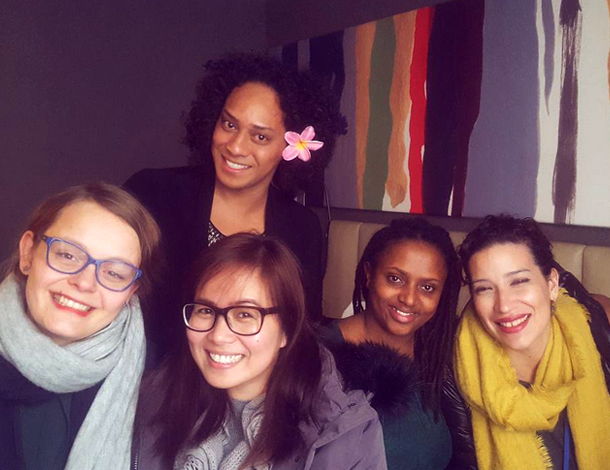 AWID: You mentioned the women you spoke to expressing a sense of solidarity. From the young feminists you interviewed for the film, what was it about solidarity that was important for them? Can you elaborate?
NT: I think the terms feminist and young feminist kept coming up, and this idea that there is a global network of feminists who are not just working towards a similar goal but are also really working hard to understand what each of them is fighting for or looking for at the CSW and beyond. And because they come from similar circles or organizations and had already been involved[in activism] or had met at prior CSWs, that had already created a network amongst them. So I feel like I had walked into a group that was preexisting.
It's not so much that they said they were in solidarity with each other but you could sense it. They came to the interview together. One of the women, Marinella, gave up her hotel room so we could do the interviews, then another woman from the Phillipines, who is also a filmmaker, helped me shoot and made sure the sound was good.
So it wasn't so much in conversation or using the word solidarity but that we were all there practicing solidarity. They took care of each other. Like, I got really sick during the interviews and Marinella had crackers and made sure I ate and she made sure I rested for a bit. You could just feel the solidarity energy and friendship amongst them. They roll together, they go to events together. If someone was speaking on a panel, the others would go to support at their specific event. They debriefed together. It was solidarity in action as opposed to talking about it.