Love letter to feminist movements: A Letter from Inna and Faye
Dear feminist movements, 
Love is what keeps our feminist fire burning. Along with care for our communities, anger and rage in the face of injustice, and the courage to take action. 
In September 2022, we stepped with great excitement into our leadership roles at AWID, as Co-Executive Directors. We felt the warmth and embrace of the feminist sisterhood as you welcomed us. 
Reflecting on our most precious memories as feminists, we recall powerful moments of togetherness at street protests, sharp analysis, and brave voices shaking the status quo at gatherings. We held those intimate conversations into the night, laughed for hours, and danced at parties together.
Feminist fires need to be fed, especially in difficult times when there is no lack of external challenges, from the climate crisis and the rise of right-wing forces to exploitative economies and persisting patterns of oppression within our own social movements. It's these fires, burning ablaze everywhere, that light our ways and keep us warm, but we can't disregard the exhausting effects of political violence and repression directed against many of our struggles, movements, and communities. 
We understand the desire to change the world as an essential ingredient of feminist organizing. We can never forget that we are the ones we have been waiting for, in building alternatives and shaping our future. Yet, vibrant feminist energy cannot be taken for granted and must be safeguarded in many ways. In this, we will continue to be vigilant. Greater and equal access to care and wellbeing, to healing and pleasure, are not only instruments to prevent burnout and sustain our movements, though that is an important function; first and foremost, they are the way in which we hope to live our lives.
We are thrilled to roll up our sleeves and work with you. AWID's new strategic plan "Fierce Feminisms: Together We Rise" reflects our conviction that now is the time for us to be fierce and unapologetic in our agendas while making an effort to connect across movements and truly get to know each other's realities, so that we may rise together - because, for us, this is the only way.
Our plans include the long-awaited AWID Forum! We look forward to meeting you all in person and online in 2024. We are hearing from you the need to connect and recharge, to rest and heal, to be challenged and inspired, to share good food, and to laugh and dance together. Few things in this world are as powerful and transformative, as feminists from all parts of the world coming together, and we truly hold our breath for this moment, because we know the magic that we can create together. 
Our membership engagement has taken on a life of its own through the AWID Community (our online platform for members), and our focus on building connection and solidarity resonates with many of you. Please join and connect with us and others in feminist movements around the world. We know the importance of connection in a time and space where the rules are not made for us, and we hold close our community, where each of us matters.
Together with our fantastic AWID colleagues, we promise to do our best to support feminist movements, as is the mission and purpose of AWID. Please hold us to account.
For the past 40 years, you - feminist movements - have shaped AWID's history, and pushed us to be braver, creative, and radical. 40 is a fabulous age, and we look forward to another 40 years with you all. We are looking forward to the partnerships, calls to justice, collaboration, policy influencing, and badass feminist power that you all bring in navigating the ever-increasing backlash on gender, racial and environmental justice. We have so much to learn from you and from each other, as we collectively build the worlds we believe in.
Cindy Clark and Hakima Abbas, thank you for paving the way for us and preparing us to fill your enormous shoes. We always appreciate all those on whose shoulders we stood and continue to stand. We understand ourselves to be part of a broader movement landscape, feminist histories, presents, and daring futures. 
AWID's Board of Directors, we are grateful to you for the support and feminist love you show us, and for your commitment to Global South leadership and the co-leadership model. We send our love and respect to each and every AWID colleague, we feel honoured to be working with such an exceptional feminist team of dedicated professionals.
This is our first time writing a love letter together, how could we conclude it without expressing love, care, and respect for each other? It's a pretty intense relationship we've stepped into! We both bring our different and diverse perspectives and skills to our work, and as individuals, we also bring our lived experiences and authentic selves. 
Together with you all, we are a story in the making, a part of a beautiful woven - and often beautifully challenging - tapestry that continues into the future. We had fun starting this journey together with each other and with you, and we very much hope to keep the romance alive.
In solidarity, with love and care 
Inna and Faye 
 
---
Save the date!
21 February 2023, Member Mixer 5 on Feminist Politics with Faye and Inna.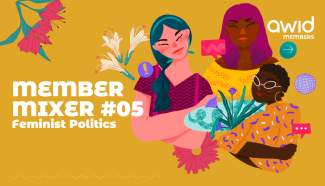 Not a member yet? Find out more about AWID Membership.