Love letter to feminist movements: A goodbye from Hakima and Cindy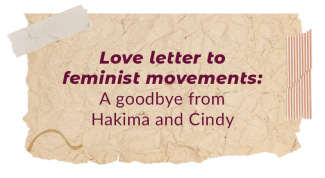 Dear feminist movements, 
You welcomed us with open arms when it was announced during the 2016 AWID Forum in Bahia that we would be AWID's new Co-EDs. It was a moment that felt full of possibility, we were building a feminist oasis that would help sustain our collective struggles forward. We left Bahia with a sharp sense of responsibility, to do our best in your service and to lead AWID in ways that would be most supportive and impactful for you.
It is now time for us to step aside for new leadership! 
Over five years into our journey, we are stepping down as AWID's Co-EDs. Our decision comes as we wrap up the current strategic cycle. We see this as an ideal moment to step aside and support a leadership refresh. We believe that transformative feminist leadership is cyclical. 
We so appreciate the opportunity we had to play a role in AWID's 40 year history, holding and shepherding the organization through the difficult context of global pandemic, and so many spiraling crises. 
Feminist movements, we know you will be part of our next journey, whatever that may be. You have consistently taught us about strength and resilience. We may move to different roles, but we will collectively continue to move together. 
How We Moved
We have vivid memories of those of you in Indonesia, Malaysia, Nepal, Thailand, Taiwan and beyond who met us to co-create the AWID Forum with so much generosity and spark. Without a doubt, our greatest regret from the last five years is that we could not give you an in-person Forum. 
Once we came to the difficult (albeit necessary) decision to cancel the AWID Forum, we focused on grappling with the existential questions so many of our organizations were facing: how do we shift our ways of working to be relevant, account for the exhaustion, sickness, and grief affecting all of us in different ways? How do we build meaningful relationships when we are limited to being online? There are still no straightforward answers to these questions, but feminist movements, you have shown the way. 
We were so proud to see the ways feminists were leading responses to mitigate the impacts of COVID-19 on our communities. Feminists are frontline responders in crisis and we will continue to demand recognition and resources for this work. You often responded enthusiastically to our outreach, showing up in amazing ways in our Feminist Bailout campaign and later in the Crear Resister Transform festival. You jumped into collaborative advocacy with us – whether influencing human rights spaces, policy makers or funders. 
Our work with you inspired us at AWID to make an important pivot in expanding opportunities for engagement among our members that is not centralized through AWID. We call this a solidarity-based approach to membership and we are excited to be launching this year the AWID Community platform. 

You taught us that, since we can't count on the system, what is especially important is that we show up for each other. We hope that what we did well over these years was to make space for new and deeper relationships and possibilities of mutual support and collaboration. 
We give a special shout-out of love and respect to the current and former AWID team (both our staff and Board members) whom we've had the honor to work with over these years. We've learned from each one of you and felt deep gratitude for everything you have contributed to AWID over the years. 
We came into this role as AWID's first pair of Co-Executive Directors. We learned from the many activist and community traditions of collective leadership and the feminist organizations who had done this before us. We know that we couldn't have done this job without each other. We were able to leverage each other's strengths and have each other's backs to do the best job we could.    
What's Next
We came into role together and are leaving together, even as we will be staggering our departure dates. We are both committed to supporting a smooth transition and deliberate onboarding of the new leadership this year.  
Feminist movements, you are in great hands with the AWID team. They've got this. And we are proud to be leaving the organization in such a strong and resilient place. Hopefully, we'll see many of you at the AWID Forum in 2024 – you'll recognize us as the kicked back, relaxed folks in the audience!
Love and appreciation for all that you've done with and for us. Your impact on our lives stretches well beyond the last 5 years, and no doubt will continue to stretch far into the future.
Cindy & Hakima