Feminist movements are the key drivers of transformative and lasting change. The WHY of directing funding to them is becoming increasingly clear for all funders. Now, the time has come to grapple with the question of HOW.
---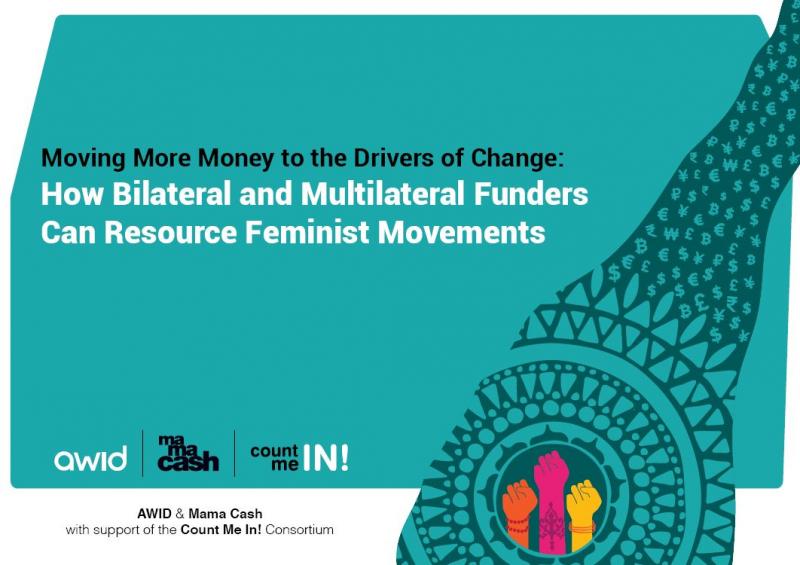 In recent years, several governments have adopted feminist foreign policies and committed to increase their support for 'women and girls'. However, more than 99% of these resources have never reached feminist movements directly.
The new report: "Moving More Money to the Drivers of Change: How bilateral and multilateral funders can resource feminist movements", by AWID and Mama Cash, in the context of our Count Me In! partnership, contains key practice-based insights on HOW funding modalities can succeed in providing sustained and direct resources to feminist movements in all their richness, boldness and diversity.
---
In this report we:
Present the current landscape of funding for gender equality;

Acknowledge common stumbling blocks, that often emerge as challenges for funders wishing to directly resource feminist movements;

Identify enabling practices – so called the building blocks – that funders can replicate, scale up, or adapt to overcome some of these challenges; and

Present case studies of the nine leading funding programmes, based in or funded by bilateral and multilateral donors, that succeed in getting direct funding to feminist activists in the Global South

Drawing on learning from these real-life examples, we point which aspects of funding modalities do—or do not—work towards the goal of moving more money to feminist movements.
What are the funding modalities?
Funding modalities are the ways money is moved. They encompass the multiple practices, systems, and processes for structuring resources. Funding modalities matter because they determine whether, and to which extent, the funding will successfully make its desired impact.
---
About the report
Written by AWID and Mama Cash, in the context of Count Me In! partnership, this report is our invitation to funders- especially those in the bilateral and multilateral agencies – to learn from existing funding models on how to put well-intended commitments to directly resource feminist movements into practice.
We make a critical distinction between direct funding that intentionally delivers resources to feminist movements in the Global South and funding that is more generally focused on 'women and girls' (and currently constitutes almost all gender-focused ODA). Bilateral and multilateral funders in particular face unique constraints in their approaches to funding movements and yet provide the largest quantities of funding oriented to gender equality.
Why is this report important?
Right now, the United Nations is putting forward the Generation Equality Forum (GEF) and Action Coalitions to drive urgent action in response to insufficient progress 25 years after the Beijing Platform for Action. It is our hope that this Report serves as practical inspiration for funders to review and adapt their funding modalities and, in effect, drive more accessible, efficient, and impactful funding to feminist movements in the Global South.
---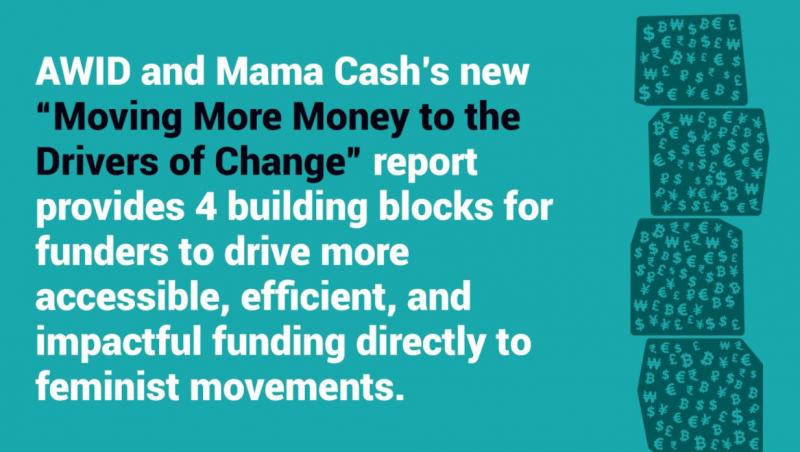 Take Action!
Here are the 4 building blocks funders can use to better fund feminist movements. 
1.   POLITICAL COMMITMENT
Leverage political openings and build internal and external support
Build connections with feminist movements and tap activists' expertise to build internal knowledge and understanding
Be prepared to adjust your agency's commonly-used modalities to reach feminist movements more directly
Show up as an ally to advocate for feminist funding with peer institutions
2. ELIGIBILITY CRITERIA
Offer different funding tranches, with a range from small to large, to reach a continuum of women's rights organisations and feminist movements
Allow for re-granting
Directly prioritise feminist movements and women's rights organisations in the Global South, over non-constituency-led groups
3. PROGRAMME DESIGN AND FUNDING MECHANISM
Build in flexibility where you can
Value grantee-partners as part of programme results
Explicitly encourage support to women's rights organisations within general funding programmes for civil society
Be deliberately accessible to reach the rich diversity of feminist movement actors
Fund activists' holistic security, safety, wellbeing, and collective care—especially given the ongoing backlash and current global context
Consider pooling funding with other donors to unlock resources at scale, share risks,enhance sustainability, reduce management burdens, and expand the number of donorswith which feminist groups have funding relationships
4.  GOVERNANCE AND MANAGEMENT
Use consultations and informal exchanges to build avenues for movement input
Assemble steering, advisory, and technical committees made up of feminist and women's rights activists
When outsourcing fund management, ensure strong feminist leadership is embedded
Actively engage grantees in fit-for-purpose accountability systems