Dedicated to all Salvadoran women who have actively resisted and defended their territories, to all those who continue to resist, and to those who have passed on as a result of their resistance.
---
At a time when multinational corporations are suing governments across the globe for the right to extract natural resources at the expense of the land and its people, the prospect of victory sometimes seems dim.
But this month in El Salvador, the tides turned.
In a landmark recent ruling that sets a global precedent, the Latin American country banned metals mining nationwide following the defeat in a seven year dispute with a Canadian-Australian company over the El Dorado project, a proposed gold mining project in the north-central Cabañas region of El Salvador. The voices of communities, organizations and multiple sectors of the population were finally heard.
"This is a brave step, an extraordinary step, and an enormous step towards reverting the environmental degradation in this country." said Salvadoran environment minister Lina Pohl.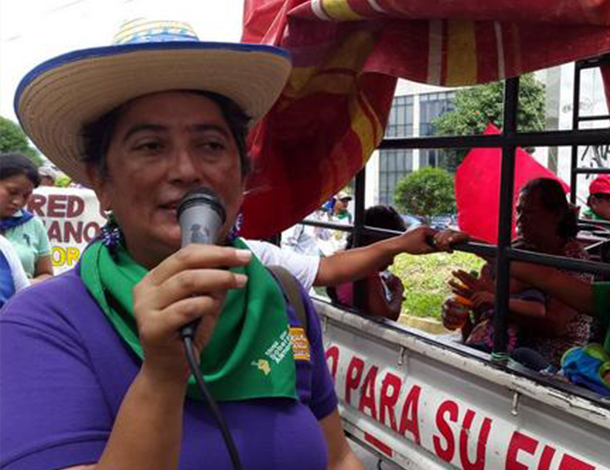 The El Dorado project posed an enormous contamination risk to the Lempa river, a source of water for 77.5 %  of Salvadoran people. This in a country with some of  the scarcest and most contaminated water supplies in the region; and one of the highest levels of environmental damage. According to Carolina Amaya, a feminist ecologist with UNES, a founding organization and active member of the National Table Against Metal Mining (MNFMM), the ban will shut down 25 mining projects that were in exploration phase, as well as an active exploitation permit with the transnational company Commerce Group.
The ban is a culmination of over 11 years of community advocacy. During this time, rural and urban women have led community education, mobilizations, street blockades, and rallies in defense of their territories, their rights and their communities. These actions were key to the reversal of El Salvador's earlier policies towards mining, which  saw it as an investment opportunity, following the end of a 12-year civil war in 1992.
Women connecting across environmental frontlines
Given the imminence of the ecological and social threats of mining, women have been central to this struggle and this historic victory. Amaya, Antonia Recinos and Vidalina Morales are three of the women who have spent years fighting at the forefront of this movement, inspiring and empowering one another, alongside hundreds of others.
"Without a doubt, we women have been at the vanguard in the territories. It would be difficult to recognize the success of this struggle without the active participation of us women," notes Morales, president of ADES (Association of Social Economic Development of Santa Marta).
In fact, women in this struggle have inspired one another to take action.  "I have tremendous admiration for so many women immersed in this fight," says Recinos, remarking on how at the beginning of her mobilization she was inspired by Morales herself. "[Morales] has always been in all the trenches defending life. I have participated in many spaces besides her, defending with absolute conviction our territories and saying a resounding no to mining."
For Recinos, this victory is anything but abstract. The 25 year old came of age in Santa Marta, a community on the frontline of the armed conflict of the 1980s. Since the end of the war, the community has adopted a development model based on community organization and with a strong focus on popular education methods.
"Mining is irreversible death," observes Recinos. "Experiences in other countries where mining projects are developed have shown that the greatest damage is upon the bodies and lives of women."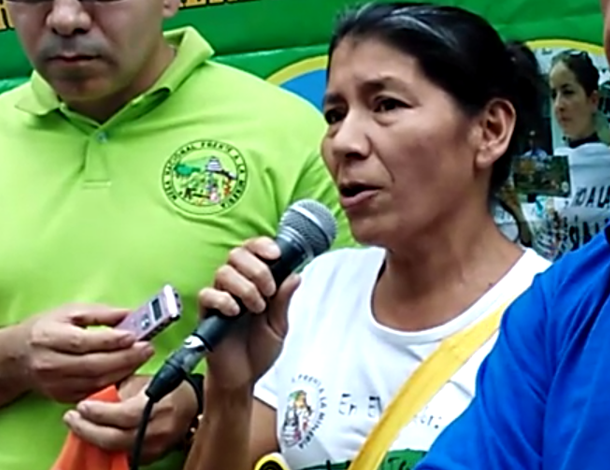 Amaya agrees, noting, however, that women's involvement has at times been invisibilized.
"The struggle against corporate mining power in El Salvador has the blood and sweat of women, which goes beyond a quantitative contribution...It is women who have been mobilized in a majority at the local and national level to exert pressure on decision makers, even though they may not be the visible faces at the negotiating tables. While they have been a majority, they have been invisibilized by men, who have mostly been their peers on the struggle."
But that victory has also come at a price. Both Recinos and Morales remember the assassination of comrades such as Dora Alicia Sorto,  a member of the Cabañas Environment Committee who was killed when she was 8 month pregnant in 2009.
"We honour this memory," reflects Morales, "tainted with blood."
Next steps
While El Salvador's metals mining ban signals a remarkable victory in the national and global arenas, ensuring the protection of water for the people of El Salvador will take ongoing vigilance.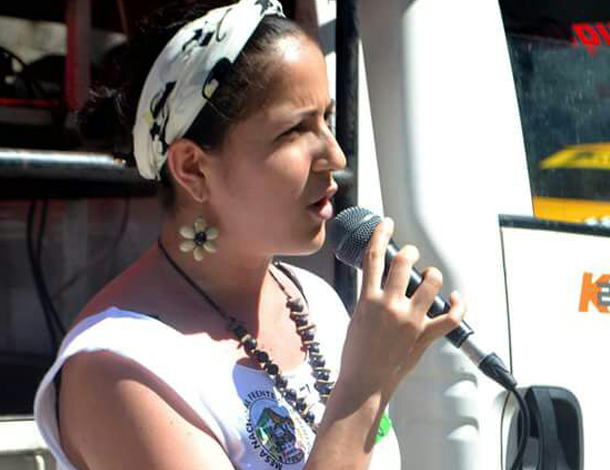 For Amaya, the to-do list remains long, including ensuring the payment of USD 8 million compensation from Oceana Gold, and its allocation toward the recovery of the ecosystems and community victims of mining corporations; working on popular consultations for the establishment of mining-free municipalities; strengthening organization and community coordination in the fight against mining in light of a possible change of government; and fighting for the approval of legal protections such as the water law and the ratification of Article 69 to legally support the protection of natural assets against mining.
Catherine Coumans of MiningWatch, a Canadian organization that works to support global community and Indigenous-led efforts to determine their own development futures, adds to this list the need for continued monitoring.
"The decision by the people of El Salvador, which was respected by their government, will now need to be defended and supported continuously as there is no doubt it will be continuously challenged by the mining companies, such as Oceana Gold, and by the international mining lobby.
For Morales, the message, and the path ahead are clear.
"We are the legitimate owners of our territories and our bodies. We can no longer continue to live without taking care and protecting our common goods. We must continue our organizing efforts at all levels and work in the construction and defense of alternative projects."
Her message - and this victory - is one in which communities across El Salvador and beyond can take heart and continue to forge ahead.