FRIDAY FILES: This week Mirna Cunningham[1] and Maria Oberto[2], spoke to AWID about the first World Conference on Indigenous Peoples (WCIP), held in New York on 22-23 September, and some of the implications of its outcome documents on advancing the rights of indigenous peoples.
By Gabby De Cicco and Susan Tolmay
After months of negotiations, the WCIP's Outcome Document was approved by consensus, but Mirna Cunningham reminds us that this was the result of a four-year process from the moment the UN General Assembly (UNGA) decided to convene this first WCIP. Asked if she is satisfied with the outcome document, Cunningham replies, "After four years we can conclude that progress has been made. The challenges are huge. We did not achieve everything we wanted but we did get a document that some have defined as 'digestible' and that did not set us back in our rights".
We achieved it negotiating on an almost equal basis and were able to set a precedent at the UN in terms of direct negotiations between indigenous peoples and governments." Although, Cunningham adds, "It was only in May 2014, and after considerable pressure had been exerted by indigenous peoples (IPs), and by 'friends of the Conference', that the President of the Assembly created a mechanism to ensure the involvement of two representatives from the IPs. For the process of negotiating the outcome document, and the organizational aspects of the conference, he appointed four advisors - two from the IPs and two from governments. Some States, like the African bloc, were still opposed this as late the first Interactive Hearing in July 3, saying that the IPs involvement was breaking the "sanctity" of the intergovernmental process. However, in spite of that, negotiations on the outcome document started in July."
The outcome document commits the UN and member states to take a number of actions to put into effect and encourage compliance with the UN Declaration on the rights of Indigenous Peoples, adopted in 2007, and the Alta Document that sets out the priorities for indigenous peoples. Cunningham explains that IPs had to ensure that rights were not rolled back, "no measure included in the outcome document could be below what has already been established in the Declaration; and that the document was not going to define any new rights but rather make explicit how already recognized rights will be implemented. That is, it would be an action-oriented document".
Young indigenous feminist María Oberto is pleased with the outcome, and the inclusion in the final outcome document of paragraph 15, which includes capacity building for indigenous youth for their full and effective participation in decision-making processes in matters that affect them as well as developing policies, programmes and resources, that target the well-being of indigenous youth across a range is issues to promote awareness and understanding of their rights.
Cunningham points out that the last stage of negotiations was complex, and two points were not included in the end, "We did not manage to have the Alta Document included as an Annex but only as a footnote, and an article on demilitarizing indigenous territories was also not included. There was no consensus between indigenous peoples and governments: governments wanted something so weak that it was unacceptable to the IPs".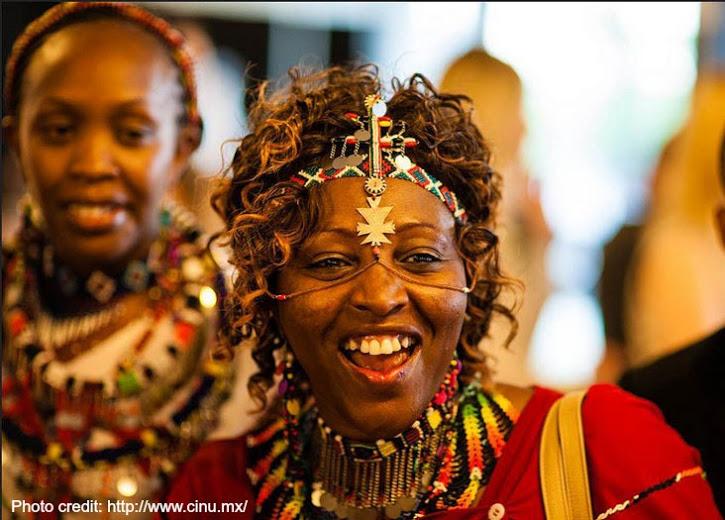 Women in the Outcome Document
The document upholds the UN Declaration on the Rights of Indigenous Peoples as a framework for establishing country-level commitments, and defines some priorities, including youth, children, land rights, measures to be taken with regard to corporations, extractive industries, violence against women and girls and persons with disabilities. It includes five paragraphs addressing women's issues like violence and discrimination in general; a request to have women's empowerment as a key issue in the next CSW's agenda; and measures to be adopted at the national level to politically empower indigenous women and facilitate their participation in public life.
"One important paragraph deals with ethnic and gender disaggregation to help monitor those political measures adopted in relation to indigenous peoples that also substantively benefit women," says Cunningham, she adds, "In general, women consider that the achievements made have been important. There was a lot of State support on the issue of violence against indigenous women and girls. The point where we got stuck was sexual and reproductive rights (SRR). We used already agreed language - sexual and reproductive health and reproductive rights - ing referenceed language - 'ge - 'sexual and reproductive health and reproductive rightsk were sexual and reproductive right - making reference to Cairo+20, Beijing and the documents that were being produced throughout the process. A group of countries that included the Holy See put a lot of pressure for the issue of SRR to be removed altogether. But friendly countries and indigenous women argued that we should not have less rights than all other women and so the agreed language around those rights had to be included in a document and in the end, consensus was also reached on the SRR paragraph."
Post 2015 Development Agenda
Cunningham acknowledges that IPs are disappointed with the work of the Open Working Group on Sustainable Development Goals and the Post-2015 Agenda. While their initial proposal was to have a total of six references to indigenous peoples in the agenda, only two have been included: one on education and the other on agricultural productivity and access to land. "As women we think our presence has to be cross-cutting in all indicators. We felt it was important to have this in the outcome document because previously agreed language and prior commitments work well within the UN system," explains Cunningham.
Paragraph 37 states: "We note that indigenous peoples have the right to determine and develop priorities and strategies for exercising their right to development. In this regard, we commit ourselves to giving due consideration to all the rights of indigenous peoples in the elaboration of the post-2015 development agenda."
For Cunningham, this calls for indigenous people's rights to be included as a cross-cutting issue in the Post-2015 Agenda, and gives hope that, with intergovernmental negotiations starting soon, the outcome document will be used as a tool for further negotiations.
Setting precedents - participation and review mechanisms
Cunningham highlights that the outcome document reflects the participative process that, as she shared with us when we interviewed her last June, set a significant precedent in terms of IPs participation in a space previously confined to intergovernmental negotiations.
There are three important processes outlined in the outcome document according to Cunningham. The first recognizes and ensures the participation of Indigenous Peoples' institutions in the UN system. The second is a commitment to develop tools to monitor how States are implementing the Declaration and incorporate the issue of the Declaration in their review processes, including in the Universal Periodic Review. The Secretary General has given two years to produce a report on how the commitments adopted in the outcome document are being met, "We understand this requires strong advocacy, a lot of pressure on our part, but it is a challenge we definitely must face. We feel this is an opportunity we must seize."
Finally, it requests the appointment of higher ranked officers to follow-up all indigenous issues within the UN system, "Our aim is to have an Under-Secretary position or its equivalent in terms of decision-making power within the United Nations Secretariat."
In addition, there is a tool that mandates the UN to implement a "System-wide Action Plan" ensuring a coherent approach to achieve the Declaration's goals. Cunningham points out that the UN Inter-Agencies Group for Latin America has already begun to meet, and the same is happening in each of the regions, to work on this action plan from within the system and the Inter-Agencies Group themselves.
The Declaration also mandates the Special Rapporteur on Violence Against Women and her counterpart on Indigenous Peoples to jointly work on a report on violence against indigenous women, that IPs are to starting to lobbying for.
"Obviously we need to keep up with the three strategies we have been using throughout this process: relying on the group of friendly countries to monitor these developments; relying on the indigenous movement, organized indigenous women and our alliances with organizations like AWID and others from civil society in general, to show that inequality is not only an indigenous peoples' issue but it affects everybody."
[1]President of the Center for the Autonomy and Development of Indigenous Peoples
[2]Coordinator of Indigenous women and children - Enlace Continental de Mujeres Indígenas