Building Strategic Alliances For Women Workers' Rights Post 2015: The Role Of Macroeconomic Policy
FRIDAY FILE – In this week's Friday File Savi Bisnath, PhD Associate Director at the Center for Women's Global Leadership (CWGL), discusses the importance of macroeconomic policy and building strategic alliances for women workers to advance their rights post 2015. As presented at an event[i] at the recent Commission on the Status of Women (CSW58).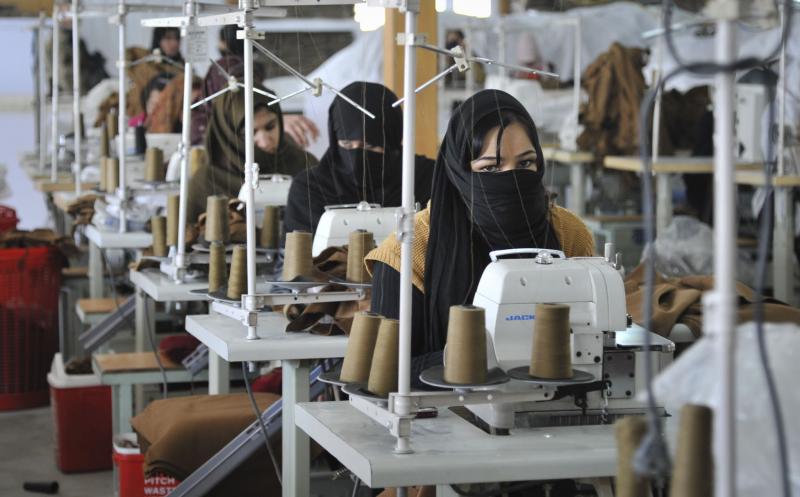 Structural economic changes are necessary to advance women's human rights
There is no doubt that we need structural economic changes to address the increasing levels of poverty and inequality worldwide, create decent jobs and ensure social protection. We need to understand when and where women workers enter the labour market, and we need to have an intersectional analysis using categories such as age, class/caste, location, race, religion, sexuality, etc., in order to ensure that the changes that we are pushing for will not serve to reinforce discrimination and inequality.
We know that the lack of access to decent work and a living wage undermines women's rights and perpetuates gender inequality. That women's enjoyment of the right to decent work is strongly affected by care work, and we know that care work has to be a collective responsibility. Ensuring women workers' rights means looking at structural factors that increase precarious and informal employment, and the neoliberal model, which results in economic and financial crises.
The structural changes necessary require a shift in the way we do things. In particular, it requires changes in economic policies, including fiscal and trade policies as well as in the global economic architecture, as they are the drivers of poverty and inequality and can serve to promote or erode access to basic social services and the realization of human rights. Structural change also requires strategic alliances and collective actions across issues to create an enabling environment for the realization of human rights in general and women workers' rights in particular.
At the Center for Women's Global Leadership we are dedicated to working in partnership to contribute to structural change, with a particular focus on the promotion of women's rights and social justice worldwide. We specifically focus on macroeconomics as it deals with the structure, performance, behaviour, and decision-making of the economy as a whole. When economists talk about macro policy we are really talking about monetary and fiscal policy.
Is Macroeconomic Policy Relevant to Human Rights?
It is relevant because it affects the operation of the economy as a whole, including the levels of employment and growth, shaping the availability and distribution of resources, such as basic social services, and living standards, through food prices and social protection measures, etc.
Fiscal policy is in part about national budgets, and national budgets are important because they affect women workers in multiple ways: The primary impact of macroeconomic policy is through the distribution of resources to people via services, infrastructure and income transfers; and through taxes and other measures, such as charges for use of public services; and Its secondary impact is related to job creation, economic growth and inflation, while monetary policy affects prices and employment.
Monetary policy directly affects available resources by influencing interest rates which impacts employment and the right to decent work; and exchange rates, which has an impact on competitiveness in international markets and economic growth.
Within the current economic model there is such a thing called the invisible hand. The belief in the "invisible hand[ii]" of the market undermines the responsibility of the State vis-à-vis its people, specifically in terms of its human rights obligations.
We need to see the market for what it is - a gendered, political and historically constituted mechanism - and we direct it to facilitate the realization of human rights, including the right to decent work and social protection, for which governments must be held accountable.
Labour Rights and Decent Work
Given this view of the market, it would become apparent that decent work requires synergies between the economic, social and environmental issues. The ILO has approximately 186 Conventions and 192 Recommendations – all geared to harmonising and improving national labour rights situations, while the International Covenant on Economic, Social and Cultural Rights (ICESCR) has several relevant articles, including articles 6 (right to work), 7 (just and favourable conditions of work), 8 (trade union rights, including the right to strike) and 9 (right to social security, including social insurance), articles 11 (provision of an adequate standard of living), and 12 (health). Using a human rights approach in development policy making can be an effective organizing tool. Human rights principles and norms, if they inform the post-2015 process, can help frame, guide and inform the process. CWGL works with the International Covenant on Economic, Social and Cultural Rights because it provides an agreed upon ethical standard through which to evaluate and design economic policies.
In the current context, where austerity seems to be the accepted norm, a human rights approach can provide a different way for us to think about austerity. For example, the rolling out of austerity measures in many countries has resulted in cuts in health care expenditures. These budget cuts have placed an undue burden on women, increasing their unpaid work, eroding their wellbeing and, coupled with job loss and stagnant economies, resulting in the erosion of social protection measures and economic insecurity for them and their families.
Macroeconomic policies, and fiscal policies in particular, must be reinforced by strong social protection programs. It is essential that we advocate for economic and social policies aimed at, and capable of, creating decent jobs, and distributing the benefits of growth throughout our societies.
Collective action
We need collective actions, to rebalance power for justice and we need redistributive policies. We need economic growth that reduces inequalities, by distributing opportunities and gains across society; growth that generates decent work, and is driven by accountable public institutions and respect for human rights; and growth that is economically, socially and environmentally sustainable. To achieve this we need transformative shifts in development and macroeconomic policies.
We need collective actions to push our governments to provide conditions to ensure an enabling environment for the realization of human rights, not only in the areas of financial, trade, investment and tax systems, but also in the areas of environmental protection, resource efficiency, social protection and labour market policies. We need accountability mechanisms for State and non-State actors. We need a much broader system of capital accounting, incorporating human, social and environmental resources. We also need to capture the value and contribution of unpaid work to the economy.
We need to take to the streets together in order to push for structural and policy changes now, and post 2015.
[i] Organised by: AWID, CWGL, EI, ITUC, and PSI
[ii] The belief that individuals try to maximize their own good (and become wealthier), and by doing so, through trade and entrepreneurship, society as a whole is better off. The belief is that government intervention in the economy isn't needed because the invisible hand is the best guide for the economy.