AWID in solidarity with Mozn Hassan and Nazra for Feminist Studies in Egypt
Last Saturday, on 25 March 2017, AWID alongside other international organizations, attended a special Right Livelihood Award ceremony in Cairo where Mozn Hassan was  honoured  "for asserting the equality and rights of women in circumstances where they are subject to ongoing violence, abuse and discrimination."
---
Mozn Hassan is an Egyptian women's human rights defender and executive director of Nazra for Feminist Studies.
For over a decade, Mozn and Nazra have been part of building a strong Egyptian feminist movement that fights against gender-based violence in public spaces, supports women human rights defenders, and advocates for women's participation and inclusion in political spheres in Egypt. Mozn has also been a part of regional efforts to provide consistent and strengthened responses for women who are at risk due to their activism. 
Since 2015, Mozn has been one of a number of Egyptian feminists targeted for her work defending women's rights and officially banned from travelling outside of Egypt since June 2016. In January 2016, Mozn's assets and that of Nazra for Feminist Studies have been frozen and she now faces the unjust possibility of life in prison.
In response to the escalating restrictions, Nazra for Feminist Studies says "The future we dream of for women in Egypt is far from realized, we will continue to work for it, for a better life for Egyptian women, and for the sustainability of a strong and independent Egyptian feminist movement."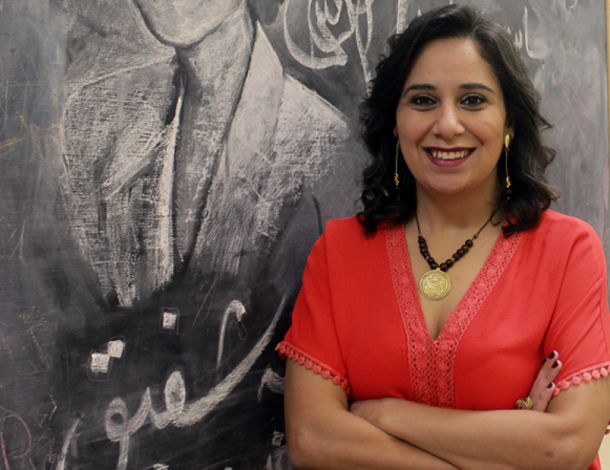 In September 2016, Mozn and Nazra won the Right Livelihood Award, widely referred to as the 'alternative Nobel Prize', in recognition of her groundbreaking feminist activism in Egypt.
Due to the travel ban imposed on her, Mozn was unable to attend the ceremony to receive her award on November 25, 2016 in Stockholm.
AWID's presence at the award ceremony in Cairo was a show of solidarity with Mozn, Nazra and all feminist activists in Egypt at this time of rising rights violations and an affirmation of its commitment to transnational feminist organizing and allyship against global patriarchy. AWID condemns the constant harassment and persecution of Mozn Hassan, Nazra for Feminist Studies and the larger Egyptian civil society in Case 173. AWID demands that the Egyptian government immediately close the politically motivated Case 173 of 2011 and end the harassment of human rights defenders and their organizations.
"AWID is proud to be associated with Mozn Hassan and Nazra for Feminist Studies. Their feminist human rights advocacy is essential to ensure that women in Egypt enjoy lives free from gender-based violence and discrimination," said AWID's co-executive directors, Cindy Clark and Hakima Abbas.
At the awards ceremony, Mozn stated:  "having someone from AWID at the Right Livelihood Award Ceremony in Cairo in a time when Nazra and myself are targeted is a manifestation of AWID's continued and genuine exercise of the value of feminist solidarity."
---
Join us in expressing your solidarity with Mozn Hassan and Nazra for Feminist Studies
Tweet a message of solidarity.
I #PracticeSolidarity with the founder and director of @NazraEgypt. Drop all charges against @Mozn!
The Egyptian government must stop targeting @NazraEgypt and other WHRDs. Drop all charges against @Mozn!
Women Human Rights Defenders are NOT criminals! Drop all charges against @Mozn from @NazraEgypt #NGOSNotCriminals