Get experience, work hard, and have a big dream - Meher Bano's Story
As a young girl, Meher Bano Mirzayee grew up facing many difficulties in a society carrying strong misogynistic characteristics, where, she says "having a son is a precious thing and having a daughter is shameful. It is hard to be born in an uneducated and poor Afghan family. My luck was good as we immigrated to Pakistan and started getting educated."
---
Education is Meher Bano's big dream
"In my life, three things are most important: get experience, work hard, and have a big dream."
She started working  as a jewelry designer in Pakistan at an early age, when she was only in grade seven. Her creativity in making new designs of bracelets, necklaces and earrings made  the shop-owner want to hire her full-time, despite her still being in school. "It was so hard for me to work with such a person who interferes in my education. Finally, I succeeded to manage both of them, work and school."
Later, back in Afghanistan again, Meher Bano attended college and was involved in a number of volunteer activities, including working for the Afghanistan New Generation Organization, teaching students, engaging in the work of Women for Afghan Women, and Everywoman Everywhere. She completed internships as a news translator for 1TV Afghanistan and as an assistant manager at His Highness Prince Aga Kahn Shia Imami Ismaili Council for Afghanistan. 
For Meher Bano, experiences and dreams are strongly connected to hard work.
"Working hard is the reason for success. Working hard is the key to achieve what we want in our future." The education she completed so far was driven by hard work and the wish to challenge and change the way in which Afghan society views girls and women. "I am working hard to do something new in this world. I want to change the ideas my people have about girls being useless. I want to prove them wrong."
Meher Bano sees some of the biggest challenges in her country being lack of education, an unequal environment, and security problems.
She tells us why:

"Because patriarchy is so deeply entrenched, Afghan society generally does not allow their daughters to get an education. The security problem in my country makes families not allow women to go to school or work outside. They are scared of bad security and they want to protect the women. This kind of protection creates inequality between men and women, boys and girls. It gives an impression that women are weak and men powerful and strong. They protect women in the wrong way, they don't give them their rights."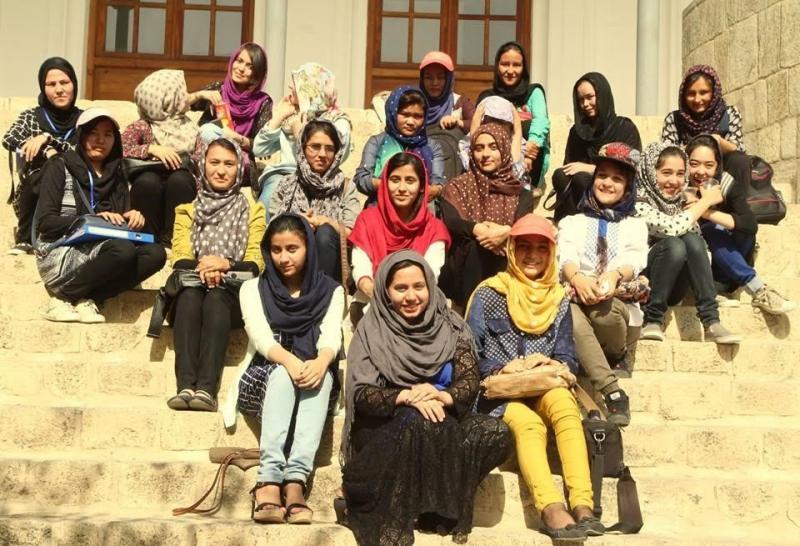 Part of Meher Bano's  vision for change in her country, is to become a role model for other Afghan girls, and be a leader that will motivate others towards success. Sharing knowledge and ideas with others helps create leadership and leaders, and strengthens collective action. This is one of the components Meher Bano sees as crucial for movement building. 
In 2016, together with friends, she organized "Afghan Girls' Leadership", a workshop for Afghan school girls in Kabul to work towards becoming strong leaders. Fifteen young girls participated in the program that included activities such as community service days and a creativity workshop with the aim to, as one of the participants wrote, "exemplify a situation where we suddenly face a problem and we have to find a solution from whatever is accessible at the moment."
The group has formed a Facebook page with one of the posts being:
"The Afghan girls young leaders focus and passion of learning is our means towards a peaceful and well-governed Afghanistan."
Currently, Meher Bano is studying at the American University of Central Asia in Kyrgyzstan on a scholarship she received. Her major is in Business Administration and minor in Psychology. "In this university I experienced meeting diverse people, different cultures and languages, and many new ideas. For me, experiencing is the main part of life. I would love to get more experience and increase my knowledge by travelling to various countries." She said she joined AWID as a member because of its vision.
"I want to work for girls and women's rights. I want to fight for their rights and I want equality in this world because we are all humans." - Meher Bano Mirzayee