Love letter to Feminist Movements #3
Love Letter to Feminism
By: Marianne Mesfin Asfaw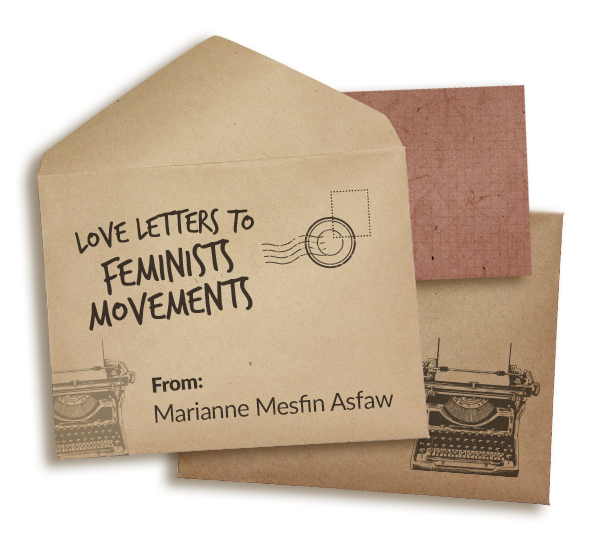 I have many fond memories in my journey with feminism, but one in particular that stands out. It was during my time at graduate school, at a lecture I attended as part of a Feminist Theory course. This lecture was on African feminism and in it the professor talked about the history of Pan Africanism and the ways in which it was patriarchal, male-centric, and how Pan Africanist scholars perpetuated the erasure of African women. She talked about how African women's contributions to the anti-colonial and decolonial struggles on the continent are rarely, if ever, discussed and given their due credit. We read about the African feminist scholars challenging this erasure and actively unearthing these stories of African women led movements and resistance efforts. It seems so simple but what stood out to me the most was that somebody put the words African and feminist together. Better yet, that there were many more of us out there wrestling with the complicated history, politics and societal norms in the various corners of the continent and we were all using a feminist lens to do this. I came out of that lecture feeling moved and completely mind-blown. After the lecture three of my friends (all African feminists) and I spent some time debriefing outside the classroom. We were all so struck by the brilliance of the lecture and the content but, more than anything, we all felt so seen. That feeling stood out to me. 
Falling in love feminism was thrilling. It felt like finally getting to talk to your longtime crush and finding out that they like you back. I call it my crush because in high school I referred to myself as a feminist but I didn't feel like I knew enough about it. Was there a right way to be feminist? What if I wasn't doing it right? Attending my first Women's Studies lecture answered some of these questions for me. It was thrilling to learn about stories of feminist resistance and dismantling the patriarchy. I felt so affirmed and validated, but I also felt like something was missing.
Deepening my relationship with feminism through academia, at an institution where the students and teaching staff were mostly white meant that, for those first few years, I noticed that we rarely had discussions about how race and anti-blackness show up in mainstream feminist movements. In most courses we had maybe 1 week, or worse 1 lecture, dedicated to race and we would usually read something by bell hooks, Kimberly Crenshaw's work on intersectionality, and maybe Patricia Hill Collins. The following week we were back to sidelining the topic. I dealt with this by centring race and black feminism in almost all my assignments, by writing about black hair and respectability politics, the hypersexualization of black women's bodies, and so much more. Over time I realized that I was trying to fill a gap but didn't quite know what it was. 
Encountering and learning about African feminism was a full circle moment. I realized that there was so much more I had to learn.
Mainly that my Africanness and my feminist politics did not have to be separate. In fact, there was so much that they could learn from each other and there were African feminists out there already doing this work. It was the missing piece that felt so elusive during my exploration of feminism throughout my academic journey.
Feminism to me is the antithesis to social and political apathy. It also means once you adopt a feminist lens, nothing can ever be the same. My friends and I used to talk about how it was like putting on glasses that you can never take off because you now see the world for what it is, mess and all. A mess you can't simply ignore or walk away from. Therefore my vow to the feminist movement is to never stop learning, to keep stretching the bounds of my empathy and to never live passively. To dedicate more time and space in my life to feminist movements and to continue to amplify, celebrate, document and cite the work of African feminists. I also commit to centring care and prioritizing pleasure in this feminist journey because we can't sustain our movements without this.