The AWID Forum is the world's largest event that wholeheartedly centers feminist and gender justice movements in all their diversity. It is a transformative space created by and for the movements - where Global South feminists and historically marginalized communities take centerstage, strategize to shift power, and connect with allied movements, funders and policy-makers. And so it is with full and fiery hearts that we share…
The 15th AWID International Forum will take place from December 2-5, 2024 in Bangkok, Thailand!
We hope to gather 2,500 in-person and 3,000 online/hybrid participants. When thousands of feminists come together, we create a sweeping force of solidarity that has the power to change the world! We're excited, and we know you're excited too - so stay tuned for more
What is the AWID International Forum?

Every three to four years, AWID hosts its flagship international event. It is the world's largest event that wholeheartedly centers feminist and gender justice movements in all their diversity. It is a global gathering of feminist activists, allied movements, scholars, funders and policymakers. The Forums rotate between different regions and countries in the global South.
When and Where will the Forum be?

2-5 December, 2024, Bangkok, Thailand! We will gather at the Queen Sirikit National Convention Center (QSNCC)
Why Bangkok?

Each Forum takes place in a different region, and it is time for the AWID Forum to come back to Asia! We visited many countries in the region, consulted feminist movements, and conducted detailed assessments of logistics, accessibility, safety, visas and more. Eventually, the AWID Board enthusiastically approved Bangkok, Thailand, as the best option. We are excited to come back to Bangkok, where we held the AWID Forum in 2005.
What measures to protect public health and contain risks of Covid19 outbreak will be in place?

We are monitoring this and other risks carefully, and will publish comprehensive health and safety information when the registration opens, so you could make an informed decision. In addition, the hybrid format is designed to provide a meaningful engagement experience to the participants who will prefer not to travel or are not able to travel.
Will you be opening a call for proposals?

Later in 2023 we will be announcing many different ways to actively participate in shaping the content and the various spaces of the Forum, hang tight!
When can I register for the Forum? How much does it cost to register? What does Registration Include?

Registration will start early 2024. We will announce the exact registration date and registration fee soon. Registration will include participation in the Forum, plus lunch and snacks (breakfast to be provided at the hotels), and one onsite dinner.
How much does participation cost?

Please calculate your costs of travel to Bangkok, accommodations and per diem, visa, any accessibility needs, and incidentals, on top of a registration fee that will be announced soon. Hotels in the Sukhumvit area in Bangkok range from USD$50 to $200 per night, double occupancy.

AWID members receive a discount at registration, so if you are not a member yet, we invite you to consider becoming a member and joining our global feminist community.
A few different people from my organization are planning to attend the Forum. Is there a group discount for the Forum?

AWID does not provide group discounts, but we do provide registration discounts to members. (Click here to learn more about becoming a member)
Do I have to be an AWID member to participate in the Forum?
How can I fund my participation in the AWID Forum?

If your group or organization receives funding, you might want to discuss with your funder already now if they are able to support your travel and participation to the Forum. Many institutions plan their budgets for next year early in 2023, so better not delay this conversation for next year.
Does AWID provide scholarships to attend the Forum?

Our Access Fund will offer a limited number of scholarships to fund the participation of activists who cannot otherwise make it, and don't have relationships with funders who could cover their participation. So if you have other possibilities, please explore them. We will do our best to offer as many scholarships as we can, and will share more information about this process and how to apply later in 2023.
What about the visas?

We are acutely aware of the practical hurdles and emotional distress associated with international travel, particularly from the Global South. AWID is working with TCEB (the Thailand Convention and Exhibition Bureau) to support Forum participants with acquiring visas. More information about this visa assistance will be available upon registration, including contact information for where and how to apply.
I've never traveled before. What should I know?

We know that first time travel can be exciting but also stressful. Please get in touch with us via the contact form, so that we can explore forms of accompaniment and support for your journey.
What if I can't attend in-person? Will it be hybrid?

Yes! We are currently exploring innovating technologies to allow for meaningful connection and participation.
How does the AWID Forum connect to regional and other spaces?

We are in communication with regional, thematic and funder convenings planned for 2023-2024, to ensure flow of conversations and connections. If you are organizing an event and would like to make a connection to the AWID Forum, please get in touch with us!
Will there be pre-Forum regional, thematic or other convenings?

We believe so! It is still very early in the planning process, so please stay tuned as plans are forming.
My group or I were supposed to participate in the Forum that was canceled in the pandemic, how can I be engaged in this Forum?

We will reconnect with past partners, to ensure past efforts are honored. If your contact information has changed since the last Forum process, please update us so that we may reach you.
What are the Forum languages?

AWID's working languages are English, French and Spanish. Thai will be added as the local language, as well as sign language & other accessibility measures. Other languages may be added if funding permits, so check back regularly for updates. We care about language justice and will try to include as many languages as we can and as our resources allow. We hope to create multiple opportunities for many of us to be present in our languages and to communicate with each other.
How about climate justice, is this really the time for so many international flights?

Asking ourselves the same question, we believe there are no simple answers. For many participants the AWID Forum might be one of the few international trips they undertake in their life. The pandemic taught us the possibilities but also the limitations of virtual spaces for movement-building: there is nothing like in-person connection. Movements need cross-border connections to build our collective power in the face of the threats we face, notably the climate crisis. We believe that the upcoming AWID Forum can be a strategic space to hold these conversations and to explore alternatives to international travel. The hybrid element of the Forum is an important part of this exploration.
I am a funder or an individual donor. How can I support the AWID Forum?

We invite you to get in touch with us about ways of meaningful engagement with the Forum.
My question isn't answered here

For additional questions, please use our contact form. We will keep updating this document based on the queries we receive from you!
The Forum is a live example of what the bigger WE can do. We go to the Forum, we are seeds, we then get sowed. This we have to celebrate.
- Sara Abu Ghazal, Lebanon
There is nothing like being in a shared space, exchanging body energies,... seeing the world and doing something together. Events like the Forum are among the strongest of the global feminist movement.
- Jac s m Kee, Malaysia
All our change processes rely on the relationships we build at spaces like the AWID Forums where you dance together, your humour comes through, your real self, you tell stories. That is what makes the difference.
- Nicky Mcintyre, USA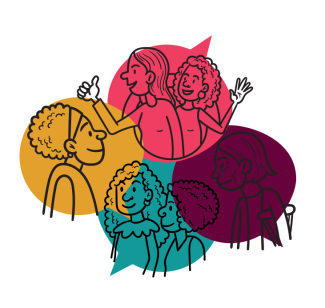 Feminist movements have changed and adapted tremendously since we last convened in this way - so to remember why AWID Forums matter, we asked activists from around the world to reflect on and share their stories, impressions and memories. This is what we learned.