The Women's Rights in Transitions to Democracy: Achieving Rights Resisting Backlash (Pre-Meeting and Strategy Sessions Report) is based on the pre AWID 2012 Forum consultation devoted to strategizing around women's rights and transitions to democracy, attended by almost 100 women's rights leaders from over 18 countries in the MENA region, as well as activists from Central and Eastern Europe, Latin America, Sub-Saharan Africa, and South Asia.
---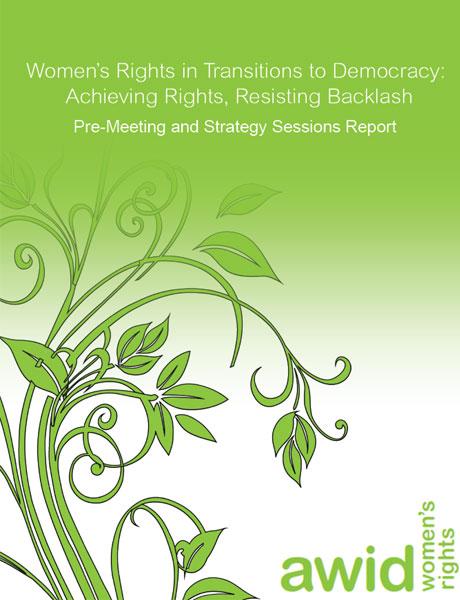 At this pre-meeting, activists and scholars shared case studies of women's rights status, progress, limitations, and key areas of strategizing during democratic transitions. The report integrates insights from both the pre-meeting consultation and the Strategy Sessions at the Forum in order to elucidate the context of the struggle for women's rights in the MENA and articulate key strategies that have been effectively used, need to be developed, or could be leveraged during diverse transitions to democracy, as they continue to unfold and in the future.
The issue of fragmentation among women's movements, separation from other potential allies in civil society, and underdeveloped communication and awareness-raising strategies were highlighted as some of the key obstacles. To address these concerns, three major areas of strategic action emerged, including: promoting deeper analytical and conceptual deliberations and discussions about political transitions, enhancing the participation of citizens, and highlighting the need for broadening the base of support for women's and feminist movements' narratives and demands.
---
This report is also available in Arabic.