Pleasure(s) as the key to personal freedom
By Nkhensani Manabe
The conversation title "Pansexual, Gynasexual or Abrosexual? A dive into queerness, pleasure and sex positivity" gives one much to think about. Tiffany Kagure Mugo, author, educator and curator of HOLAAfrica, begins the discussion with a reading from Touch, a recently published collection of fiction and non-fiction essays on sex, sexuality and pleasure. In this excerpt, the author puts forward the idea that pleasure is constant and ongoing, it is to be found in everyday activities and is not confined to sexual intercourse.
This idea, that pleasure is as much a part of daily life as anything else, runs through the discussion, which also covers topics of desire, attraction and sexual orientation.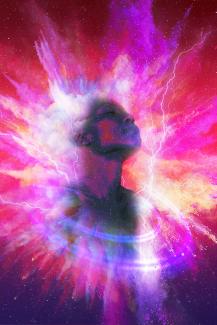 Early on, there is this sense of hope and possibility. Tiffany presents options and explains alternatives, giving us new language to speak about who we are, what we like, and how we want it. This is about desire and sex, but mostly it is about self-knowledge and empowerment. Tiffany speaks passionately about making decisions from a place of power: learning your own identity so that you are able to make the best choices for yourself. 
In a conversation that is open and free, representing the attitude that Tiffany would have us all adopt, we learn that knowledge about sex and sexuality is ever-changing, the boundaries are shifting. What we may have learned or, more importantly, been kept away from as children or adults is exactly where we should start unlearning and reprogramming. Tiffany notes that young people these days need tools to understand the experiences they are already having, a reminder to never underestimate what children and teenagers know about the kind of pleasure(s) they want to pursue in life.
The conversation opened my mind to something: knowing myself will help to build my confidence; I will be able to approach relationships with care not only for myself but for others, too. Learning the language of orientation, attraction, desire and pleasure will go towards deepening my future connections. I appreciated the space to think about this aspect of my life -- the private, intimate parts that I don't access often. Tiffany's enthusiasm about pleasure and identity pushed my own boundaries, allowing me to entertain new personal possibilities. 
The idea of learning how to make holistic connections is still not common. Largely, we live in a culture of instant and fleeting connections. There is hardly any time to truly reflect on how and why we are seeking relationship or partnership -- at least, not until a moment of crisis. 
Of course, there are selected spaces that welcome questions and discussions, such as the AWID Crear Résister Transform Festival and other free-thinking online platforms or publications -- but access to information from a helpful, non-judgemental source is something people are still trying to figure out. This may be in part because people are not confident in the language of sexuality and pleasure. 
The notion of language and tools repeats itself throughout Tiffany's presentation. Tiffany and her colleagues are doing the work of talking, teaching and nurturing. Seeing what people need, where they are, what they want for themselves, and walking alongside them as they build their ideal worlds. Giving them new words and definitions to help give shape to their identities at different stages of their lives. 
These are the kinds of conversations that are necessary, even in a society that has myriad healthcare messages broadcast with varying degrees of details at any given moment. Sometimes people need to be brought back from the big picture moments and encouraged to learn about their individual opinions and desires. This is what Tiffany's talk does: it gives people a space in the larger puzzle. 
A highlight of Tiffany's talk was the section on the different types of attraction. 
Sexual -- as in, the express desire to have intercourse with a person or people
Sensual -- the desire to touch a person or people, to be physically close without necessarily including intercourse
Romantic -- the desire to date or be in a relationship with a person or people
Platonic -- the desire to build close friendships 
Aesthetic -- the desire to look at and be pleased by the appearance of a person or people
These five types or levels of attraction offer a shorthand for desire and pleasure, and help to contextualise the different kinds of pleasure people can experience. 
Thinking of attraction beyond the physical or sexual offers a new perspective on connection. It is a chance to take the pressure off relationships, which opens up opportunities for different, more enlightened and fulfilling partnerships. 
This freedom and knowledge that Tiffany presents is a roadmap to the future. The presentation offered a new perspective on what is possible. 
As the opening excerpt states, pleasure is ongoing. In light of Tiffany's discussion, it is also clear that it is dynamic and exciting. There is always more to know. 
This may be daunting at first, but on the other side of hesitation is hope, potential and freedom.