FRIDAY FILE: On April 24, 2013, the Rana Plaza, a building housing garment factories, collapsed in Dhaka, the capital of Bangladesh, killing 1,138 people, mostly women textile workers. Two years later, feminists around the world are organizing "24 Hours of Feminist Solidarity" on April 24, 2015 in memory of the victims of this disaster.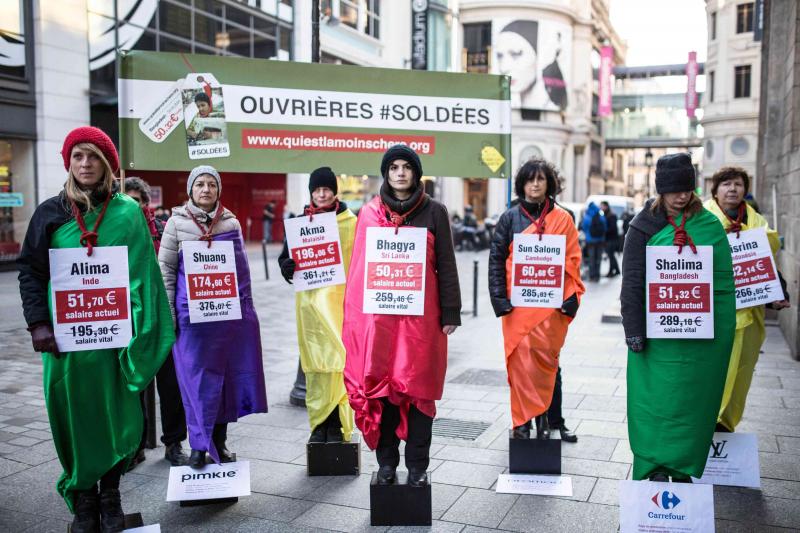 The Collectif Éthique sur l'étiquette (Ethical Label Collective) is a French member of the Clean Clothes Campaign and works to implement international standards for workers' rights, particularly in the textile sector. In this interview Nayla Ajaltouni, coordinator of Collectif Éthique sur l'étiquette, discusses some of the major issues for women textile sector workers, and strategies adopted by civil society organizations to guarantee their economic and social rights.
The death toll of the Rana Plaza disaster, estimated at 1,138 with over 2,000 injured, mostly women, led to an unprecedented international citizen and media mobilization for textile worker safety and working conditions. For two years since the disaster a number of unions and associations have been conducting advocacy and mobilization for the 50,000 victims and stakeholders of the accident to get reparations; and more generally, that western multinationals adopt a duty of care regarding respect for workers' human rights throughout their foreign outsourcing chain.
AWID: What are the consequences of present-day globalization on the economic and social rights of textile workers? 
Nayla Ajaltouni (NA):Unregulated globalization has fostered the emergence of globalized actors such as multinationals who organize production systems based on comparative advantages offered to them by certain countries. This cheap labour and access to natural resources exacerbate an economic model founded on minimizing production costs and maximizing profits. Developingcountries, often poor, offer significant opportunities for these multinationals, which result in serious violations of international labour standards, and other economic, social and cultural rights. In the textile sector, there is a context of generalized competition of workers, not just within a country but more generally within a region and even between regions.
AWID: Why is gender an important factor in this sector? 
NA: The majority of workers in the textile sector are women. Most are young – some start working as early as 15 years old – internal migrants from poor rural areas who have low levels of schooling. In general, women are victims of multiple discrimination - they are discriminated against in hiring, in their work and in their pay. And although they constitute 85% of the work force, very few women are in management positions.
There is also discrimination because of the virtually absent legislation in those countries for maternity or sick leave. We see women in Cambodia who are required to undergo non-pregnancy tests at hiring, which is a blatant violation of their most fundamental rights. Workers are prevented from taking breaks and using the toilet, which causes many female chronic conditions such as urinary tract infections. Another aspect is the impact on girls who usually follow their mothers to work in the textile factories.
In addition there is the physical and sexual violence perpetrated by managers against the women, with sexual harassment and bullying experienced by all workers. In Tunisia, we heard from women who were impregnated after frequent rapes by their factory supervisors. In Cambodia, many women attest to the violence they suffer, not only in the plant, but also on the outskirts, in isolated industrial areas where they experience a lot of harassment from men, while plant managers fail to grant them necessary protection.
AWID: How are women mobilizing in the labour movement? 
NA: Because of their vulnerable situation, women are often afraid to speak up for better wages and working conditions. They are not aware of the existence of employers' rights and duties and it is thus women workers to often do not consider themselves as subjects of rights who can approach unions. Also, in textile production countries unions are often led by men only, thereby exacerbating the difficulty of access. In general, there is a lack of attention to women's access to, and structuring of, major unions in plants. In addition, North-South solidarity issues are not adequately implemented in western union confederations. The textile sector is an emblematic area that can serve as a springboard for a gender approach because it is predominantly female and the testimonies make plain the difficulties associated with gender. In some countries, we have seen the development of intermediate structures, usually local associations - between the workers and the unions - that inform women of their rights and the need to organize to defend them; develop the capacity to do so; and bring them gradually towards unionization. In Cambodia, for example, the Workers Information Centeris an association, which works on empowering women workers, where unions remain male-dominated structures that negotiate at the national level and are far from the realities on the ground.
AWID: What are the international legal instruments available to ensure workers' rights and what are their limits? 
NA: The fundamental conventions of the International Labour Organization(ILO) for the defense of human rights at work, the universality of human rights and what decent work should be constitute a body of law on this subject. Unfortunately, they are neither binding, nor come with sanctions for non-compliance. In addition, the UN Guiding Principles on Business and Human Rights highlights the duty of vigilance required by multinationals, and that States must ensure its enforcement. It relates to the business relationship, that is to say, not just what binds two economic entities, but the entire chain of sub-contracting. However, there are still no sanctions and multinationals continue to deny any obligation vis-à-vis these human rights.
AWID: How have multinationals been held accountable for their violations following the Rana Plaza collapse? 
NA: There are currently no mechanisms that systematize accountability and legal responsibility of multinationals. In the absence of such a mechanism at the Rana Plaza, there were local initiatives undertaken by workers supported by local organizations of lawyers to obtain reparations from the State and factory bosses. In such cases, the claimants need a lot of money or access to lawyers on a pro bono basis to investigate these cases and request reparations from the local entity.
Internationally, there was such strong media and citizen mobilization that led to negotiating a compensation fund for victims placed under the aegis of the ILO. The process of negotiation between multinationals, international unions and the ILO, show that the issue of accountability and compensation is not regulated. The Fund is also open to any contributor, ie. not only companies involved in the collapse, and companies are permitted to keep that their contribution  confidential, thereby further undermining companies accountability. The Fund has collected 75% of the required amounts and almost all of the victims have received their first payments.
It is outrageous that we have to go through these negotiations; and that for other the less media-visible cases, there's no similar leverage with the multinationals. This is why we urgently need to systematize this responsibility through new legislation.
AWID: How does the Collectif Éthique sur l'étiquette deal with these challenges? 
NA: In France we've been working for two years on a bill that will impose a duty of care and that would identify and prevent human rights violations by multinationals outside of French territory and, where necessary, include reparations for victims. A proposal for a law on the duty of care required by parent and subcontracting companies, was passed by the National Assembly on March 30, 2015, but the content has been extremely weakened from our original proposal because of pressure from employer organizations. This law is nonetheless a historic step for due diligence by multinationals. But this law may not materialise if it is not reviewed by the Senate, and because of lack of consensus we must keep up the pressure to have this law on the Senate's agenda as quickly as possible so that it can be enforced. Another option is to sue companies under the Consumer Code for deceptive practices.
The Collective relies heavily on civic engagement through media information and awareness campaigns to lead advocacy with multinational companies, calling on citizens to take action to seek practical alternatives. The international campaign that fuelled #Soldées (#Discounted), for example, was born from worker mobilizations in Cambodia, Sri Lanka, China and Bangladesh to demand a living wage that not only covers workers' basic needs and that of their dependents; but that also allows a portion of discretionary income to plan their future with. Inspired by the definition of an indicator for calculating a living wage, by the Asia Floor Wage Alliance, the campaign encourages multinationals to use such indicators in their business relationships;  the adaptation of these indicators to different contexts and also provides concrete mobilizing tools for citizens. Our vision is that an alternative is possible, and for that we must mobilise citizens to change brands' practices.