Joint Statement for the 46th Session of the Human Rights Council Item 3
This joint statement was delivered by IWRAW Asia Pacific, the Cairo Institute for Human Rights Studies and SRI, and endorsed by 71 organizations denouncing vaccine nationalism, the stockpiling of COVID-19 vaccines and the stonewalling of a temporary TRIPS waiver proposal by rich countries.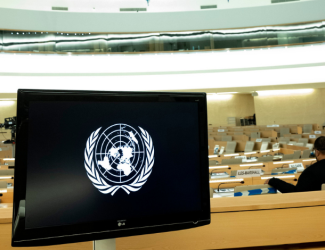 President, multilateralism was founded upon the principles of international cooperation and solidarity and with the objectives of ensuring global peace and protection of human rights. The COVID-19 pandemic and its fall out, felt in every country of the world, should have brought a renewed commitment to international solidarity and reinforced the necessity of interdependence between nations. To the contrary, we are witnessing 'vaccine nationalism', with a small group of rich countries stockpiling vaccines, and COVID-19 related medical materials at the expense of everyone else. For instance, "per capita imports of the medical goods essential to mitigate the COVID-19 pandemic have been about 100 times larger in high-income countries in comparison to low-income countries.1" The stonewalling of the temporary TRIPS waiver proposal by developed countries in this moment of urgent crisis is akin to rent seeking and profiteering at the cost of real human lives, for instance the attempt by Israel to extort political gains through the provision of excess stockpiled vaccines.2 The extraordinary precarity facing the world today demands that access to COVID-19 vaccines and related medical supplies not be treated like any other value chain issue, subject to market forces. Having the right to life and right to health at stake means that States must have a human rights based response.
The Special Procedures in the statement on vaccines highlighted that "Isolationist health policies and procurement are in contradiction with international human rights standards,"3 It is reported that just 10 countries have administered 75% of all COVID 19 vaccines. The countries with the most coverage per capita are: Canada, the United Kingdom, Chile, New Zealand and Australia.4 Now, the human rights council as the body responsible for promotion and protection of all human rights must ask itself, whether it is indeed upholding human rights at all - or protecting corporate interests? It is important for all states, particularly the rich states with means to stockpile vaccines, to be accountable to the people and not corporations and big pharma. In a cruel irony, an estimated 7,5 billion euro of public funds have been used to support big pharma's vaccine development5, making vaccines truly public goods. Yet, states fail to reign in the pharma monopolies by insisting that they share their science and technology with others to ensure that the global demand can be met.
---
1 https://twn.my/title2/wto.info/2020/ti201025.htm
2 https://www.timesofisrael.com/israel-said-set-to-give-nearly-100000-vaccine-doses-to-15-countries/
3 https://www.ohchr.org/EN/NewsEvents/Pages/DisplayNews.aspx?NewsID=26484&LangID=E
4 https://www.aljazeera.com/news/2021/2/17/un-chief-urges-global-plan-to-reverse-unfair-vaccine-access
5 https://www.bbc.com/news/business-5517075