FRIDAY FILE : It's been one year since the abduction by Boko Haram of 276 female students from their boarding school in Chibok, Borno State in northeastern Nigeria. The #BringBackOurGirls campaign began following the kidnapping but the whereabouts of most of the young girls remains unknown[1]. AWID spoke to Nigerian and Cameroonian feminist activists to learn more about the situation of women and girls in Nigeria and neighboring countries as well as the national and international response, and challenges of taking appropriate and efficient action a year after the Chibok kidnappings.
Boko Haram, which translates to "Western education is forbidden," is an armed Islamist group that launches daily attacks against civilians in Nigeria, Cameroon, Niger and Chad. The group have staged various attacks which include abducting unmarried women and young girls and executing men. Human Rights Watch estimates the number of 2014 civilian deaths following these attacks at no less than 3,750 and the 2015 number is growing in comparison to the first quarter of 2014. Recently, Boko Haram declared allegiance to the self-proclaimed Islamic State, adding additional concern in terms of strengthened military and financial support.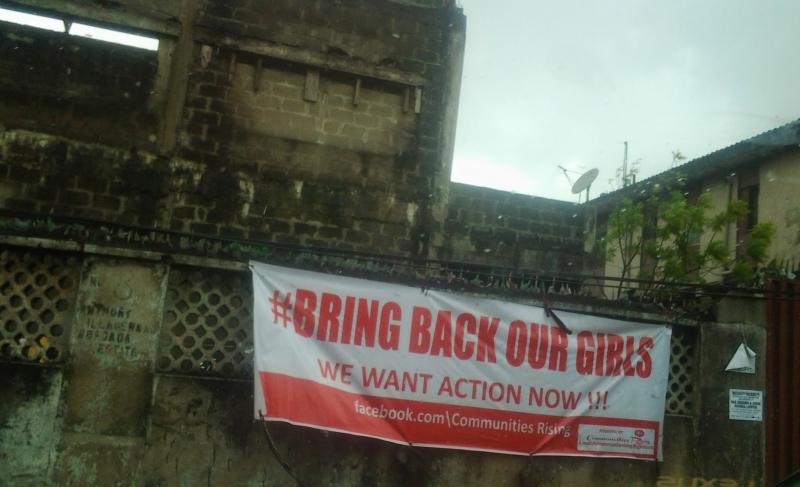 Regional conflict with multiple humanitarian concerns
The Islamic insurgency in northern Nigeria can be traced back well before April 2014, to the early 1980s. Even before Boko Haram was created in 2002, radical Islamic uprisings were taking place in the city of Kano, where thousands of militants from the Maitatsine sect were violently oppressed by the State. Nigerian activist and Executive director of Kudirat Initiative for Democracy (KIND) , Amy Oyekunle, explains, "Since 2009, northeast Nigeria has been confronted with an insurgency byJama'atu Ahlis Sunna Lidda'awati wal-Jihad, generally known as Boko Haram. The north-eastern part of Nigeria has been thrown into an atmosphere of violence and insecurity brought on by activities of 'Boko Haram' that include bombings and destruction of churches, schools, airports and other public places. The sect indiscriminately kills people, rapes and abducts innocent women and girls while spreading a spirit of fear across the State. They have destroyed millions of Naira[2] worth of businesses, inhibited people's livelihoods thus exacerbating the high rate of poverty in the region. In the last two years, the group has been attacking schools, teachers and students - over 900 schools in the northeast have been burnt, 176 teachers killed and hundreds of girls and women abducted. The activities of Boko Haram have centered along border towns around Maiduguri, but have now extended into parts of Cameroon and Chad."
The attack on Baga and surrounding communities in the northeastern Nigerian State of Borno in January 2015, which killed an estimated 2,000 people, is, "the largest and most destructive" assault of Boko Haram according to Amnesty International. The escalation of violence perpetrated by the Islamist group in the region is the origin of a number of humanitarian consequences. In northern Cameroon the crisis situation in is made all the more serious by high levels of poverty, food insecurity, and limited access to education, to water and to health, which the region is already faced with the highest levels of poverty are recorded in the North and the extreme-North, at 9.6% and 13.6% respectively according to Cameroonian Universities Professor and researcher Luxe Bonnet Siwe[3].
Oyekunle also talks about the mass displacements as a result of attacks, "Border towns around Maiduguri provide markets for goods from Nigeria to other countries, and was also a thriving town for fish farming and other activities. But all this has since ceased because Boko Haram has attacked and burned markets, goods and killed people in these towns. More importantly, fleeing Nigerians are moving en masseto neighbouring towns, which also has severe consequence on their resources." According to the Presidential Initiative for the North East (PINE), nearly 1.5 million people were internally displaced in 2014, 70% of whom were women and children. The January 2015 ACAPS briefing note suggests that 135,000 people have fled to neighbouring countries and that 9 million people are currently affected by the violence in north-eastern Nigeria, of which one third requires serious humanitarian assistance.
Extreme violence against women and girls
It is within this context that women and girls are especially victims of the Boko Haram insurgency. "In the aftermath of the kidnapping, many schools have been closed due to the high level of insecurity and even where schools are open, parents are reluctant to send their daughters and more likely to give them out in marriage to avoid kidnappings or worse, death," explains Oyekunle.
Women and girls are a particular target for abduction by the group,[4] who, according to Human Rights Watch, have abducted over 500 women and young girls since 2009. These women and girls are generally victims of religious conversion, sexual violence, forced marriage, and even murder[5]. In a video released in October 2014, leader of the Islamist group, Abubakar Shekau, declared that over 200 female students abducted from the Chibok boarding school had been converted and forced into marriage. Some have been used as human shields or forced into suicide bombings as part of attacks led by the Islamist group. The psychological trauma to this new phenomenon is great and has caused further violence, such as the public lynching in early March 2015 of a Nigerian suspected of being a Boko Haram suicide bomber.
The Nigerian military forces have been largely unsuccessful in countering Boko Haram and their persistent attacks, and in fact in some instances military troops have also been responsible for a number of atrocities that include burning houses, assassinations, imprisonment of men and boys, and the rape and beating of women and girls. During a KIND fact finding mission in May 2014, Oyekunle met women and girls who had survived such violence and gathered some of their testimonials about rape, physical molesting and psychological harassment by military troops.
In addition, after surviving such violence, women and girls who do finally return home are often shamed once reunited with their families, possibly pregnant, infected with sexually transmitted diseases and dishonoured in the eyes of their community.
Slow and inadequate national and international response
The national, regional and international response has been inadequate. The Government of Nigeria, responded very late to the abduction of the Chibok schoolgirls, Oyekunle explains, "the lethargic response of the nation's government to the kidnappings elicited an outcry that metamorphosed into a movement called #Bringbackourgirls. The campaign went viral and drew national and international attention to the Chibok girls. The campaign forced the government to put the issue of the girls and the incessant attacks on the front burner. For instance, the government constituted a Presidential Initiative for the North East (PINE) and also the Victims Support Fund for Borno State from June through August 2014." In October 2014, Human Rights Watch denounced the failure of the Nigerian government to adequately protect women and girls from a myriad of abuses, provide them with effective support and mental health and medical care after captivity, ensure access to safe schools and investigate or prosecute those responsible for abuses. In this regard, there is still ambiguity around the effectiveness of the humanitarian aid schemes launched in August 2014 for the victims of terrorism.
At the regional level response has also been slow, the African Union launched a special multinational force - including national security forces from Nigeria, Chad, Cameroon, Niger and Benin - in February 2015 to combat Boko Haram. Although these forces have been successful in dislodging Boko Haram from certain areas, the exclusive concentration on military action remains insufficient to handle the crisis.
In a context in which political[6] and financial[7] agendas influence governmental decision-making, civil society will continue to mobilize to demand an appropriate short-term, mid-term and long-term response that addresses gender-based violence, of which women and girls are mostly victim in this crisis. Bonnet Siwe says that "despite commitments made by Heads of State and Governments in their 2014 Declaration on Gender Equality in Africa, issues related to the well-being of women are not a priority. Policies need to take this into account." Oyekunle adds "The challenge is keeping the momentum. 2015 is an election year for Nigeria and as a result the issue of the kidnapped girls has been relegated in favour of other 'pressing matters'".
Oyekunle underscores that it was women's rights organizations in the region who made sure that the Chibok abduction was not swept under the rug. "They mobilized others, provided funding for meetings, psychosocial support and care for rescued girls and continue to do so until the girls are brought back." At an international level, a Global School March will be held on 14 April 2015, among other mobilizing actions, to continue raising awareness and calling on governments take concerted action to rescue the girls in Nigeria and protect all schoolgirls around the world.
[1] 57 of the young girls managed to escape.
[2] The Nigerian currency
[3] Luxe Bonnet Siwe is professor and researcher at the public Université de Yaoundé 1 and Université protestante d'Afrique Centrale de Yaoundé and in private universities.
[4] According to Amy Oyekunle men are generally killed while boys are recruited as foot soldiers in the Boko Haram army.
[5] Boko Haram would have carried out dozens of forced marriages before the national army reclaimed Bama.
[6] Nigeria held presidential elections in March 2015
[7] The position of Chadian president Idriss Deby Itno vis-à-vis Boko Haram is considered ambiguous in the eyes of some.