Sex Work Activism in Hungary
In September 2015, the Association of Hungarian Sex Workers (SZEXE) celebrated 15 years of work in the struggle for sex worker rights, the protection of sex workers, and the dismantlement of stigma.
---
SZEXE was established by predominantly street-based Roma sex workers and their allies who joined together to protest the introduction of a law regulating sex work. This is often described as the beginning of sex work activism in Hungary.
'Tolerance Zones'
The law SZEXE protested was "drafted in order to push sex workers, mainly of Roma origin, out of the Józsefváros, Budapest's 8th district, so that it could undergo rehabilitation and properties could be privatised more easily." According to this law, municipalities counting a population of more than 50,000 or areas where sex work is considered to be pervasive had to identify the so-called 'tolerance zones'. It was declared illegal to engage in sex work outside of these specified zones, however Hungarian authorities were reluctant to identify these zones. This pushed a significant number of sex workers towards illegal activity with a large proportion of them being fined or detained.
To further aggravate the difficult position of sex workers, there was an antagonistic relationship with the police: 
"Sex workers fear the police rather than being able to depend on them for protection from violence or other crimes." – SZEXE
Challenging Mistreatment
One of SZEXE' priorities is to provide legal aid to sex workers, and the organisation has since its existence initiated numerous legal actions resulting in court orders for some districts of Budapest to "identify quasi-tolerance zones". In spite of these orders, SZEXE has repeatedly witnessed and documented the mistreatment of sex workers by the police.
"Police took advantage of the lack of legal certainty surrounding these tolerance zones and unfairly targeted sex workers with fines in order to fill their quotas." - SZEXE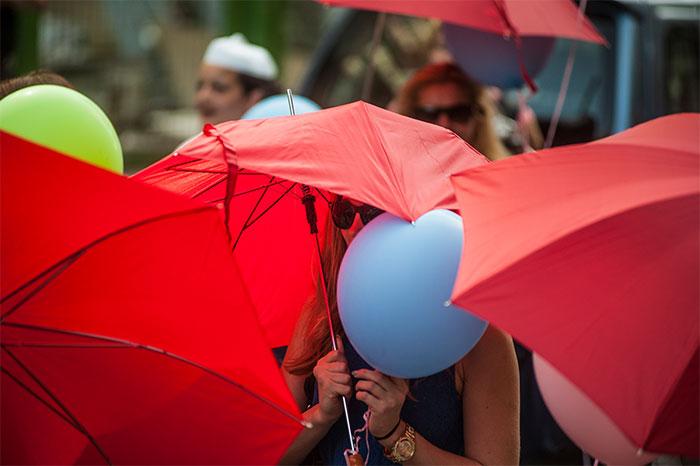 In hundreds of cases, SZEXE has successfully challenged "the arbitrary fining and detention practices of the police."
Since Hungary joined the EU in 2004, the association has also implemented innovative pioneering projects to "foster self-organisation of the community, to empower sex workers in providing HIV-related and paralegal services for their peers and become vocal advocates against marginalisation and poverty from grants of the European Social Fund".
SZEXE also supports sex workers with peer education, migration counselling, community-based health services and entrepreneurial skills development, and has strengthened its national and international advocacy levels. As a result of its lobbying efforts and the production of a  shadow report, the Committee on the Elimination of Discrimination against Women (CEDAW) called on the Hungarian government to "adopt measures aimed at preventing discrimination against sex workers and ensure that legislation on their rights to safe working conditions is guaranteed at national and local levels".
Hungary's shrinking civil society
Despite battles won and numerous achievements so far, "the situation of sex workers and their mobilisation has worsened in recent years in Hungary", according to SZEXE. As a result of the present right-wing government's crackdown on civil society and specific NGOs, SZEXE is among the organisations that has lost "all major sources of domestic funding in a shrinking civil society space" whereas pro-government NGOs have been financed through a funding scheme to support 'traditional family values and national identity building/strengthening'.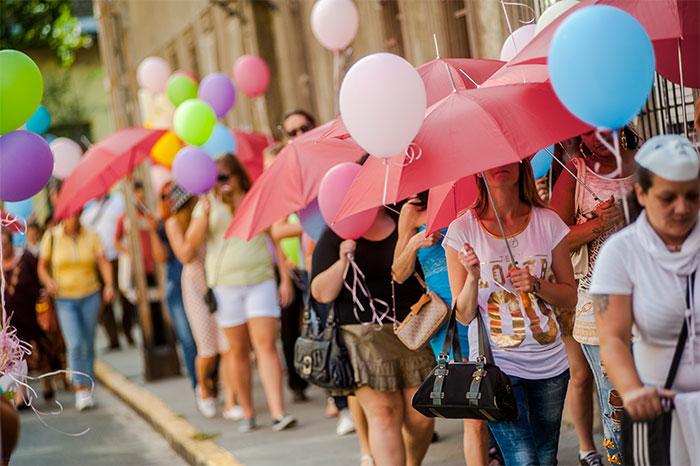 Another part of this worrying trend is a 2012 misdemeanour law, which has a disproportionate effect on marginalised  groups including the Roma population, homeless persons, drug users and sex workers. The law has led to discrimination and disproportionate policing of sex workers who face "fines for non-compliance with vague sex work regulations or arbitrary fines…". SZEXE states that in 2012 alone, over 14,000 misdemeanor cases were initiated against sex workers. This situation is compounded by the fact that sex workers have been left even more vulnerable by the lack of government's commitment to address their right to health.  
Inclusive movement(s)
In order to continue challenging discrimination, stigma and violation of human rights (not just in Hungary but globally), inclusive, diverse and strong movements must be built and sustained. SZEXE joined AWID as a member as a result of its participation in the 2012 AWID International Forum.
"The gathering was truly inspirational for SZEXE's colleagues as it was the first time when they connected with the international feminist movement and learned about the – sometimes very similar – struggles of women worldwide." – SZEXE
SZEXE's participation in the Forum reinforced its awareness of the powerful possibilities of collective mobilisation within the global women's rights movement(s). The organisation, "inspired by diverse voices and causes in the movement, speaks out against sexism, whorephobia, homophobia and transphobia, racism and classism present in too many societies."
"SZEXE aims to contribute to a feminist movement that is inclusive of those women's needs and voices, who are often left behind by civil society groups and policy-making, for instance trans women, sex workers or migrants." - SZEXE
---
Watch "Sex Workers Against the Tide" (Hungarian with English subtitles)