Blossoming in the Democratic Republic of Congo
"Our voice" to advance the social, cultural and economic well-being of women and girls
Founded in 2008, La Floraison's mission is to mobilize, convene and support young women human rights activists in Fizi territory[1], a rural area in the South Kivu province of the Democratic Republic of Congo, to advance their social, cultural and economic wellbeing. Its mission is part of a broader vision for the emergence of a new group of young women concerned about their development and resolutely committed to becoming agents of sociocultural and economic progress within their environment. This brought about the slogan "Young women serving the community" which has been part of the association since its launch.
"I sacrificed all of my time to serve the most vulnerable, especially women victims of sexual violence," Magdeleine Rusia Abwe, psychosocial assistant of one of the Floraison projects. 
The organization uses an approach they call 'Our Voice' which ranges from awareness-building and information-sharing via a theatrical troupe, a newspaper and community radio, to advocacy, and mobilizing resources for women's groups. 'Our Voice' is proof of our support and engagement toward a world without violence," says Loy Honore, founder of La Floraison. 
A counseling center for survivors of sexual and gender-based violence 
For three years, La Floraison has supported the psychosocial care and socioeconomic reintegration of women and girls who are survivors of sexual and gender-based violence within the Nemba, Katenga and Rubana health centers in Fizi territory. Through the counselling center the project seeks to inform communities about sexual violence against women and girls, available services, and women's rights and their legal implementation, as well as provide victims with counseling, referral to medical and legal support services and ensure their economic reintegration through Village Saving and Lending Associations (VSLA), while strengthening community activism against gender-based violence.
In addition to documenting, counselling, supporting, and providing referrals to survivors of sexual and gender-based violence, La Floraison mediates between survivors who have been shunned and their families. To compliment, the project includes community outreach on sexual and gender-based violence, creating and strengthening Committees for Surveillance and Alert, social and community conflict resolution, and women's rights advocacy.
---
"Through the group, I found something worth more than money: solidarity!"
A 17 year old Burundian survivor of violence, and beneficiary of La Floraison support, tells her story:
"At 15, I gave birth to my first child with an old loyal client who offered a cow to my mother. The brutality of that old drunkard – beatings, death threats – wouldn't allow for a moment's peace at home. I came home but my mother wasn't pleased with my behaviour. In October 2013, an old Congolese man, older than 49, presented the need to bring me to the DRC with him, my mother gave him her permission for marriage without asking me and the suiter gave 3 goats and 2 pairs of loincloths[2] as my dowry.
When we arrived in the DRC, I found out that he had 3 wives and that I had become the fourth; he had children older than me. After a month, the three first wives didn't want me on the plot of land. The husband abandoned me without any support. I went to see the village chief but there was a language barrier. Without any ration or means of survival, I started to cultivate for people so that I could eat. When my husband learned that I was working for someone, he would come and threaten them by saying that I was his wife and that no one could use me without his consent. I did not understand anything because everything was happening in a language I don't understand. Many people were scared to give me work. One day, three men came to my unprotected home around midnight. They raped me one by one. One of them heard my screams in Kirundi – who was also Burundian – and asked his friends to let me live. He advised me to leave because my husband was planning to kill me. In the morning, the neighbours came to my rescue.         
I didn't tell anyone what happened to me that night – the rape – because according to our customs, if others find out that you have been raped, no one can marry you any longer. In light of these threats, the village chief brought me to his home and the police came to investigate. It was not easy to help me because I was in the DRC illegally, but they began to look for my husband. My life became very difficult because I had already sold all of the goods I had for survival, and those of my child. I asked the village chief to send me to Burundi. That cost more than $30, it was not easy.
One day, a women working at the health centre came to look for me and asked me to come to the health centre for a private meeting. I was scared, but when I arrived at the location, she welcomed me very kindly, she reassured me, but I was so emotional and the meeting couldn't take place because of all my crying. She gave me a new meeting, and this time, I told her everything that happened beginning from Burundi. The nurse also saw me and I went to Sebele[3] for care. She helped me a lot, with counselling and visits, even though I don't speak fluent Swahili. I would go and see her at the health center and one day she came with me to the police station to follow-up on the progress of my case and asked the police officer to facilitate my repatriation to Burundi.
She also recommended that I join a savings and credit group founded in the village so that I could receive a loan to conduct small business transactions. Through the group, I found something worth more than money: solidarity! I didn't know that I could find such generous people by my side, especially during such hardship. I received a small loan of 16,000FC, which allows me to sell fry (12,000FC) and corn flour (4,000FC). I can't starve to death anymore.     
Mentally, I feel good, but I still need to return to my country to live with my mother."
---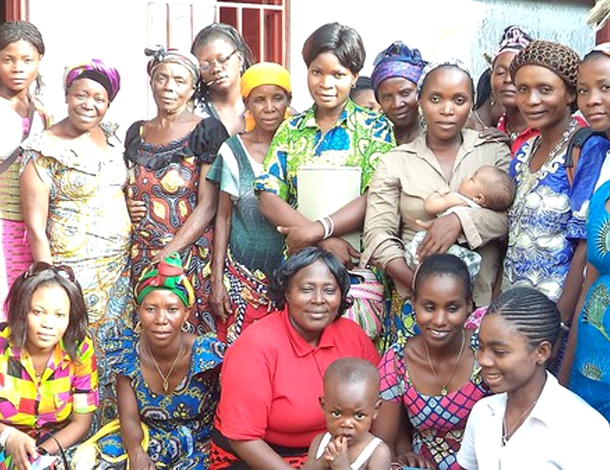 [1] Fizi territory includes four rural communities, 27 groups, 142 towns and 1,634 villages. The infrastructure is in poor condition, particularly for education, health, employment, transportation and recreation. The area lacks electricity and few households have access to potable water and proper sanitation.
[2] Clothing.
[3] Town in Fizi territory