Key opposition discourses
Ultra conservative actors have developed a number of discourses at the international human rights level that call on arguments manipulating religion, culture, tradition, and national sovereignty in order to undermine rights related to gender and sexuality.
Anti-rights actors have increasingly moved away from explicitly religious language. Increasingly, we see regressive actors - who may previously have derided human rights concepts - instead manipulating and co-opting these very concepts to further their objectives.
---
Protection of the family
This emerging and successful discourse appears innocuous, but it functions as a useful umbrella theme to house multiple patriarchal and anti-rights positions. The 'protection of the family' theme is thus a key example of regressive actors' move towards holistic and integrated advocacy.
The language of 'protection of the family' works to shift the subject of human rights from the individual and onto already powerful institutions.
It also affirms a unitary, hierarchical, and patriarchal conception of the family that discriminates against family forms outside of these rigid boundaries. It also attempts to change the focus from recognition and protection of the rights of vulnerable family members to non-discrimination, autonomy, and freedom from violence in the context of family relations.
The Right to Life
The Holy See and a number of Christian Right groups seek to appropriate the right to life in service of an anti-abortion mission.  Infusing human rights language with conservative religious doctrine, they argue that the right to life, as set out in the Universal Declaration of Human Rights and the International Covenant on Civil and Political Rights, applies at the moment of conception.
The discourse has no support in any universal human rights instrument. Yet this is an appealing tactic for anti-rights actors, because the right to life cannot be violated under any circumstances and is a binding legal standard.
Sexual rights
Anti-rights actors use a number of rhetorical devices in their campaign to undermine sexual rights: they argue that sexual rights do not exist or are 'new rights,' that they cause harm to children and society, and/or that these rights stand in opposition to culture, tradition or national laws.
Conservative actors engaged in advocacy at the UN attack the right to comprehensive sexuality education from several directions. They claim that CSE violates 'parental rights', harms children, and that it is not education but ideological indoctrination. They also claim that comprehensive sexuality education is pushed on children, parents, and the United Nations by powerful lobbyists seeking to profit from services they provide to children and youth.
Attempts to invalidate rights related to sexual orientation and gender identity have proliferated. Ultra conservative actors argue that application of long-standing human rights principles and law on this issue constitutes the creation of 'new rights'; and that the meaning of rights should vary radically because they should be interpreted through the lens of 'culture' or 'national particularities.'
Reproductive Rights
Christian Right organizations have been mobilizing against reproductive rights alongside the Holy See and other anti-rights allies for several years. They often argue that reproductive rights are at heart a form of Western-imposed population control over countries in the global South. Ironically, this claim often originates from U.S. and Western Europe-affiliated actors, many of whom actively work to export their fundamentalist discourses and policies.
Regressive actors also cite to 'scientific' arguments from ultra-conservative think tanks, and from sources that rely on unsound research methodologies, to suggest that abortion causes an array of psychological, sexual, physical, and relational side effects.
Protection of children and parental rights
Just as anti-rights actors aim to construct a new category of 'protection of the family,' they are attempting to construct a new category of 'parental rights,' which has no support in existing human rights standards.
This discourse paradoxically endeavours to use the rights protections with which children are endowed, as articulated in the Convention on the Rights of the Child, to support the rights of parents to control their children and limit their rights.
Violence against women
Increasingly, anti-rights actors are attempting to infiltrate and subvert standards and discourses developed by women human rights defenders, such as violence against women (VAW).
At the Commission on the Status of Women and other spaces, one rhetorical move is to treat VAW as a concept in which to embed anti-reproductive rights and patriarchal arguments. Ultra conservative actors, for example, have argued that non-heteronormative or traditional intimate partner relationships are a risk factor for violence, and emphasize that fathers are necessary to protect families from violence.
Gender and 'gender ideology'
The Holy See has set off a sustained critique of gender, 'gender ideology', 'gender radicals,' and gender theory, and anti-rights actors often read the term as code for LGBTQ rights. Gender is used by the religious right as a cross-cutting concept that links together many of their discourses. Increasingly, the hysteria on this subject fixates on gender identity and trans rights.
Complementarity and human dignity
Complementarity of the sexes is a discourse employed by a number of ultra-conservative actors today. Its rhetoric is structured around an assumption of difference: men and women are meant to have differing but complementary roles in marriage and family life, and with respect to their engagement in the community and political and economic life.
Reference to 'natural' roles is meant to fundamentally reject universal human rights to equality and non-discrimination.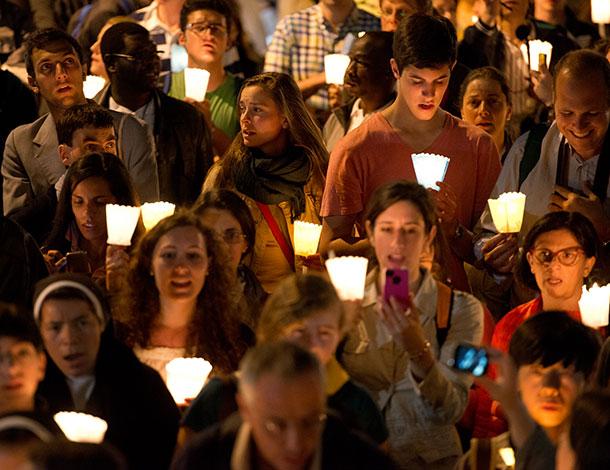 It is also used to justify State and non-State violations of these rights, and non-compliance with respect to State obligations to eliminate prejudices and practices based on stereotyped roles for men or women.
National sovereignty and anti-imperialism
This discourse suggests that national governments are being unjustly targeted by UN bodies, or by other States acting through the UN. This is an attempt to shift the subject of human rights from the individual or marginalized community suffering a rights violation to a powerful and/or regressive institution - i.e. the state, in order to justify national exceptions from universal rights or to support state impunity. 
Religious freedom
Anti-rights actors have taken up the discourse of freedom of religion in order to justify violations of human rights. Yet, ultra-conservative actors refer to religious freedom in a way that directly contradicts the purpose of this human right and fundamentally conflicts with the principle of the universality of rights. The inference is that religious liberty is threatened and undermined by the protection of human rights, particularly those related to gender and sexuality.
The central move is to suggest that the right to freedom of religion is intended to protect a religion rather than those who are free to hold or not hold different religious beliefs.
Yet under international human rights law, the right protects believers rather than beliefs, and the right to freedom of religion, thought and conscience includes the right not to profess any religion or belief or to change one's religion or belief.
Cultural rights and traditional values
The deployment of references to culture and tradition to undermine human rights, including the right to equality, is a common tactic amongst anti-rights actors. Culture is presented as monolithic, static, and immutable, and it is is often presented in opposition to 'Western norms.'
Allusions to culture by anti-rights actors in international policy debates aim to undermine the universality of rights, arguing for cultural relativism that trumps or limits rights claims. Regressive actors' use of cultural rights is founded on a purposeful misrepresentation of the human right. States must ensure that traditional or cultural attitudes are not used to justify violations of equality, and human rights law calls for equal access, participation and contribution in all aspects of cultural life for all, including women, religious, and racial minorities, and those with non-conforming genders and sexualities.
Subverting 'universal'
Anti-rights actors in international policy spaces increasingly manipulate references to universal or fundamental human rights to reverse the meaning of the universality of rights.
Rather than using the term universal to describe the full set of indivisible and interrelated human rights, ultra conservative actors employ this term to instead delineate and describe a subset of human rights as 'truly fundamental.' Other rights would thus be subject to State discretion, 'new' rights or optional. This discourse is especially powerful as their category of the truly universal remains unarticulated and hence open to shifting interpretation.
---
Other Chapters