Join the OURs side event at HRC47, Rights at Risk: Time for Action
47th Session of the Human Rights Council Side Event
Date: 13 July, 2:00pm - 3:30pm CEST  
Moderator:
Ishita Dutta, IWRAW Asia Pacific and the Observatory on the Universality of Rights
Speakers:
Morena Herrera, Colectiva Feminista para el Desarrollo Local, El Salvador
Melissa Upreti, UN Working Group on Discrimination against Women and Girls
Nada Awad, Cairo Institute for Human Rights Studies
Umyra Ahmad, AWID and the Observatory on the Universality of Rights 
---
We are pleased to invite you to a side event for the 47th Session of the Human Rights Council, taking place on July 13 at 2:00-3:30 PM CEST.
Join us for an exciting dialogue among UN and civil society panelists to hear how nationalist and fundamentalist trends worldwide are concretely manifesting as backlash against rights related to gender and sexuality in human rights systems. We will highlight the new Observatory on the Universality of Rights (OURs) Trends Report, Rights at Risk: Time for Action as a tool for action and explore strategic opportunities that civil society, UN mandate holders, and States can leverage to stem the anti-rights tide within the UN.
The event will be in English with simultaneous interpretation in Spanish and French. Closed captioning will be available in English.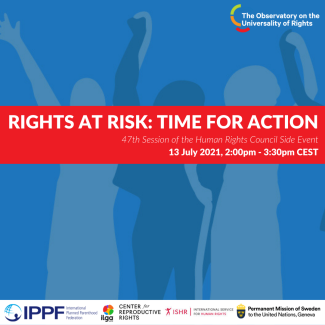 ---
Download the OURs Trends report:
Rights at Risk: Time for Action
---