Beijing Unfettered: the Power of Young Feminist Movements
In September 2020, the Beijing Declaration and Platform for Action celebrated its 25th birthday, in a global mobilization called Beijing+25/Generation Equality Forums. 
In these past 25 years, feminist, women's rights, LGBTQI and social justice movements have had wins and setbacks, successes and challenges, and many lessons along the way. One thing remained unchanged: the power, creativity and resilience of our movements.
---
It is in this spirit that AWID invites you to Beijing Unfettered! 
Beijing Unfettered is about young feminist movements across the globe engaging in offline and online conversations with a creative and participatory methodology. It is about articulating our bold and propositional feminist visions and agendas, unfettered from restrictions endemic to formal policy processes 
Beijing+25 is more than a historic milestone and a broad convergence of feminist and gender justice movements. It is the time to shift our thinking and action, an opportunity to leave behind strategies that are not working anymore, and to consolidate visionary, bold and propositional agendas, while centering voices and leadership of young feminists.
In partnership with young feminist activists and youth-led organizations, AWID is co-organizing Beijing Unfettered in parallel to and independently from Beijing+25. As a primarily movement-led process, Beijing Unfettered reflects on current contexts and articulates radical perspectives on transformative changes, as well as  feminist realities that are created, lived and practiced by young feminists, particularly in the Global South.
---
How to get engaged?
Join Beijing Unettered Workshops
AWID co-organizes cross-regional Beijing Unfettered Workshops to amplify bold, visionary and creative ideas and voices of young feminists organizers in social justice movements.
Organize your own Beijing Unfettered Workshop
Organize a Beijing Unfettered Workshop in your local community using the participatory methodology
Share the results of your conversation with us using the documentation form
Contributions from young feminist groups across the world will be compiled by AWID, shared back to young feminist activists and will be amplified through social media and advocacy 
Here you can find
English
,
Spanish
and
French
. versions of Beijing Unfettered Workshop methodology for online meetings.
Please let us know if you have any questions or feedback! 
AWID and Generation Equality Forums
AWID is engaging in the formal Beijing+25 process through carefully chosen alliances, and through our participation in the Core Group Advisory Committee. We are committed to ensuring that the Beijing Unfettered visionary and propositional agenda influences, creatively disrupts, and pushes the boundaries of the discussions and outcomes of the formal process of the Generation Equality Forums and the Action Coalitions.  
---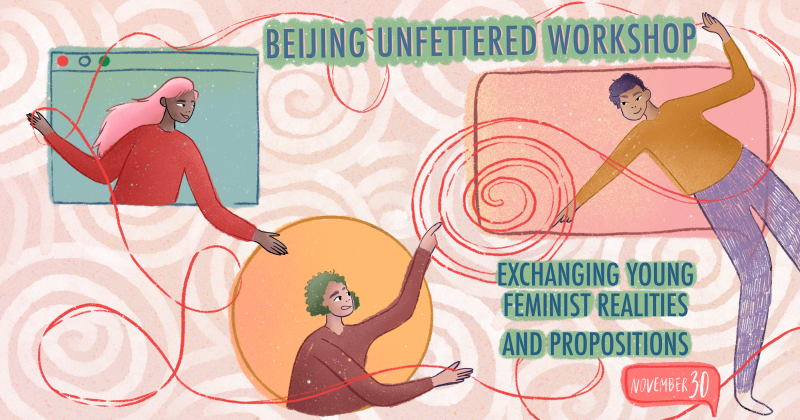 Join our Beijing Unfettered workshop
We invite you to the  Beijing Unfettered Workshop - an online gathering of young feminists from various social movements, to 
Reflect on rapidly changing political environments in which young feminists  organize;
Articulate your perspectives and bold visions on transformative changes;
Document  propositional feminist agendas and demands.
We want to hear your voice!
Workshop in ENGLISH: 30th of November, 1-3pm UTC (Check your local time)
Register for the BU workshop in English
---
Workshop in SPANISH: 1st of December, 4-6pm UTC (Check your local time)
Register for the BU workshop in Spanish
We look forward to connecting with you !